Vintage Postcard Design Using Historical Background Concept
Talking about the vintage concept, you may think about the concept full of flowers or old images as a reminder that it comes from some years ago. You need to be agreed that vintage is always time-sensitive. It shows the past time told, and it is also unique. However, creating a vintage postcard is easy if you involve the historical background as the inspiration for your design.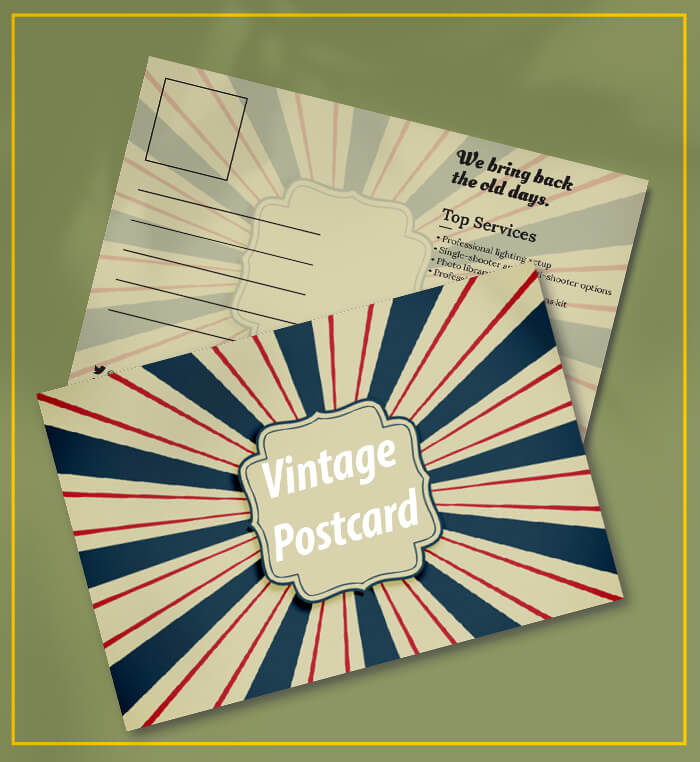 Various Types of Vintage Postcard
The vintage concept is not only used by a promoter to attract the targeted customer, but some events also use the vintage concept. Here are various types of a postcard that use the vintage concept.
Wedding Postcard
It is no longer a new thing when some couples decide to choose the vintage concept in their postcard. The wedding planner postcard was identically designed with flowers, or oldies pre-wedding photos.
Event Organizer Postcard
The vintage postcard is also often used by the event organizer to promote their plan. Moreover, when the targets are people over 40 years old, the vintage concept will be a good marketing strategy.
Flower Shop Postcard
Since the flower is one of the identities in vintage concept, flower shop often uses this as their promotional card. The history of a flower shop in the description makes it the best vintage concept ever.
Design Tips for Making Vintage Postcard
There are some tips to create a good vintage postcard using a historical background concept.
It must be eye-catching
Even if you use the vintage concept, the design should look eye-catching. How to make it works is by giving a good and relevant image. The light adjustment, resolution, and image filter should be considered carefully.
Focus on your idea
The vintage postcard will be effective to attract target if it only focuses on one idea. Since the size of the postcard is not too big, you don't have much space to write many ideas in one postcard.
Pay attention to the context
The context of the postcard should be adjusted with the target's demand and character. If it is for a teenager, you can make a vintage concept which looks young by mixing what teens like with what vintage identically shows.
Color adjustment
As additional tips, the color adjustment will impact how your design looks like. Don't forget to use black and white colors to make it look so oldies. As an alternative, you can use brown to emphasize the vintage style.
Designing the Vintage Postcard with PSD Template
Since it is a vintage design, you have to look at the previous designs that already exist. Finding the uniqueness in vintage design will not be easy. Some people still think vintage is boring because it is no longer up-to-date. Therefore, the only way to make it stand out is by completing the composition then managing it in a better way. It is a good start to have a template as your consideration to manage all content.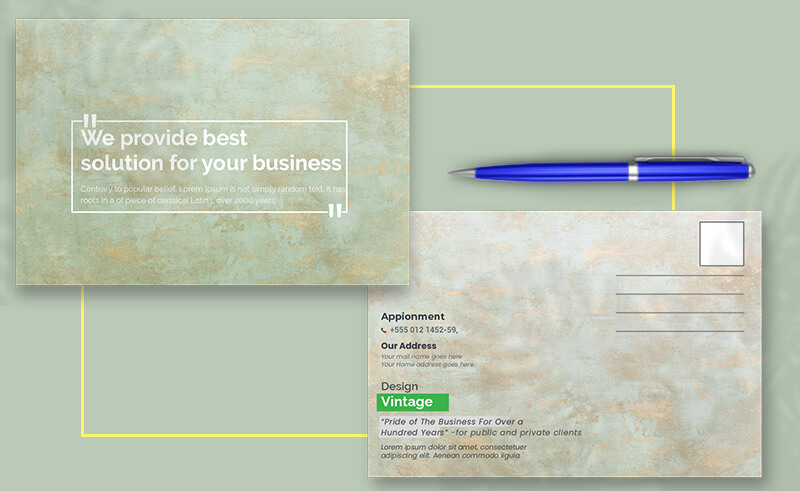 Vintage Postcard PSD Templates
Keep the design editable at any time with the high-resolution outcome. Well, the PSD template will be a reasonable answer when you need to do it quickly. Creating a vintage postcard may take time, especially to collect images. So, to save your time, you are better to use the PSD template as a starting point.