In life, many things force you to choose to quit your current job. This is better to write an effective today resignation letter rather than never shown up to work again without notice.  This is to prevent you from getting a bad reputation in the future which might leave you in a difficult situation. A good effective resignation letter prevents you from burning the bridges and help you get a positive reference from the company.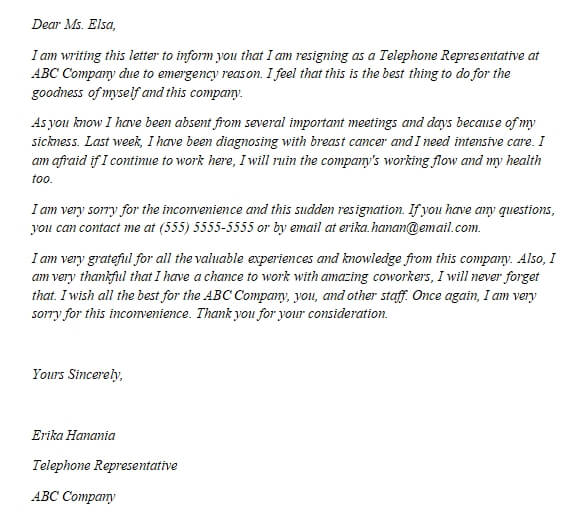 Is It Ok To Resign Immediately On The Date You Submit Resignation Letter?
Generally, you are suggested to leave the company with a two-week notice. This is purposed to help the company prepare the transition and prevent you from a bad relationship after quitting. However, there are times you have to leave earlier even on the date you submit your resignation letter and the company cannot hold you stay longer. In case you have certain agreements that you must leave with notice, you might be free to leave whenever you want and the company might allow you if your leave doesn't give a lot of effects.
What Is The Best Reason To Tell When You Want To Quit From Your Job?
You have found a new company
This is the best reason to tell your boss. However, note that before you decide to quit your job, including finishing your tasks, confirming that you are on a job offer, and cleaning out your personal space.
Illness/personal problem
Illness and personal problems are other legitimate reasons to tell your boss. If this is the real case, you might be allowed to quit your job. However, note that you have a right to take medical leave due to illness.
You hate your job
This is another reason to tell your boss when you cannot work in his or her company because you hate your job. You might find it difficult to work with your coworker or the working pressure is too high so you need to leave the company and find the one more appropriate for you. It is better to plan your departure.
Sample of Effective Today Resignation Letter
The following is a sample of an effective today's resignation letter. This letter is apologetic, formal, and professional. Use this example if you need a letter with an emergency reason.
Dear Ms. Elsa,
I am writing this letter to inform you that I am resigning as a Telephone Representative at ABC Company due to emergency reason. I feel that this is the best thing to do for the goodness of myself and this company.
As you know I have been absent from several important meetings and days because of my sickness. Last week, I have been diagnosing with breast cancer and I need intensive care. I am afraid if I continue to work here, I will ruin the company's working flow and my health too.
I am very sorry for the inconvenience and this sudden resignation. If you have any questions, you can contact me at (555) 5555-5555 or by email at erika.hanan@email.com.
I am very grateful for all the valuable experiences and knowledge from this company. Also, I am very thankful that I have a chance to work with amazing coworkers, I will never forget that. I wish all the best for the ABC Company, you, and other staff. Once again, I am very sorry for this inconvenience. Thank you for your consideration.
Yours Sincerely,
Erika Hanania
Telephone Representative
ABC Company
We hope this effective today resignation letter will help you. Hope you find a better opportunity.