Free GMY Postcard Template to Use as Your Business' Marketing Strategy
Using a postcard is one of the marketing forms by direct mailing. It helps a business to reach its targeted audience, and inform them about the announcement or promotional offers. In the age of digital marketing using social media and e-mail, it might feel a little old-school method. However, postcard continues to be one of the most successful and popular ways to use as a strategy in marketing and grow the profitability of the business. This gym postcard template is suitable to use for fitness businesses and alike to attract more clients.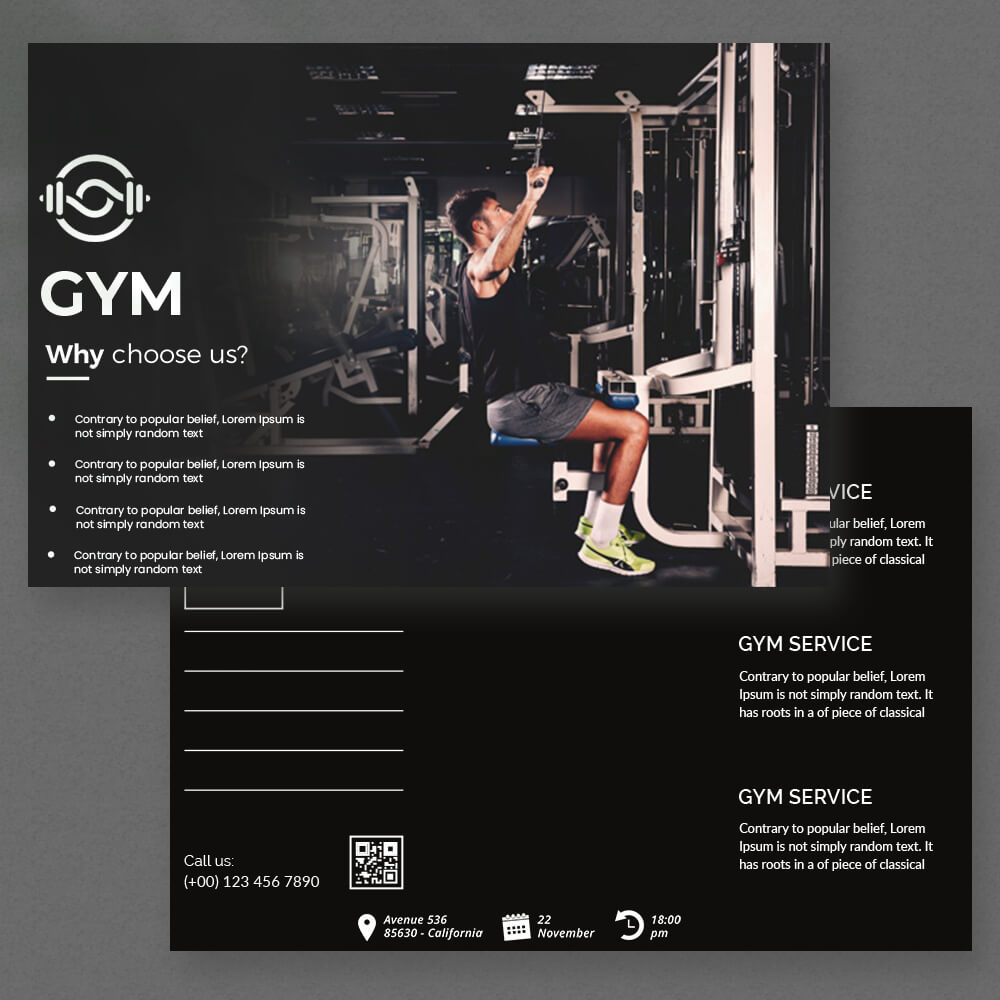 GMY Postcard PSD
The postcard is a simple, flexible, and affordable marketing tool through the system of direct mailing. It is typically used to cultivate new business, generate sales and leads, as well as to introduce new products or services. It can be used for different creative marketing strategies such as offering promotions for the holiday special, inviting the top customers for private discount or sales over a determined purchase limit, or advertising special events like clearance sales throughout the year.
GMY Postcard Templates
Going right to download and designing the gym postcard might be tempting to do, but there are some things you need to plan to accomplish success. Here are some steps to plan the perfect marketing campaign using postcard:
Set a clear goal
Setting goals for a marketing campaign using a postcard is important because you have to know exactly what do you want to achieve. The goal could be specific or general, such as introducing new services or products to clients, attracting new clients, or motivating the existing clients to use the service again.
Understand your audience
Identifying the audience is the next step of this marketing campaign. The postcard can be sent to existing clients' house list or a whole new mailing list. Either way, the list that you have should be matched with the targeted clients' demographic data.
Establish a compelling offer
Now that you have determined goals to achieve and list of people to send the postcard to, figuring out how they are going to respond is the next step. To figure this out, you have to create a compelling offer. There are some ways to improve the response rates of the postcard, such as limiting the time to get special discount, offer, freebies, ordeals. A deadline could influence clients' responses to be quicker.
GMY Postcard Benefits
The inexpensive cost of using gym postcard mailing is the biggest benefit you can get, that's why it is a suitable strategy means even for small and new business. It can also be used in both small and large quantity, in case you want to test the market before committing to a specific type of campaign. Another benefit is you do not need special service or extra equipment to send the postcard, as it can be sent through the usual mailing or online platforms.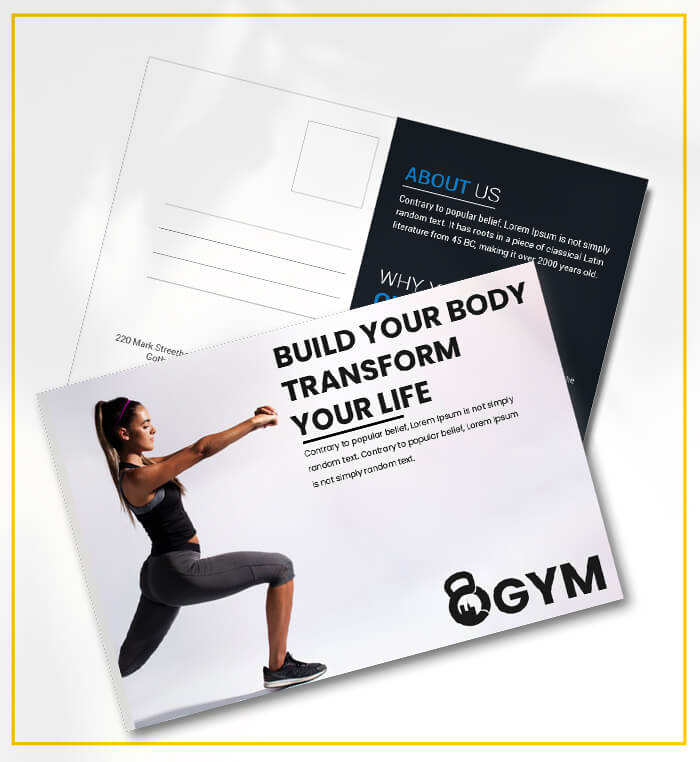 Free Download GMY Postcard
This gym postcard template design will make it easy for you to create a customized promotional piece. After downloading it for free, you'd be able to edit and add your text, logo, and image using suitable software to personalize this PSD template file.