When you apply for a job in a prospective company, you usually need to prepare a lot. Aside from writing a comprehensive cover letter and resume, you are often required to bring the internship letter of recommendation. Even if it is not required by the employer, it is a point plus for you if you do so. By having this letter, you are one step ahead from other applicants because you are getting promoted indirectly by the third party.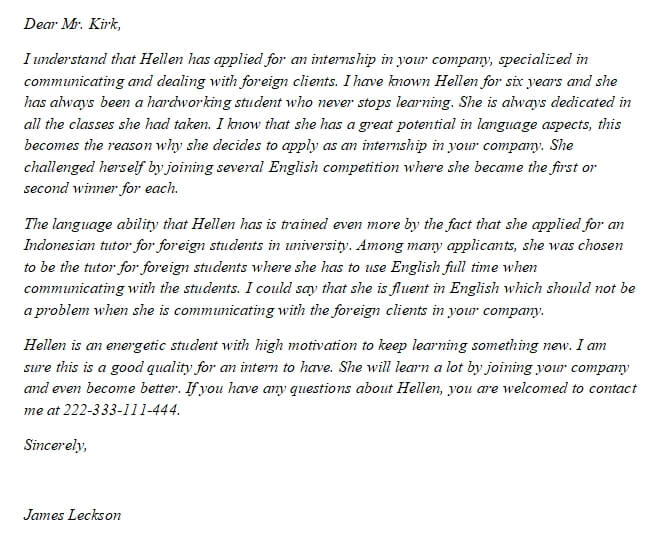 How to Get an Internship Letter of Recommendation
An internship letter of recommendation is a formal letter that is being written by the third party to provide the positive traits and qualities of someone else. Usually, it is a document that needs to be prepared for applying to a university or a job. To get the recommendation letter, you need to talk to someone who has already known you, whether it is your professor, your manager, or your colleagues. The intention is to discuss about the positive qualities of you in the letter. Talk to them directly and explain your intention as well as the company you are going to apply. You might send them your application letter and resume.
What is in the Recommendation Letter
The first part of the letter is showing the relationship between the applicant and the one who gives recommendation. It is followed by the good qualities that the applicant posseses. It will be better if the real life examples or stories are included to show the achievements.
Sample of Internship Letter of Recommendation
The letter below is the example of a professor who gives a recommendation to an undergraduate student who applies for a new job after she is graduating.
Dear Mr. Kirk,
I understand that Hellen has applied for an internship in your company, specialized in communicating and dealing with foreign clients. I have known Hellen for six years and she has always been a hardworking student who never stops learning. She is always dedicated in all the classes she had taken. I know that she has a great potential in language aspects, this becomes the reason why she decides to apply as an internship in your company. She challenged herself by joining several English competition where she became the first or second winner for each.
The language ability that Hellen has is trained even more by the fact that she applied for an Indonesian tutor for foreign students in university. Among many applicants, she was chosen to be the tutor for foreign students where she has to use English full time when communicating with the students. I could say that she is fluent in English which should not be a problem when she is communicating with the foreign clients in your company.
Hellen is an energetic student with high motivation to keep learning something new. I am sure this is a good quality for an intern to have. She will learn a lot by joining your company and even become better. If you have any questions about Hellen, you are welcomed to contact me at 222-333-111-444.
Sincerely,
James Leckson
Good luck for all of you who are applying for a new job and get internship letter of recommendation with the tips above.
Similar Posts: