Everyone will have a period where they should quit from a job, including for a doctor. If you are a doctor, you will also want to resign from your profession due to several urgent reasons such as moving house, declining health, or retiring. In this position, all you can do is writing a physician resignation letter to patients so they know that you will stop being their doctor. Therefore, they have a good preparation to find their new doctor.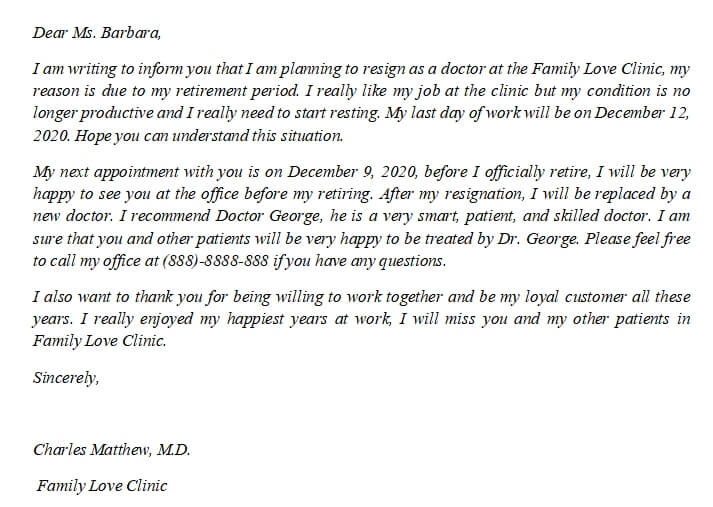 What Should I Include in My Resignation Letter?
Writing a resignation letter will make a good impression before you officially quit. Here are three things you should include when writing a resignation letter to patients :
Use Polite Language
Make sure that your resignation letter must contain polite language and look professional. Even if you have a close and intimate relationship with the patient, you should provide your resignation letter in a charismatic and elegant format.
Give Your Contact
You need to provide contact details in the form of a phone number or email, so your patients can keep in touch with you during the transition time, there may be some difficulties that your patients will face after your resignation.
Give Concise and Clear Statement
Provide a clear, to the point, and concise resignation letter. Don't write a letter too detailed, so it seems verbose, but keep your tone positive and professional.
How to Write A Resignation Letter to Patients?
The best thing you need to do as a doctor before resigning is to write a good resignation letter, officially informing the patient of your resignation plans. State the exact date when you will stop working, as well as your plans to resign. You can also introduce the identity of the new doctor who will replace you briefly. Don't forget to thank the patients who have been loyal customers for several years.
Physician Resignation Letter to Patients Sample
Are you still confused about how to start your letter? Below might be an example of a resignation letter that you can use as inspiration:
Dear Ms. Barbara,
I am writing to inform you that I am planning to resign as a doctor at the Family Love Clinic, my reason is due to my retirement period. I really like my job at the clinic but my condition is no longer productive and I really need to start resting. My last day of work will be on December 12, 2020. Hope you can understand this situation.
My next appointment with you is on December 9, 2020, before I officially retire, I will be very happy to see you at the office before my retiring. After my resignation, I will be replaced by a new doctor. I recommend Doctor George, he is a very smart, patient, and skilled doctor. I am sure that you and other patients will be very happy to be treated by Dr. George. Please feel free to call my office at (888)-8888-888 if you have any questions.
I also want to thank you for being willing to work together and be my loyal customer all these years. I really enjoyed my happiest years at work, I will miss you and my other patients in Family Love Clinic.
Sincerely,
Charles Matthew, M.D.
 Family Love Clinic
To Sum up, a resignation letter to patients can be the most professional way to say goodbye to your beloved patients. Hope you can get new inspiration from our brief explanation above.
Similar Posts: