If you are an attorney agent, you have a right to resign from your responsibilities, but you have to resign according to the proper procedure, politely and not suddenly. You need to discuss it directly with the principal before officially sending a power attorney resignation letter. It's important to know some good tips for resigning, so you can still leave a polite impression.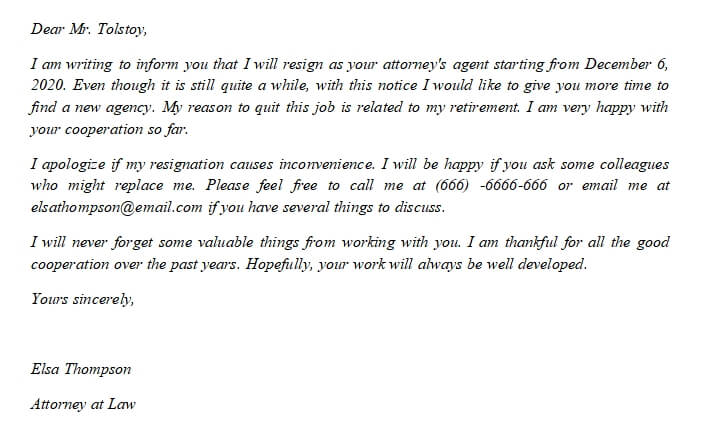 How To Quit As A Power of Attorney?
As previously mentioned, you need to meet the principal in person before sending the letter. This is one of the most crucial tips to make your relationship with the principal is well maintained. In addition, he/she will also have an idea to find a person who will replace you.
To make a valid power attorney resignation letter, you also need to bring it to a notary public for approval. Don't forget to make several copies according to your needs.
How To Make A Power of Attorney Resignation Letter?
Your power attorney resignation letter must be written according to the correct and structured rules. Here are several things you need to notice before writing your resignation letter:
Open properly
Use a formal opening like "Dear Mr, / Ms." followed by the name of your principal. Check again for errors in spelling or selecting your diction.
Don't Beat Around The Bush
Your resignation letter should not be written too long more than a page. Write your letter in a short, concise, and clear paragraph. State your reasons directly for why you are retreating. You can also recommend someone who can replace you, of course, someone who has a good performance.
List Your Contacts
Another important thing is to list your contacts, phone number, or email address. Your principal may contact you to ask some questions regarding your work.
Power of Attorney Resignation Letter Sample
Based on the example above, you may get an overview of the resignation letter. You can review the examples below for more understanding:
Dear Mr. Tolstoy,
I am writing to inform you that I will resign as your attorney's agent starting from December 6, 2020. Even though it is still quite a while, with this notice I would like to give you more time to find a new agency. My reason to quit this job is related to my retirement. I am very happy with your cooperation so far.
I apologize if my resignation causes inconvenience. I will be happy if you ask some colleagues who might replace me. Please feel free to call me at (666) -6666-666 or email me at elsathompson@email.com if you have several things to discuss.
I will never forget some valuable things from working with you. I am thankful for all the good cooperation over the past years. Hopefully, your work will always be well developed.
Yours sincerely,
Elsa Thompson
Attorney at Law
Briefly, write your power attorney resignation letter in a well-arranged format. Note that you have to give a sweet and warm impression before officially resign from your job.
Similar Posts: