A real estate agent recommendation letter is a document that can be written on a behalf of someone who is seeking a position in a real estate agency.  This letter is also written by satisfied customers who did great work. If you want to write this letter to someone, you can use the example and tips from this page.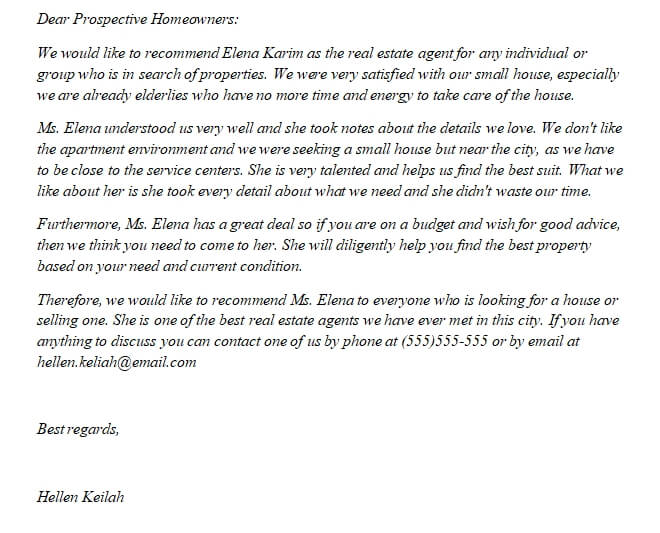 What Kind Of Personal Types Make A Good Real Estate Agent?
In the real estate industry, there some values that a person must have to be successful, such as:
A lot of knowledge
Knowledge is power because this will lead you to make a better decision. You have to stay updated with certain topics to help you utilize business opportunities. Besides, make sure to understand well the local housing market and try to learn to build a connection.
Attention to detail
Why attention to detail is needed in the real estate agent? Because this will help you understand what your client needs. There are many things to consider when you are in a deal for real estate which later will affect your performance in this industry.
Engaging personality
Because your job is being a broker, you must have an engaging personality. When you have a great attitude, people will easily move to you and ask for more help which is beneficial for your goodness.
Having a high interest in housing and architecture
As we mentioned before, working as a real estate agent requires you to have a lot of knowledge include architecture and housing. Your clients come from various backgrounds which their needs will be different. This is why you have to understand housing types and architecture.
The Sample Of A Real Estate Agent Recommendation Letter
Dear Prospective Homeowners:
We would like to recommend Elena Karim as the real estate agent for any individual or group who is in search of properties. We were very satisfied with our small house, especially we are already elderlies who have no more time and energy to take care of the house.
Ms. Elena understood us very well and she took notes about the details we love. We don't like the apartment environment and we were seeking a small house but near the city, as we have to be close to the service centers. She is very talented and helps us find the best suit. What we like about her is she took every detail about what we need and she didn't waste our time.
Furthermore, Ms. Elena has a great deal so if you are on a budget and wish for good advice, then we think you need to come to her. She will diligently help you find the best property based on your need and current condition.
Therefore, we would like to recommend Ms. Elena to everyone who is looking for a house or selling one. She is one of the best real estate agents we have ever met in this city. If you have anything to discuss you can contact one of us by phone at (555)555-555 or by email at hellen.keliah@email.com
Best regards,
Hellen Keilah
Similar Posts: