There are times in life that you are forced to choose between work and personal life, for example, your family. If you are forced to take this decision, you can write your resignation letter due to family reasons. In this article, we will discuss a little bit about this.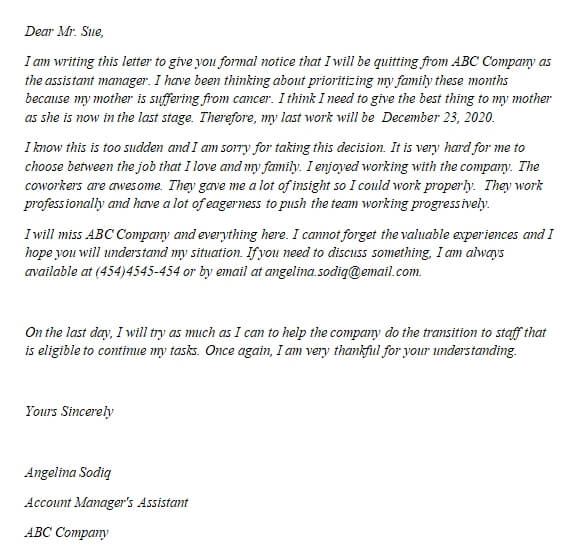 How To Quit From Your Job Due To Personal Reasons
Besides family reasons, there are some others such as the toxic environment. However, both cases are difficult to explain to your boss. You need a strong reason so your employer allows you to quit. Here are some tips you can try:
Describe the working environment
Maybe you love your office atmosphere but the thing is you cannot adjust your work well because of your problem with family. Or you have gossipy coworkers or a micro-managing boss which makes it more tiring. In this case, you can politely explain to the employer what kind of work environment you have been expecting also the obstacles you are facing while doing your job with the current family problems.
Always talk about the positive aspects of your office
Some people never want to discuss this because they hate their job. However, everyone has been growing from the company. There are a lot of things to learn even though it is an unpleasant one. You need to address what you like from the company as a respect for what you have gained. Also, this is for keeping your relationship well with the employers, company, and others.
Always be honest
Indeed, it is very hard, to be honest with your personal life. However, you still need to tell it honestly, and don't worry, your boss will still respect your decision. If your case is due to the toxic working culture, you can tell it more politely.
The Example Of Resignation Letter Due To Family Reasons
Dear Mr. Sue,
I am writing this letter to give you formal notice that I will be quitting from ABC Company as the assistant manager. I have been thinking about prioritizing my family these months because my mother is suffering from cancer. I think I need to give the best thing to my mother as she is now in the last stage. Therefore, my last work will be  December 23, 2020.
I know this is too sudden and I am sorry for taking this decision. It is very hard for me to choose between the job that I love and my family. I enjoyed working with the company. The coworkers are awesome. They gave me a lot of insight so I could work properly.  They work professionally and have a lot of eagerness to push the team working progressively.
I will miss ABC Company and everything here. I cannot forget the valuable experiences and I hope you will understand my situation. If you need to discuss something, I am always available at (454)4545-454 or by email at angelina.sodiq@email.com.
On the last day, I will try as much as I can to help the company do the transition to staff that is eligible to continue my tasks. Once again, I am very thankful for your understanding.
Yours Sincerely
Angelina Sodiq
Account Manager's Assistant
ABC Company
To sum up, writing a resignation letter due to family reasons can be professionally done. All you need to do is being honest and don't forget to respect your company.
Similar Posts: