Whatever the reason, losing a competent employee or co-worker will be very difficult. Considering that many things have passed through together over the years, a warm goodbye should be given. You can write a retirement letter of appreciation to say goodbye to your coworkers or employees. Here are some aspects you need to notice before saying goodbye to your colleagues.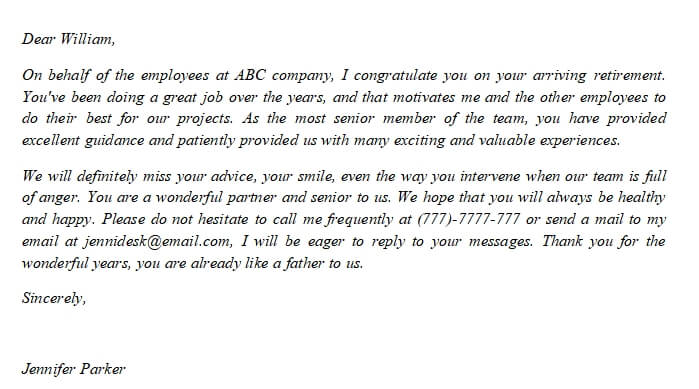 How To Say Goodbye To A Retiree?
Before officially losing an employee or co-worker because of retirement, you need to do several important things to respect and appreciate your colleague. For example, by holding an important meeting, giving gifts, putting up posters about your colleague that is going to retire, or having a simple farewell party. However, if you are feeling lost, you can also write a retirement letter of appreciation to make an impressive farewell. It will make your relationship with your retiring colleague closer.
What Should Be Included in My Appreciation of Retirement Letter?
Your letter must consist of several important aspects such as certain days of retirement, and your best wish to your retiring colleague. You can also add some important things such as achievements that have been done by him/her, even other positive things that are full of praise.
This business letter has a less formal tone if compared to other formats. The main point of your letter must state about your good relationship so far, followed by your best wish for her/him in the future. You may include your contact detail to invite the retiree to keep in touch with you.
Retirement Letter of Appreciation Sample
You have to write your letter in a sincere and short paragraph. Imagine you are in the position of your colleague, you may feel sad, happy, touched, or others. We know that some people will have different emotions to face their retirement.
Here is a format you can take as a sample for your appreciation retirement letter. This letter is written by an employee given to her co-worker.
Dear William,
On behalf of the employees at ABC company, I congratulate you on your arriving retirement. You've been doing a great job over the years, and that motivates me and the other employees to do their best for our projects. As the most senior member of the team, you have provided excellent guidance and patiently provided us with many exciting and valuable experiences.
We will definitely miss your advice, your smile, even the way you intervene when our team is full of anger. You are a wonderful partner and senior to us. We hope that you will always be healthy and happy. Please do not hesitate to call me frequently at (777)-7777-777 or send a mail to my email at jennidesk@email.com, I will be eager to reply to your messages. Thank you for the wonderful years, you are already like a father to us.
Sincerely,
Jennifer Parker
That's all our brief explanation about a retirement letter of appreciation and the sample. It's also important to give several impressing things before your colleagues retiring.
Similar Posts: