Promoting Your Company by Using Agriculture Postcard
Are you working in an agriculture company? Do you want to find the most suitable medium for promoting the company? Try using a postcard then. It may seem out-dated, yet it can be an effective way to boost your sales. You may think email will be more efficient in terms of time and cost. However, it is better to apply a more personal approach to potential clients. In this case, a postcard is one of the effective media. Here are presented some tips of using agriculture postcard to boost sales, and also the postcard design guides.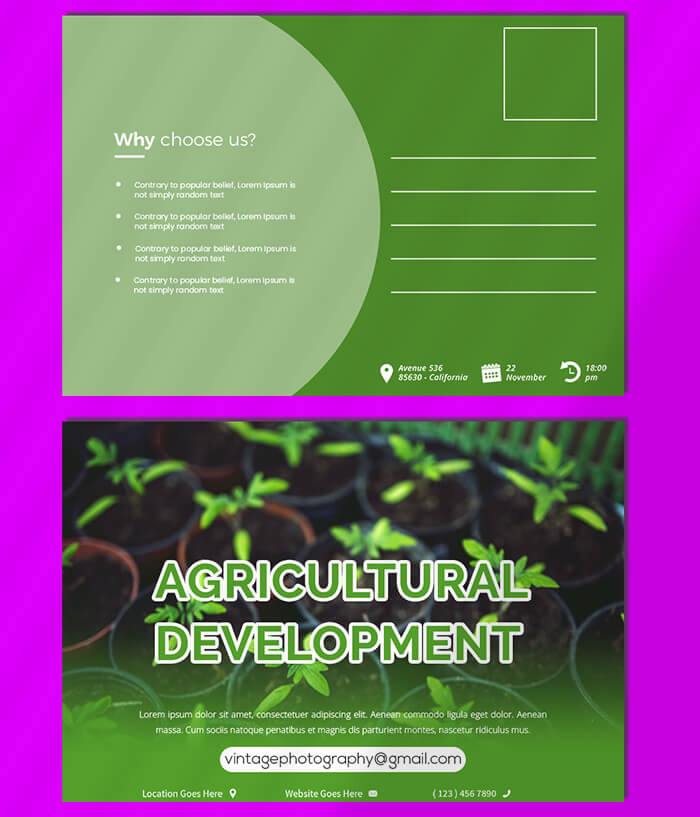 How to Boost Sales with Agriculture Postcard
There are some tips for using a postcard to promote your agriculture company and finally to boost sales.
Target the Audience
Before you start designing the postcard, make sure to target the right audience. It's better to make a list of potential audiences or clients who are loyal to your agriculture company. Therefore, there will be no wasted time and effort while sending the postcards to people who care.
Create an Inviting Design
After you have made the list of audience or potential clients start thinking of the postcard design. Make sure that the design is inviting and enticing rather than advertising. By taking a more personal approach, the audience will likely read the postcards and look for more information about the business.
Write a Simple Message
Since the message is the essence of your company's postcard, make sure that the message is simple. Write an interesting headline and a message which is straight to the point.
Guides to Design PSD Agriculture Postcard
Here are stated some guides to design professional PSD agriculture postcard.
Choosing the Size
Before starting the design, you need to choose the proper size for the company's postcard. Some standard sizes are 4" x 6", 5" x 7" or 6" x 9".
Having a Striking Image
A striking image will enhance the look of your postcard and also support the text message. The right use of images will set the tone and give a professional impression to the audience or potential clients. Don't forget to put the appropriate size of the image or it will overpower the message.
Design Ideas of PSD Agriculture Postcard
There are many design ideas to create an agriculture postcard. Various designs are available in PSD format that you can simply choose, download, and edit as you wish. To make your postcard stand out, make sure every design element is balanced. In the editing process, never put too much text or images and apply contrasting colors to enhance the postcard look. Distribute the design elements evenly on the postcard.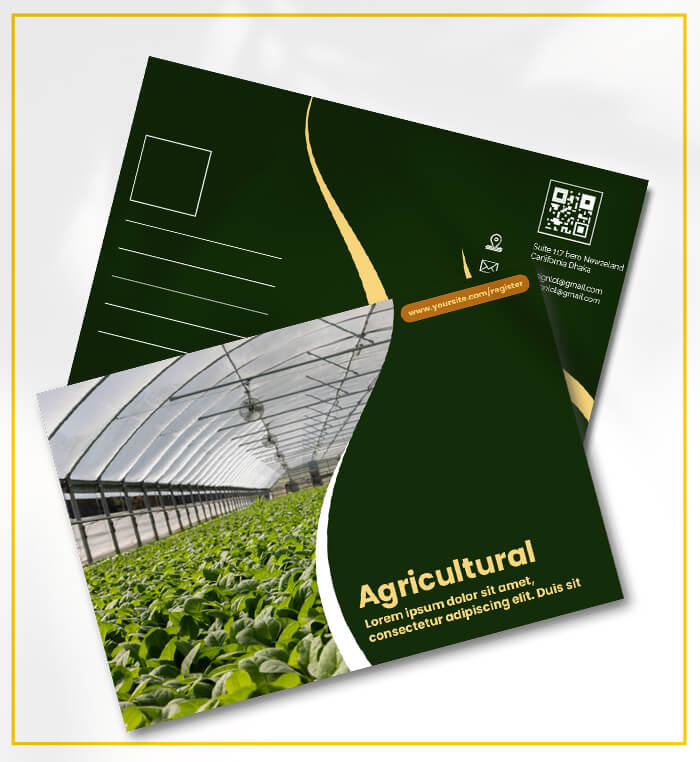 Templates of PSD Agriculture Postcard
Now, there is no reason to underestimate the power of printed marketing material anymore. Eventually, it is your turn to find the most suitable agriculture postcard template. Since the postcard will represent the company's brand, make sure to choose professionally-designed templates. You are free to customize the layout and artwork. It is time to introduce your prestigious agriculture company with a postcard.