There are some cases in which a contract with an independent contractor will be terminated. It usually has been written in the contract that state contractor-employer relationship can be ended at any time. If you want to inform your decision to your contractor, the best way that you can choose is by using a termination letter.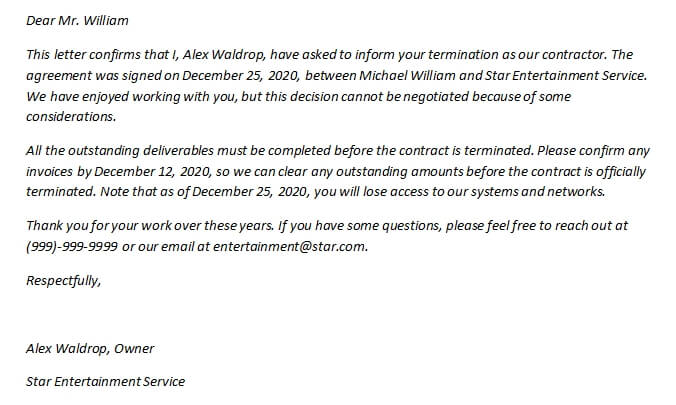 Can I Terminate An Independent Contractor?
You have a right to fire an independent contractor if you think it is no longer satisfied that your company gets. But, you have to take a look at your contract agreement, whether there is a certain condition that allows the contactor should be terminated.
Besides, the agreement must also consist of provisions which state there is a certain number of weeks notice must be given by the terminating party. When the provisions are implemented, then the relationship between the two parties can be ended.
How To Let Go of A Contractor?
Independent contractors would understand that they are not full or part-time job  employees. You do have a right to let go of an independent contractor. But, there are several things that you must consider before let go of your contractor.
Articulate Your Reason Politely
The most important thing that you need to prepare is your reason, why do you want to let go of your independent contractor? You must look for some relevant reasons which wouldn't lead to discrimination.
Clear The Invoices
When your contract will officially be terminated, you must notice whether there is an invoice that you must clear. You cannot miss this point, because this has included in the employee rights.
The Termination Method
There are several methods that you can use to terminate your contract. You might inform your contractor in person, by phone, even via skype call. But the most interesting method is by using an independent contractor termination letter.
Tips To Write A Termination Letter
There are some steps that you must do in writing an independent contractor termination letter. Note that you have to use a polite and friendly tone to honor the contractor. Additionally, here are some standards to write a termination letter:
State your reason for the contract termination
Inform your contractorwell in advance of dismissal
Provide receipt of your company property
An Independent Contractor Termination Letter Sample
Here is a sample of a termination letter that is written by the owner of a company. This might give you a little bit of an idea to tidy up your letter.
Dear Mr. William
This letter confirms that I, Alex Waldrop, have asked to inform your termination as our contractor. The agreement was signed on December 25, 2020, between Michael William and Star Entertainment Service. We have enjoyed working with you, but this decision cannot be negotiated because of some considerations.
All the outstanding deliverables must be completed before the contract is terminated. Please confirm any invoices by December 12, 2020, so we can clear any outstanding amounts before the contract is officially terminated. Note that as of December 25, 2020, you will lose access to our systems and networks.
Thank you for your work over these years. If you have some questions, please feel free to reach out at (999)-999-9999 or our email at entertainment@star.com.
Respectfully,
Alex Waldrop, Owner
Star Entertainment Service
That's all our short explanation about the independent contractor termination letter and its sample. Hope it will help you to get new inspiration.