There are some types of recommendation letters, such as for academic purposes and the hiring process. Both of the references must be written perfectly and concisely by a person who is professional in the field. If you are appointed to write a dentist recommendation letter, you should write it carefully. Prove your strong position and make sure you deliver your best reason to recommend the person.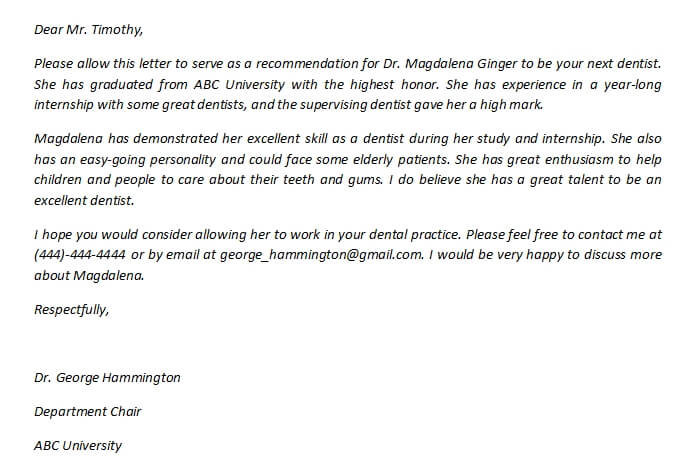 When Should I Receive An Offer To Write A Recommendation Letter?
You cannot accept an offer to write a recommendation letter carelessly. Make sure you meet the following conditions before say 'yes' to write the letter:
Knowing The Person Well
You cannot write a recommendation letter if you don't know the person who asks you well. The recommendation must be written honestly. If you don't know the person well, you can decline the offer politely. You may state that you are not familiar with the job or background.
Knowing The Job
Make sure you know the background of the job perfectly. It would be easy if you have known how competent the applicant is for the position applied.
How To Write A Good Dentist Recommendation Letter?
You should pay attention to some important aspects before writing a recommendation letter. There are opening, body, and closing which have to be arranged carefully.
Opening
In this part, you need to write the relationship between the applicant and yourself. Some descriptions also can be added to strengthen the letter such as the length, experience, and period he/she has worked with you.
Body
Deliberate the specific information about the applicant, such as her/his patient, creativity, confidence, poise, and dependability. The applicant's specific experiences and also their abilities.
Closing
The closing of your recommendation letter must be written briefly and to the point. Summarize your previous points and state that you are highly recommending the candidate.
Dentist Recommendation Letter Sample
If you have decided to write a recommendation, you must write it in the correct format. The following is an example of a recommendation letter for a dentist that can help you to get inspiration.
Dear Mr. Timothy,
Please allow this letter to serve as a recommendation for Dr. Magdalena Ginger to be your next dentist. She has graduated from ABC University with the highest honor. She has experience in a year-long internship with some great dentists, and the supervising dentist gave her a high mark.
Magdalena has demonstrated her excellent skill as a dentist during her study and internship. She also has an easy-going personality and could face some elderly patients. She has great enthusiasm to help children and people to care about their teeth and gums. I do believe she has a great talent to be an excellent dentist.
I hope you would consider allowing her to work in your dental practice. Please feel free to contact me at (444)-444-4444 or by email at george_hammington@gmail.com. I would be very happy to discuss more about Magdalena.
Respectfully,
Dr. George Hammington
Department Chair
ABC University
That's all our short description of the dentist's recommendation letter and its sample. You can use the sample and change some important points.