All students want to graduate from college on time, but some unexpected things might happen in the future. This makes students unable to graduate on time. Especially for the students who get financial aid, most likely that the financial aid wouldn't be extended. If you are in the same position, you may have to write a financial aid appeal letter due to maximum time frame.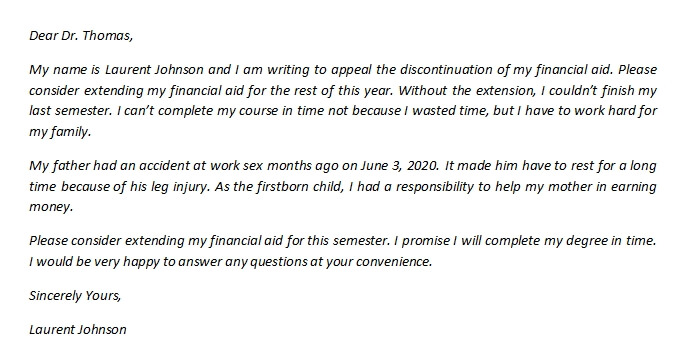 When Will I Lost Financial Aid?
You might think that graduating from college in 4 years would be easy. However as the time goes on, and things don't go well. It might be okay if you have enough money to pay for next semester, but what if you've been studying for financial aid this time? There are some possibilities that make your financial aid suspension:
Your grades doesn't qualify the financial aid's requirement
You don't take enough credits
Your parents consider as having more money to pay for your college
Above all, you don't need to panic because there are some solutions that you can do to get your financial aid back.
Some relevant steps that you can choose include: you need to negotiate it to your financial aid office, apply for a private scholarship, take a private loan, or transfer to a cheaper school.
The most effective and common way to face your financial aid problem is by talking to the financial aid office. You can make an appeal by using a financial aid appeal letter due to maximum time frame.
What Is The Contents of Financial Aid Appeal
If you want to make an appeal, the letter must be written in a good format. Some aspects that must be included are your ID number, contact information, how many hours that you should complete, and the reason you cannot graduate on time.
Financial Aid Appeal Letter Due To Maximum Time Frame Sample
You should deliberate your best reasons to get their financial aid back. Ensure the financial aid office that you have faced many difficult times. But, your letter must be written honestly. Here is an example:
Dear Dr. Thomas,
My name is Laurent Johnson and I am writing to appeal the discontinuation of my financial aid. Please consider extending my financial aid for the rest of this year. Without the extension, I couldn't finish my last semester. I can't complete my course in time not because I wasted time, but I have to work hard for my family.
My father had an accident at work sex months ago on June 3, 2020. It made him have to rest for a long time because of his leg injury. As the firstborn child, I had a responsibility to help my mother in earning money.
Please consider extending my financial aid for this semester. I promise I will complete my degree in time. I would be very happy to answer any questions at your convenience.
Sincerely Yours,
Laurent Johnson
That's all our brief explanation about a financial aid appeal letter due to maximum time frame and its sample. Hope it will help you to write your letter.