One of the most important steps you must do before taking a master's program is writing your graduate school application letter. You will need some documents like a letter of recommendation, CV or resume, statement of purpose, and transcripts. You need to make a good format by focusing on some important elements because many graduate students will be your competition to enter college.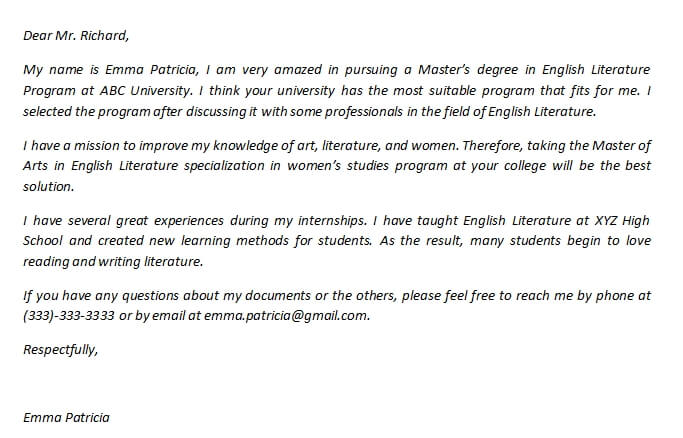 Do I Need An Application Letter?
There are some arguments which state a graduate school application letter is unimportant. However, if you look closely, this letter has a very important role to make you stand out more. By sending this letter in the correct format, it will show your seriousness and help you to be considered to be a strong candidate.
How To Write A Good Application Letter
If you are going to send an application letter for graduate school, you need to pay attention to the following important aspects:
Salutation
The first aspect you shouldn't miss is a good salutation. You can use a common salutation like "Dear Mr.X (the recipient's name) and followed the name by comma or colon. But if you don't know the recipient's name, you might write "To Whom It May Concern". But, it's better to write the recipient's name, so you need to look for specific information to address your letter.
Include Contact Information
You must include your contact information like phone number, email, or your home address. However, it's optional to write your home address.
Background and Qualifications
Your background of study and qualifications must also be included in the letter. Mention all your internship experiences and skills that will make you more impressive and deemed worthy of being accepted in the field you are applying for.
Enclosed Materials
Under most circumstances, you need to enclose some important documents, such as your CV, transcripts, statement of purpose, application, and three recommendation letters.
Graduate School Application Letter Sample
Below is an example that might help you a little to write an application letter for graduate school:
Dear Mr. Richard,
My name is Emma Patricia, I am very amazed in pursuing a Master's degree in English Literature Program at ABC University. I think your university has the most suitable program that fits for me. I selected the program after discussing it with some professionals in the field of English Literature.
I have a mission to improve my knowledge of art, literature, and women. Therefore, taking the Master of Arts in English Literature specialization in women's studies program at your college will be the best solution.
I have several great experiences during my internships. I have taught English Literature at XYZ High School and created new learning methods for students. As the result, many students begin to love reading and writing literature.
If you have any questions about my documents or the others, please feel free to reach me by phone at (333)-333-3333 or by email at emma.patricia@gmail.com.
Respectfully,
Emma Patricia
Enclosures :
ABC University Application Packet
Three Letters of Recommendation
Transcripts
Resume
Statement of Purpose
That's all our brief description of the graduate school application letter and its example. Hope it will inspire you to write your letter.