Designing Computer Repair Brochure for Starter
The need for computer repair services will keep growing since computers are getting more prevalent. Nonetheless, the competition for such a small business is highly challenging, and a lot of small business owners wish they have no competitors, but it is utterly impossible. As a computer repair business owner, you should start learning how to promote your business to make it stand out amongst any other competitors. Since it is a small business, you have to figure out how to advertise it in simple and low-cost ways, such as by making a computer repair brochure. So, what can you do to make the brochure a winner?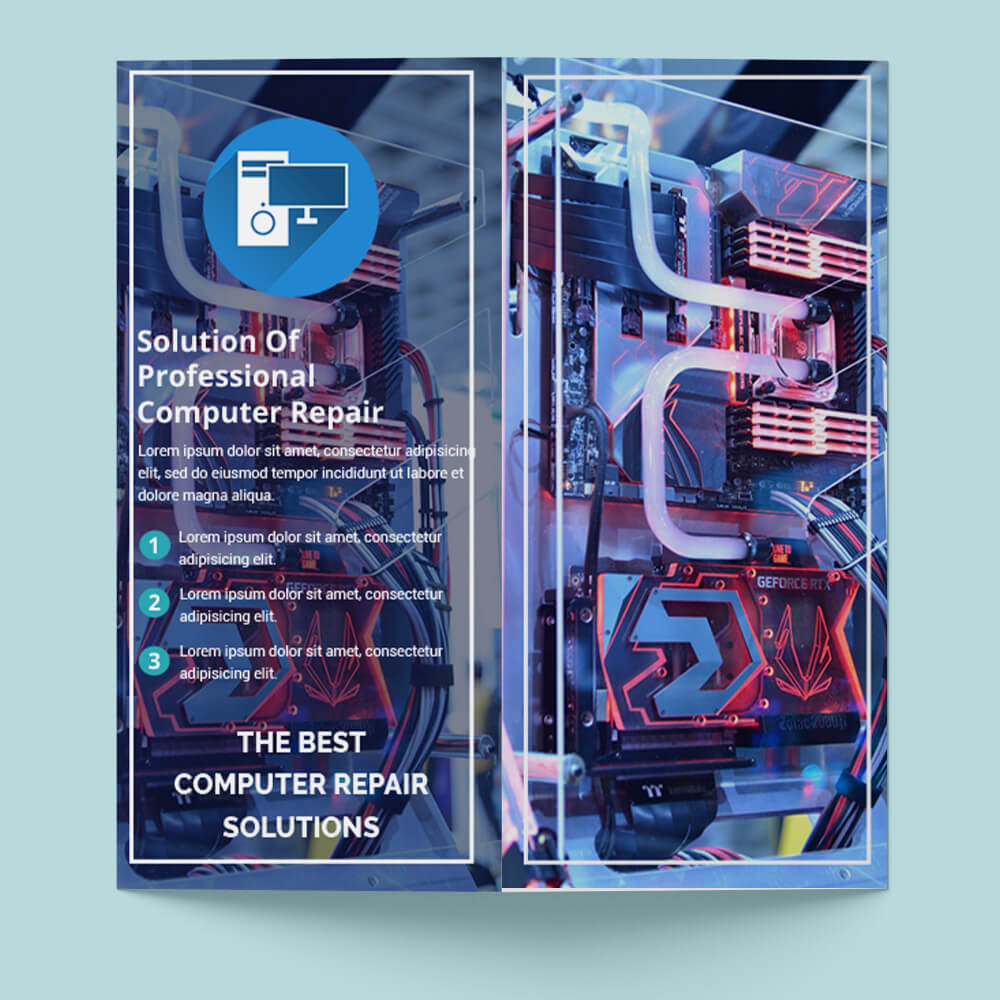 Computer Repair Brochure Design Tips
Before you start writing or designing a brochure, make sure you get to know the target market first. Here are some tips for obtaining insights from your customers.
Asking Questions
Undoubtedly, one of the priceless and direct ways to know your customers is by asking questions. You can ask their experience when they use your service by using open-ended questions to get in-depth answers. All these answers will give relevant information to put in your brochure.
Mining Data
We live in a world of data. Naturally, customer insights are the treasures for many companies who want to tap into their customers. You can maximize social media by using its analytical tools to gain detailed insights among your customer. That way, you can build personas that enhance marketing communication through a computer repair brochure.
Guidelines to Design computer repair brochure
Choose design elements
Choose images, color, and fonts that fit your brand style, the content, and the tone of the brochure. If you have set up the brand style, make sure to put them into a computer repair brochure.
Be the reader of your design
Keep your reader in mind when you design the layout. How would your customers want to receive relevant information about your service? Do they prefer blocks of text, or do they need some images? Are the fonts or colors quite appealing for them? In which part do you need to put the contact information, so it is easier for them to find? Make sure you keep it clean and simple.
Choose the Computer Repair Brochure Types
There are tons of brochure types that you can get for free, and the way to fold your brochure. So, you won't be running out of an option. The content determines whether you choose the right brochure-type for the design or not. If you have much information to deliver, choose a brochure type which has more space. It would be best if you also consider how to distribute your brochure.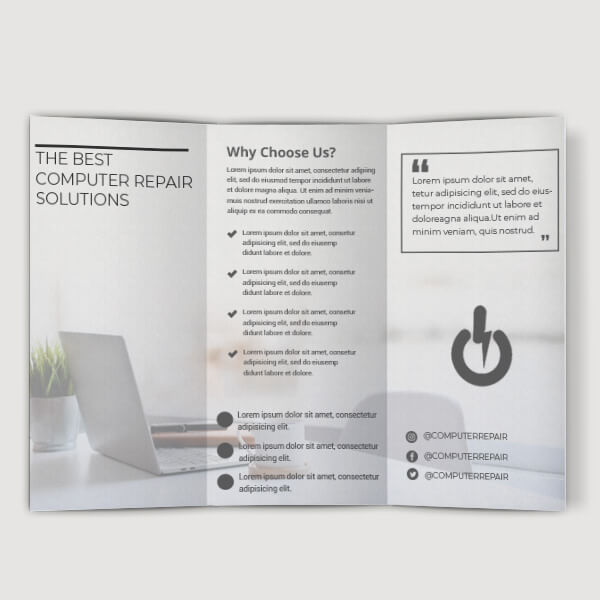 Revising and Printing Computer Repair Brochure
Your brochure for your business services finished, and you are almost ready to distribute it to the public. But first, make sure everything is perfect. Once your brochure is ready, take some time to evaluate it. Ask yourself if the design catches your attention, or the messages clear enough. Ask others with the same questions to get a broader perspective. Once you wrap it all up, now you are ready to get printing.