As a job seeker, you might want to apply for a job in many companies. it would be very frustrating if no employer called for an interview immediately. So, it encourages you to make an unsolicited application letter. some people may disagree with this letter, but many also consider this will be an effective way to be called first when there is a job vacancy.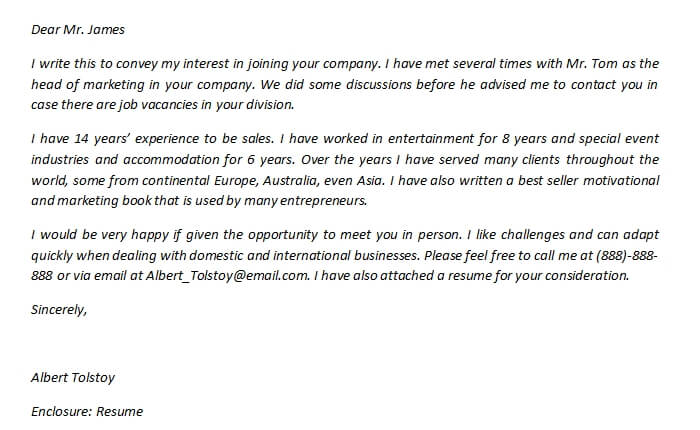 Is It Okay To Send An Unsolicited Application Letter?
It is okay to send a cover letter to a company that hasn't advertise a job vacancy. There is a possibility why you are applying for a job at an office that hasn't announced their hiring. First, you might want to get a job at a certain company. Second, you may already know that the company is hiring but has not posted any vacancies.
Do I Need An Unsolicited Resume?
It's the same with some requirements or documents in applying for a job. In this case, you also need an unsolicited resume. If you have a question about the definition of an unsolicited resume, it's the same as an application letter. Both are used to send an application to a certain company.
You have to make an outstanding resume, so the hiring manager will interest you. Insert your experiences, skills, or other important elements to make your resume look perfect.
What Should I Include On My Applicant Letter?
There are several important aspects that you have to include in making a good applicant letter. Such as:
Your up-to-date contact information
Your experience
Your education
Your brief understaning ofthe company
Your reason to join the company
Your best resume
It's free to decide how many paragraphs you want to include. In addition, the letter must be written in a well-arranged format. You have to write your greeting and closing politely. It's better to know the hiring manager's name, so you don't have to write something like "Dear Mr. X", although that's fine too.
Unsolicited Application Letter Sample
The following is an example of a cover letter which is written by a job seeker to apply for an unadvertised job:
Dear Mr. James
I write this to convey my interest in joining your company. I have met several times with Mr. Tom as the head of marketing in your company. We did some discussions before he advised me to contact you in case there are job vacancies in your division.
I have 14 years' experience to be sales. I have worked in entertainment for 8 years and special event industries and accommodation for 6 years. Over the years I have served many clients throughout the world, some from continental Europe, Australia, even Asia. I have also written a best seller motivational and marketing book that is used by many entrepreneurs.
I would be very happy if given the opportunity to meet you in person. I like challenges and can adapt quickly when dealing with domestic and international businesses. Please feel free to call me at (888)-888-888 or via email at Albert_Tolstoy@email.com. I have also attached a resume for your consideration.
Sincerely,
Albert Tolstoy
Enclosure: Resume
That's all our short explanation about an unsolicited application letter with the sample. Hope it will make you be more inspired in writing the cover letter.