Using the Promotional Postcard Design and Templates
Postcards had been invented far before email flipped the table. In the case of advertising, postcards are also used to promote business although it is not as popular as email advertisements. Well, business emails with advertisements are easily recognized as junks, which drive people to take them to the bin. This is where you can step in: advertising your services by postcards. Designing a postcard is easy, but not all easiness takes you to the right path. So, here are several insights to make a promotional postcard.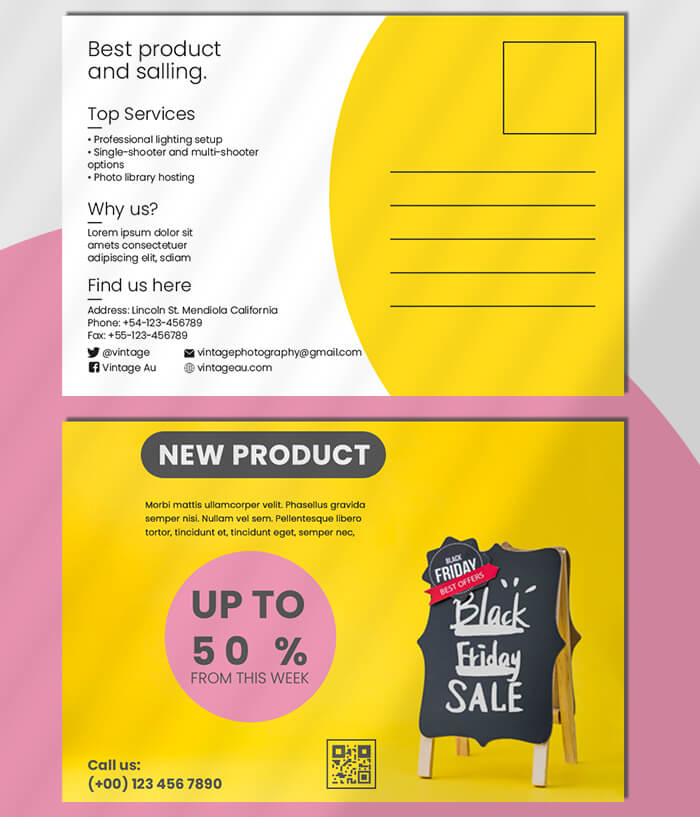 The Promotional Postcard Essentials
Just like designing a business card, a promotional postcard has things to consider before delving into designing it.
Size
Generally, postcard size ranges from 3.5-4.25 inches high and 5.0-6.0 inches long. The size of it is not definite, and you can make it bigger since it will be able to contain more information. However, that isn't always the case. Larger postcards may charge more for the printing and shipment fee.
Materials
This has nothing to do with design, but you need to pay attention to this aspect as well. Choosing the right paper is giving a huge impact on the final product's presentation. In general, postcards use thick paper which weight ranges around 200-250 gsm. You can also add a coating to protect it from scratches and scuffs while making the colors pop as well.
Contents
Postcards have two pages, but there are only a few spaces left for containing all information you want to convey. Hence, to advertise your products or services, you can also put the promotional passage on the front page and keeping it simple. The back page is intentionally made for address space and additional texts. The picture used on the front page should be related to your business.
Promotional Postcard Designs
Designing will need you to 'have fun' with colors, fonts, and decorations. Let's see what you should do here.
Colors
While playing with colors, make sure the colors chosen can represent your company well. You can also add some matching bold colors just to give accent and more professional look.
Fonts
Serve your postcard receiver right information with proper fonts. Just think about its readability before choosing a certain font for your promotional postcard.
Decorations
The use of decoration is a bit useless here because it may take spaces the text needed. But if you think it is too bland, you can add a few geometric shapes instead of ribbons or lacy decorations.
Promotional Postcard Using PSD Template
Well, do you think making your postcard design isn't worth your effort? Thanks to graphic designers, there are many PSD postcard templates out there which are not only nice but also easily accessible. Once you got the template, all you need is customizing it as per your preferences.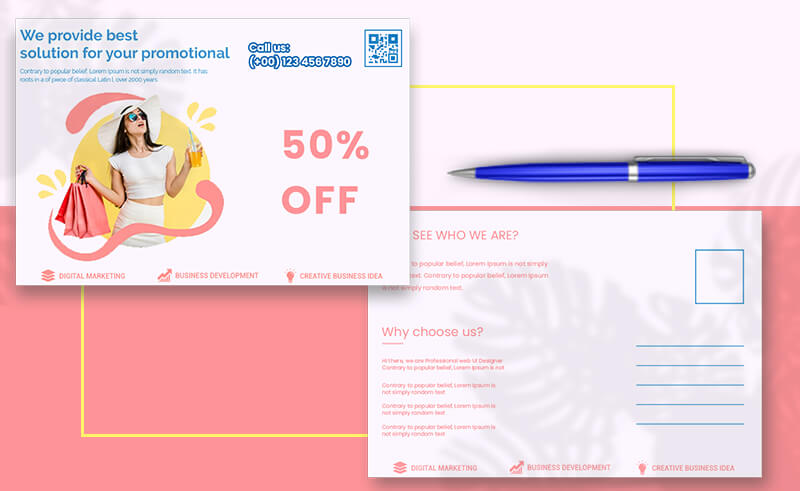 Promotional Postcard PSD Format
PSD format is widely used for templates. To customize a promotional postcard template, you need to use a specific image editor application. Once you got there, making postcards will be much easy and fun.