Starting a new job will be very difficult for some people, especially if the atmosphere at work and the colleagues are not supportive. It may take you several days to think about whether to continue your job or resign. If you want to resign from the job you just started, you are suggested to write a resignation letter for A job you just started.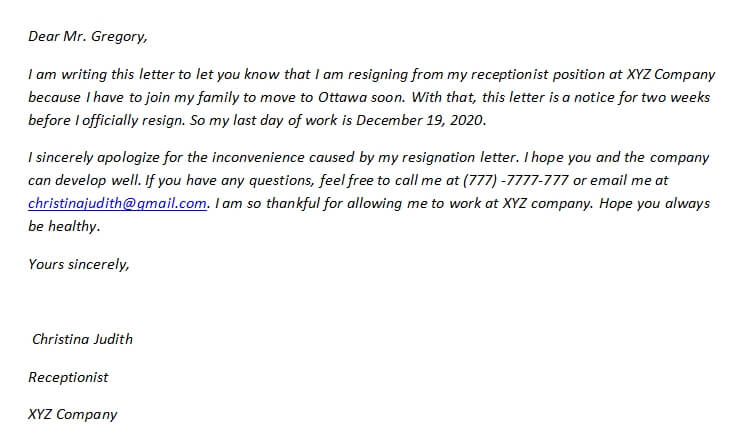 Is It Okay To Quit From A Job You Just Started?
You need to consider your decision to quit the job carefully. If you have been trying to survive in the work, but you still feel that you have to leave, then there's nothing wrong with resigning. You have the right to quit working, but you have to be ready in facing some consequences from the company.
Also, it is better to notify the employer two weeks before you officially resign. Because quit working suddenly is also inappropriate and impolite. Think of your company that should find a replacement.
What Are The Consequences of Leaving A Job?
You probably don't have to worry if your reasons for resigning are perfectly acceptable. However, in some cases, the consequences you can get if you leave the job you just started include:
Blacklisted by the company and its partners
Resigning when you just start working will make you blacklisted by the company, which means you will not be able to apply for a job at that company again. You will also be blacklisted from other companies that are partners with the company where you work. Indirectly, the company feels that it has suffered materially and in terms of time when they recruit new employees who suddenly leave. But you have a right to decide everything you need.
Lowering Reputation On Resumes
Your resignation may also affect your resume. The interviewer at your next job may ask about your reasons for leaving the previous company. Probably, they are worried that you will resign from their company too.
Giving Up First Paycheck
Leaving the job that you have just started, of course, will also have an impact on your financial condition. You may not be able to enjoy your first salary, and you still have to spend money to make a new job application.
How To Make A Resignation Letter for A Job You Just Started?
Knowing some of the consequences above, but you are still sure to resign. Then, you need to write a resignation letter for a job you just started. Well, if you are still confused about how to start, you might need to see an example below:
Dear Mr. Gregory,
I am writing this letter to let you know that I am resigning from my receptionist position at XYZ Company because I have to join my family to move to Ottawa soon. With that, this letter is a notice for two weeks before I officially resign. So my last day of work is December 19, 2020.
I sincerely apologize for the inconvenience caused by my resignation letter. I hope you and the company can develop well. If you have any questions, feel free to call me at (777) -7777-777 or email me at christinajudith@gmail.com. I am so thankful for allowing me to work at XYZ company. Hope you always be healthy.
Yours sincerely,
 Christina Judith
Receptionist
XYZ Company
To sum up, you can quit your job politely by using a good resignation letter for a job you just started. It's better to write your reason briefly and clearly.