Work doesn't always go well. Sometimes there will be an incompatibility between employer and employees. Some factors that occur may be from the poor employee's performance or a serious offense, so you inevitably have to terminate the incompetent employee. One of the most common ways to fire an employee is by using a termination letter for cause. Before starting to write your format, you will need some important aspects to be applied.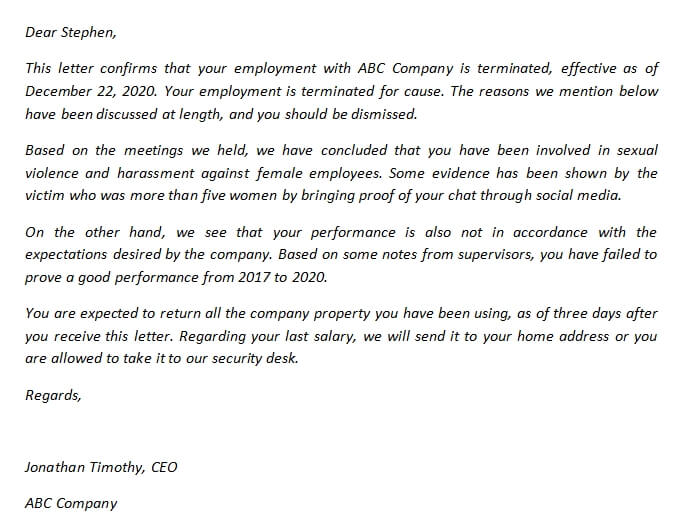 When I Can Terminate My Employees?
When you decide to terminate your employment relationship with an employee, your employee has likely committed a serious violation or something that you cannot forgive. For example, if your employee commits a violation like below, then you are better to terminate him/her. Here are the violations:
Violation of policies given by the company
Breach of employment contract
Commit violence or engage in violence
Abusing a position in work
Cannot work according to company expectations
Some violations may not be mentioned one by one. In essence, if an employee makes a serious mistake, the company must take firm action.
What Should I Put On Termination Letter?
Note several important aspects you must include in a termination letter. Such as your employee's name, company name, the reason for the termination, a list of the verbal and written warnings, and a list of company items your employee must return.
Should I Pay An Unemployment Compensation?
If the employer terminates the employment relationship for an error committed by the employee, the employer usually does not need to pay any unemployment compensation. If needed, you may be able to ask directly to the labor department in your state.
Termination Letter For Cause Example
If you want to write a termination letter, you can see the example below:
Dear Stephen,
This letter confirms that your employment with ABC Company is terminated, effective as of December 22, 2020. Your employment is terminated for cause. The reasons we mention below have been discussed at length, and you should be dismissed.
Based on the meetings we held, we have concluded that you have been involved in sexual violence and harassment against female employees. Some evidence has been shown by the victim who was more than five women by bringing proof of your chat through social media.
On the other hand, we see that your performance is also not in accordance with the expectations desired by the company. Based on some notes from supervisors, you have failed to prove a good performance from 2017 to 2020.
You are expected to return all the company property you have been using, as of three days after you receive this letter. Regarding your last salary, we will send it to your home address or you are allowed to take it to our security desk.
Regards,
Jonathan Timothy, CEO
ABC Company
In short, a termination letter for cause can be used to terminate your employment relationship with your employees. Note that an employee who is fired for a violation does not need to get unemployment compensation.