If you're a landlord and want to terminate one of your tenant's leases, you should try to address them in a letter. This will be the first step and will be the most appropriate way instead of notifying them directly on the first notification. Along with this letter, you can state your reason or not and it would be appropriate to give them some spare time to prepare all the things before they can go off.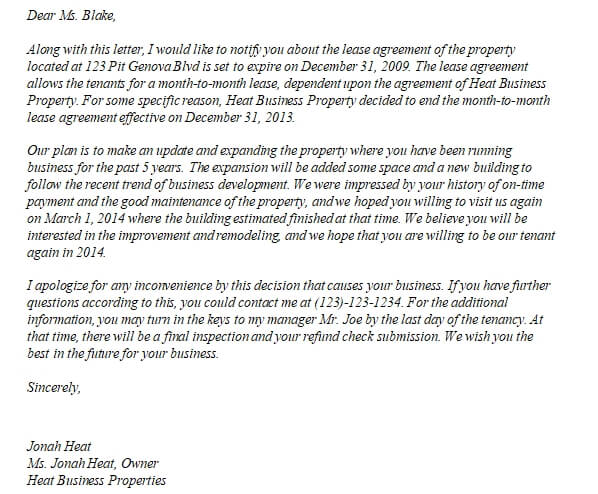 Can A Landlord Terminate Tenant's Lease For No Reason?
The answer is yes, but it is illegal. If you don't want your tenant knowing your specific reason, at least give a justification. For example, you can state your further plan about your property in order to get their understanding. You cannot terminate your tenant lease for discriminatory reasons or you will get into trouble.
When Does A Landlord Want To Break A Lease?
As a landlord, you can break your tenant's lease easily if they cannot keep up the fixed term agreement. For example, tenants always late at the payment or always being careless about the fixed agreement. This will be a good reason for you to break their lease. You cannot end their lease at that very moment, at least you should give them an opportunity 30 days' notice.
How Do I Write A Notice Of Lease Termination Letter?
The letter content may depend on the circumstances. You can use either a friendly or formal language. When you want to continue a good relationship with your tenant, you could use friendly tone. Otherwise, you should use a formal tone and include a specific reason for the termination. Include other detail such as the date letter written, the property information, tenant's information, and signature.
Sample Of Lease Termination Letter
The example below is editable, you may get some idea to make a new one.
Dear Ms. Blake,

Along with this letter, I would like to notify you about the lease agreement of the property located at 123 Pit Genova Blvd is set to expire on December 31, 2009. The lease agreement allows the tenants for a month-to-month lease, dependent upon the agreement of Heat Business Property. For some specific reason, Heat Business Property decided to end the month-to-month lease agreement effective on December 31, 2013.

Our plan is to make an update and expanding the property where you have been running business for the past 5 years. The expansion will be added some space and a new building to follow the recent trend of business development. We were impressed by your history of on-time payment and the good maintenance of the property, and we hoped you willing to visit us again on March 1, 2014 where the building estimated finished at that time. We believe you will be interested in the improvement and remodeling, and we hope that you are willing to be our tenant again in 2014.

I apologize for any inconvenience by this decision that causes your business. If you have further questions according to this, you could contact me at (123)-123-1234. For the additional information, you may turn in the keys to my manager Mr. Joe by the last day of the tenancy. At that time, there will be a final inspection and your refund check submission. We wish you the best in the future for your business.

Sincerely,


Jonah Heat
Ms. Jonah Heat, Owner
Heat Business Properties
In conclusion, you can edit the example as if you need it in order to help you make a lease termination letter.