Acting Resume Template Free Download and the Details You will Need
For you who are looking for acting resume template, some downloadable templates below should help you out. After all, writing resume with the help of template is indeed easier and way more convenient. You do not even have to write the concept on your own.
Well, these are some templates as your references. They come from all sorts of types and formats. You just need to download one that you like the most. After that, all you need to do is editing it, and then use it for audition or for whatever purpose you have.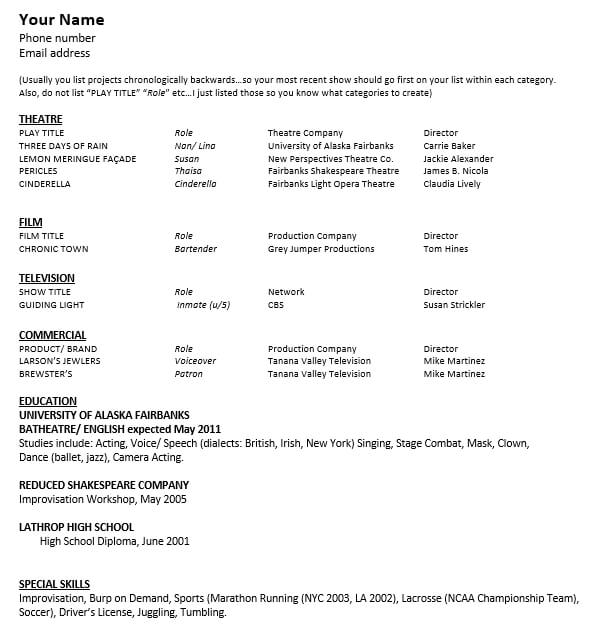 Acting Resume Template Example
Simon Howard
281-281-983
H: 170 cm/ 5ft 6in
W: 50 kg/ 110 lb
About Simon Howard
Simon Howard is Scottish-born aspiring actor. The 25-year actor is coming from strong acting background as his parents were all theater performer. He studied acting at Glasgow Acting School and graduated with Bachelor's Degree in Acting back in 2015.
Education Background
Glasgow National High School, Graduated 2011, GPA 3.4
Glasgow Acting School, Graduated 2015, Bachelor's Degree in Acting, GPA 3.2
Skills
Accent: Scottish English (Advanced), Cockney English (Advanced), Midland (Advanced), Russian (Intermediate)
Dancing: Advanced (Tap, Folk, Irish)
Singing: Intermediate
Creativity: Intermediate
Script Writing: Intermediate
Training
Seminar for Script Writing, 2020, Independent Film Institute
Assisting a Director, 2020, British Theater Community
The Previous Projects and Productions
Irene and Her Shoes, Short Movie, 2017, Supporting Actor (James)
Romeo and Juliet, Stage/Theater, 2018, Main Role (Romeo)
Mathew and Laurence, Independent movie, 2019, Main Role (Laurence)
Hairspray, Stage, 2019, Main Role (Link Larkin)
Jim the Lobster, Short Movie, 2020, Main Role (Jim)
Beyond the Rainbow, Independent Movie, 2020, Supporting Actor (Maddox) and Script Writing
How to Write an Acting Resume?
There are some steps you can follow to write a good acting resume template. The steps will be explained below.
First, download the correct template to begin with.
Make sure the template has space to write your acting agency detail (if any), contact details, and your personal information.
Make sure the template also provides space to list your acting-related work experience and training as well.
Make sure the template includes the blank space to list your specific skills.
Then, complete the template and print it.
People Also Ask
What should never go on an acting resume?
Acting resume is like no other type of resume. It seems bit informal and highlight on particular skills. You should never write too personal details which have no any use in acting, such as your physical address and your social security number.
Please remember these will not have any connection nonetheless to the acting or audition business, so you do not need to include those details on your resume. Just write the brief information on the acting resume template. Moreover, if you are represented by an agent, your agent's contact details should be there instead.
What skills should I put on my acting resume?
In order to conquer the script and make a good movie or production, actors surely need to have several skills. Accent is considered to be one of the most important things, especially when actors are very versatile with accent. That will help them to play any roles easily.
Besides accent, dancing and singing skills are also important when it comes to acting. This is why when writing acting resume or when you are looking for acting resume template, the space to write dancing and singing skill is always necessary.
How do I make an acting resume with no experience?
If you have no experience whatsoever, you can always find the acting resume template for beginners. It is simpler in format, and you can add your other skills instead. Or, if you are coming from an acting background, like from an acting school, you can include your reference. These can be your teacher, tutors or your peers in project or productions. Include their contact number, and you should be able to make the resume look professional even though you have no previous acting experience.
Beginner Acting Resume Example
Do not worry that you are a newbie in acting. There are many templates to help you show off your natural skill, and this is one of them.
Free Resume Template for Acting Teacher
Many people are pursuing career as teacher in acting. This is the acting resume template for them. It is available for free.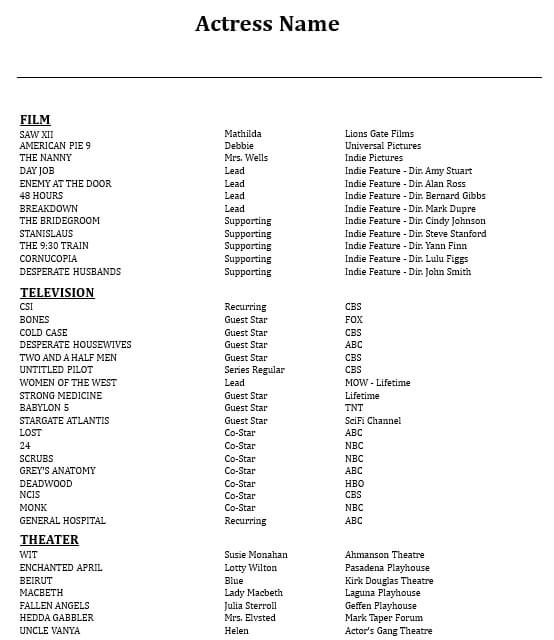 Resume Template for Acting Free Download
Download for free the acting resume template that will help you write and compose your acting-related information. The resume should be good enough to get you through the audition.
Format Acting Resume for Beginner
Beginners mean your acting experience is not that much. Even so, the resume still has to be impressive, and you need to write it properly by using the right acting resume template.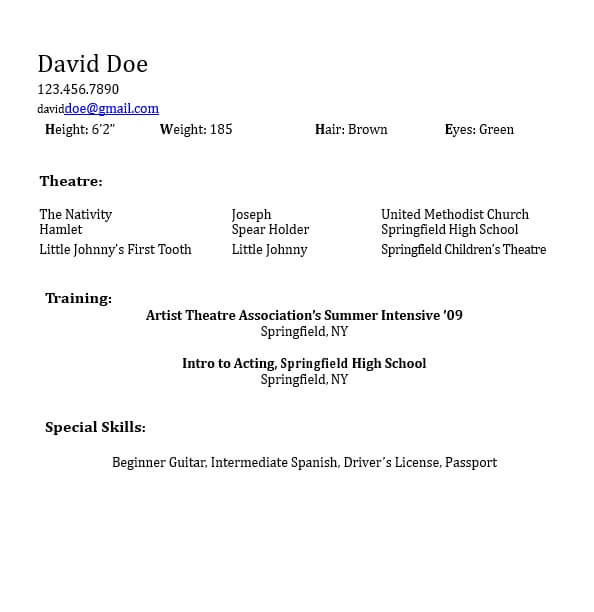 Resume Acting Template in PDF Format
If you have to email your resume, make sure it is in PDF format. This template is also in PDF, so you can download and use it directly.
Acting School Student Resume Template
Are you coming from acting school? Whether you graduate or not, you can always include it on the education background.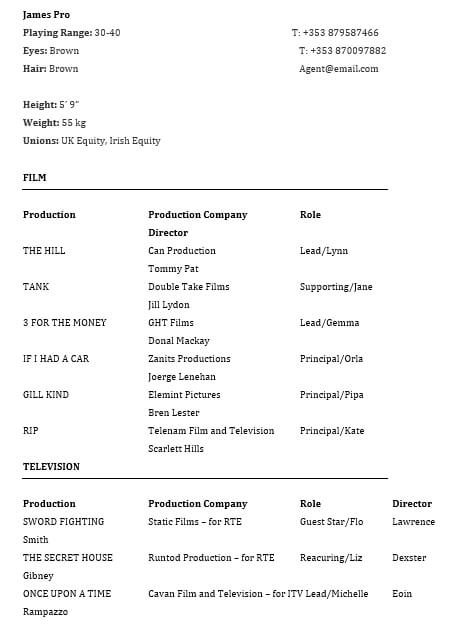 Acting Resume Example without Experience
When it comes to the acting, a lot of people do not have experience at all. You do not need to include it on the resume for the first time, and just follow the template provided for the beginners.
Resume Template for Acting Example
Everyone surely needs an acting resume template to write a good resume. This is why you should always download the best template with the reliable format.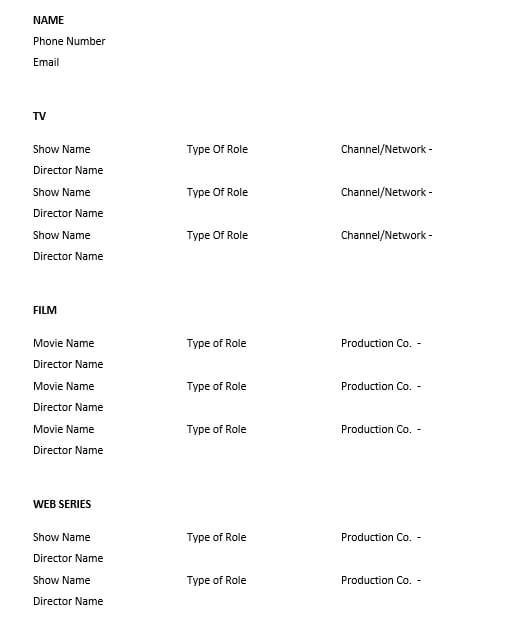 Professional Acting Resume Example
This is the template for professional actors, and they should be able to compose impressive details about their acting career by using the template below.
Sample Template Acting Resume
A good template is going to provide the spaces to add in your skill, experience and acting-related information. Of course, this acting resume template is the one you are looking for.