Free Federal Resume Sample, Templates, and Writing Tips
Federal resume is a highly thorough document that describes about prior work experience. It is a required to be submitted to apply for federal government jobs. At a glance, it seems to be similar to common resume by containing components such as education and work experience. However, it differs in terms of length, structure, and content.
Despite some similarities exists between resume to apply for public and private jobs, you generally need to be more detailed with the former. You must provide the document by using specific mandatory structure and format. Below, you can read and learn further about what federal resume is, its sample document, tips to write one, and various template samples.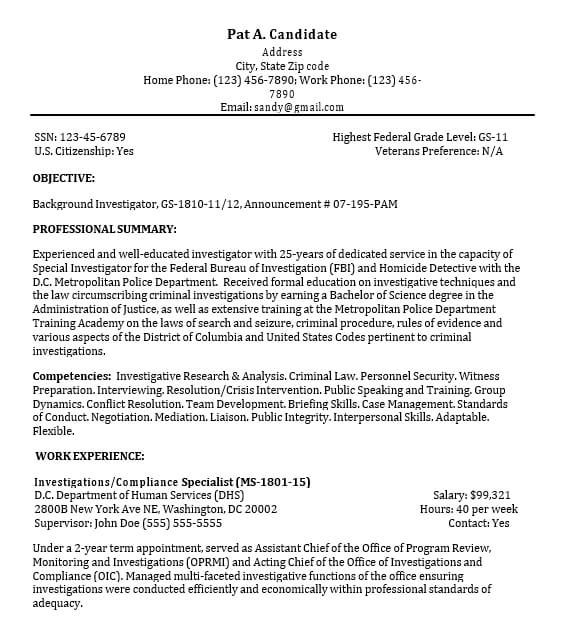 Sample of Federal Resume
Nicole Allen
7708 High Ridge Drive
York, PA 17402
1 202 555 0191
Citizenship: U.S. Citizen
Current GS/Band: N/A
Veteran's Preference: N/A
Federal Civilian Employee: N/A
Qualifications:
Professional nurse has more than 5 years of experience with diverse capacities in leadership and non-leadership positions. Field of expertise in nursing area includes correctional nurse, charge nurse, staff nurse, and other roles. Capable of maintain best quality care level consistently for patients from various background and populations, from geriatric to pediatric patients. Provide extensive range of nursing care for patients with physical or behavioral issues. Skilled in establishing effective communication with health team members, patient, patient's families, and their visitors.
Employment History:
Army Public Health Nurse, US Army
U.S. Naval Medical Center
Philadelphia, Pennsylvania
Fulfill the role of Army Public Health Nurse by assessing Army communities' health risks, execute health programs to monitor and prevent spread of infectious disease, and promote general well-being of the Army soldier. Carry the responsibility of Army Nurse Corps member to create positive impact to improve the wellness and health quality of Soldiers and their families
Technical skills:
Microsoft Word
Microsoft Excel
Microsoft Power Point
Education:
South Philadelphia High School
Philadelphia, Pennsylvania
The University of Pennsylvania School of Nursing – Graduated August 2008
Nursing
Fundamentals of Nursing
Patient Care
Physical Assessment
Anatomy and Physiology
Pharmacology
Federal Resume Writing Tips
Address each of the required qualification mentioned in job announcement on your experiences. The hiring agency looks for particular terms inside the federal resume to ensure that the candidate has sought experiences.
Organize the resume document to make it easier for the agencies to assess your experience. You need to provide required information so your qualification can be determined by hiring agency and to be considered for the applied job.
Make the document concise enough because the hiring agency will skim over all the submissions and eliminate unqualified candidates.
Do a double check to ensure there is no error in grammars and spelling.
People Also Ask
What is the format of federal resume?
The format of resume to apply for federal government is quite similar to private sector resume by containing education and work experience information, but it is far more detailed in explaining the included items.
How do you write a federal resume?
Federal government jobs typically require the candidates to have specific type of work experience for defined period of time. You have to write your experiences and skills in detail to show how you meet the requirements and qualifications as shown in the job announcement in order to be considered for the job.
How many years should you go back on a federal resume?
Both resumes for public and private sector jobs recently only refer to approximately the last 10 years. Work experience from over 20 years ago often deemed as rather irrelevant as things that learned more than a decade ago are supposed to be out-of-date.
Federal Resume Templates
Below, you will be provided with various template samples of federal resume. As you go through the templates, you may learn about what to include and how to format the document to assist you in writing your own.
Free Template of Federal Resume
This resume is designed to be used to apply for federal jobs. It is a helpful sample of template to get you started in building a proper resume.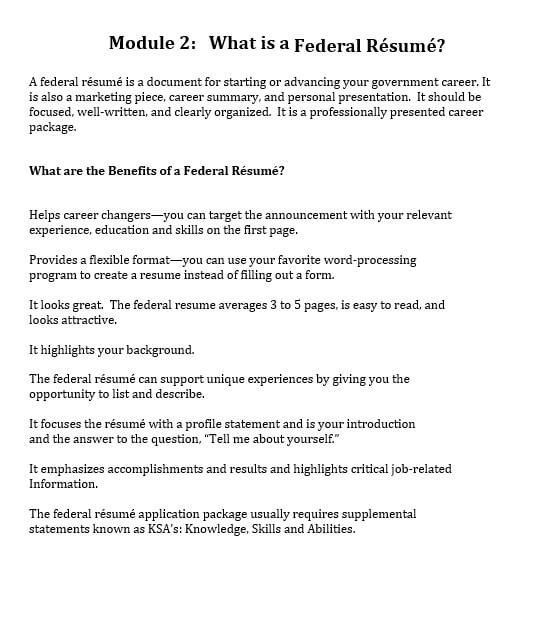 Customizable Federal Resume
This template follows the formatting of professional resume. It allows you to list all of your relevant skills and work experiences in bulleted format and information about each point.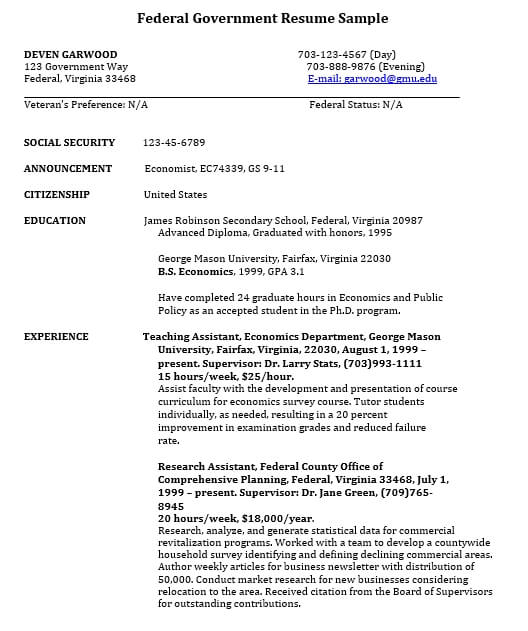 Downloadable Templates for Federal Jobs Resume
When it comes to create federal resume, simple structure and design is the best to avoid the hiring manager to get distracted. This free template can be downloaded to help you build basic resume with all the required information.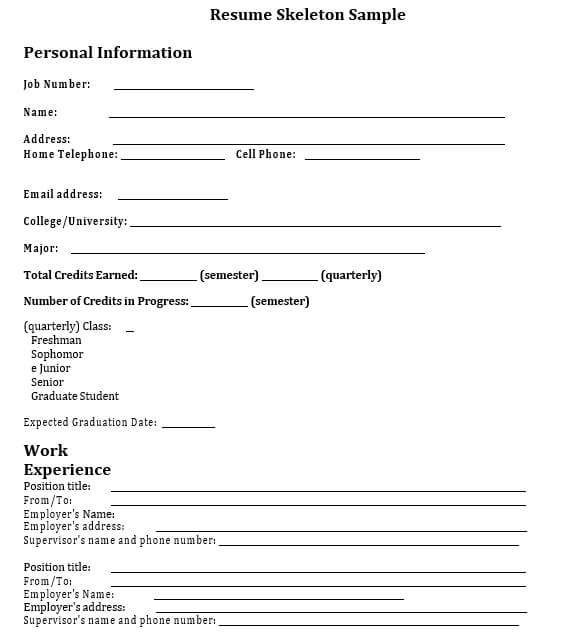 Free Download Resume for Federal Jobs
Use this template to create detailed resume document. By using the template, you can properly list all of your qualifications and accomplishments to apply for the federal government jobs.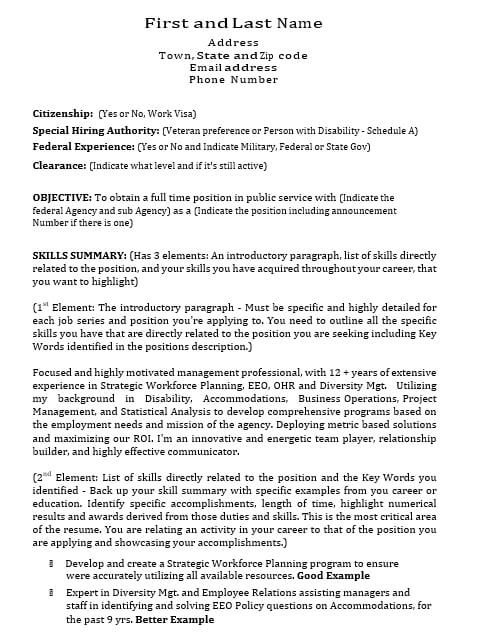 Professional Federal Resume Template
As federal resume requires you to be more detailed about your qualifications, you can make use of this template document to guide you in organizing personal information, employment history, career objective, and education and training experiences.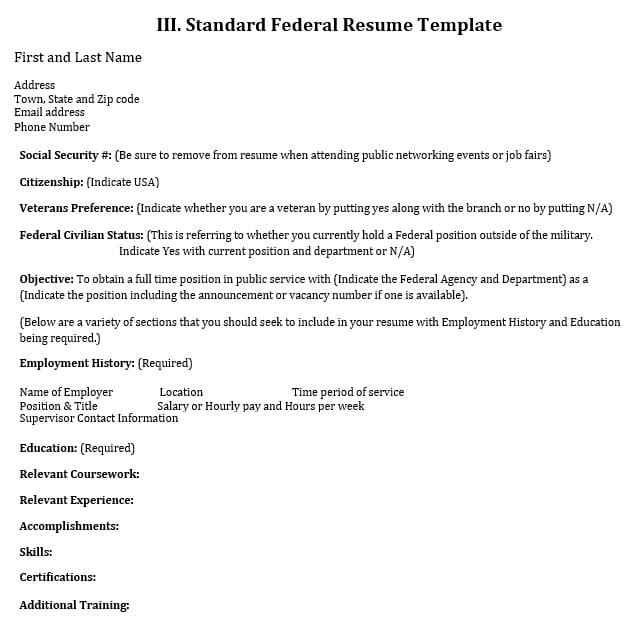 Federal Resume Template Sample Document
Building resume to apply for federal jobs is different from building resume to apply for jobs in private sector. This template can guide you to provide the correct formatting and detailed information that otherwise cannot be found in common private sector resumes.
Government Resume Free Template
Writing proper resume of federal jobs is not an easy thing. You may consider to use free template to make sure you're getting on the right path to create an accurate and impressive resume.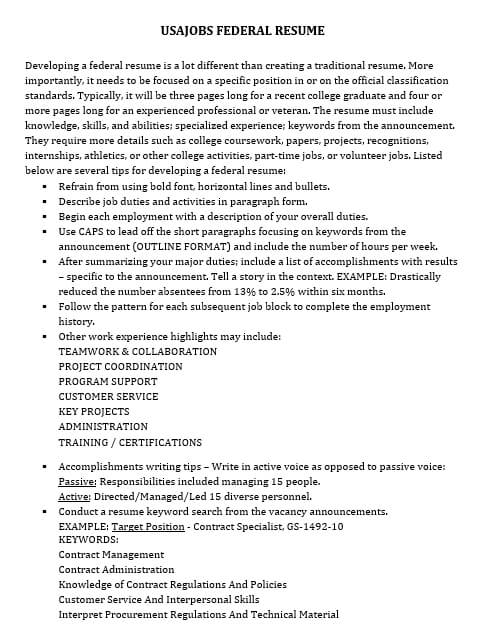 Example of Federal Jobs Resume
Download and make use of this free resume to create an effective, simple, and organized document. It helps you to follow the required detail-oriented outline for federal jobs applications.
Federal Resume Format Sample
To apply for a position in a government agency in federal level, you need to submit a tailored resume with a few components. This template can guide you to demonstrate the mandatory qualifications for the job positions.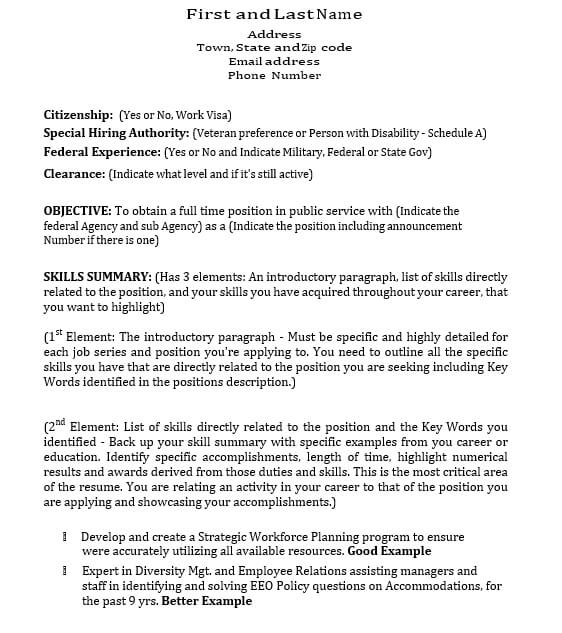 Feel free to use these professional, complete, and perfect federal resume document. Some are available in customizable format so you can easily edit it to meet with your specific information details.