High School Resume Template and Writing Tips
Creating a resume for a high school student can be a daunting task because, practically, students don't have work experience. Since standard resume wouldn't work for them, a high school resume template will be an excellent reference for high school students.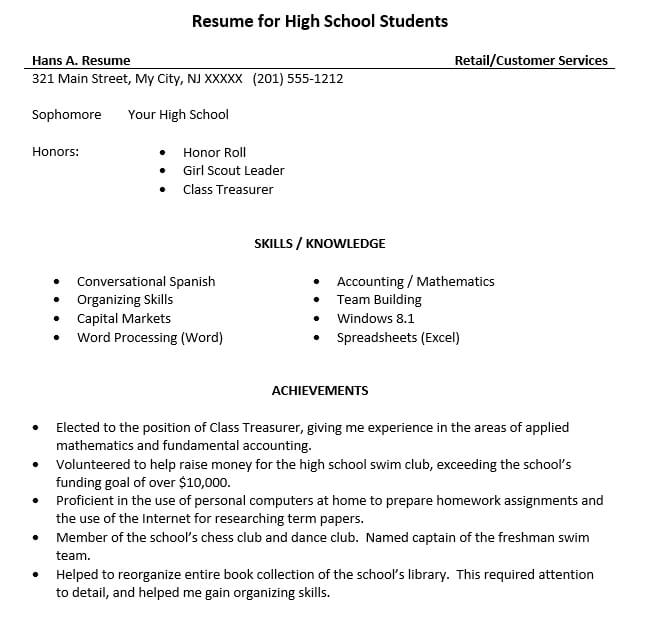 A high school resume usually focuses on extracurricular activities, relevant courses, volunteering activities, and professional experiences, if there are any. Below are the high school resume template samples and the writing tips.
High School Resume Example
The following is the sample of high school resume as a reference:
Gabriel Luna
Contact
Phone: (111) 222-3333
Email: lunagabriel@gmail.com
Summary
I am a driven student with a GPA of 3.6/4.0 who has a keen interest in the tech industry. I am also aspired to grow with the leading companies in the industry, where I am able to develop my skills.
Education
Sacramento Tech High School
Graduation Date: June 2018
GPA: 3.6
Relevant Courses: Advanced Geometry, Calculus 1 and 2
Experience
Finance and Accounting Summer Internship
Jack & Jill, Summer 2017
Conducted analysis, documentation, and review of any process
Organized evaluation method to reduce time by 10 percent
Team Captain of Math Club, 2016-2017
Held weekly meetings and created workshops for the annual Math competition
Throughout the term as team captain, the club won five competitions
Increased sign-ups during the recruitment event up to 15%
Cashier
Brook's Grocery, 2016
Performed all kinds of transactions, including consumer credit, refunds, and gift cards
Awards
Certification of Introduction to Business
Honor roll 2016-2018
Skills
Problem-solving
Strong work ethic
Active listening
Consenting to constructive criticism
Languages
English: Fluent
Mandarin: Intermediate
How to Write a Good High School Resume
Writing a resume can be a bit confusing. If you are a high school student and required to write a resume, here are the steps you may follow:
Write a career objective at the upper part of the resume
Highlight any types of your experience
Write a thorough educational background
List all kinds of awards, academic achievement, or any accomplishment during high school
Include hard skills related to the job you are proposing
Include soft skills
If you are fluent in foreign languages, include it on your resume
People Also Ask
What is the importance of a high school resume sample?
A high school student typically has limited job experience. A high school resume template is a pre-made resume to help you compose an effective resume. It is more likely to draw the employer's attention to review your application.
How to write a high school resume with no work experience?
Include a compelling career objective
Compose it properly with the right format and writing elements
Add details regarding skills and education
Include additional sections to the resume related to the position you propose
What to not include in your high school resume?
Well, do not ever use the word "curriculum vitae" or "resume" as a label, but use your name. Then, do not include irrelevant personal information. Moreover, if you live i US, most corporations prefer applicants to not attach a photograph
Types of High School Resumes
High school curriculum vitae are available in various types that you can choose as per your needs. It's essential to find the right type of resume for a process of successful recruitment.
High School Resume Template for Teachers
Besides high school students who require a well-written resume, teachers also require one. Writing a resume as high school teacher is easier than student since teachers already have professional experiences.
High School Resume Template for Academic Coordinator
This high school resume template is beneficial for academic coordinators who plan to look for new job opportunities. This ready-made resume provides information that should be included in the CV.
High School Resume Template to Customize
Every resume template provides users the flexibility in customizing it as per their needs. This template is also compatible with any design programs, such as Photoshop and Adobe InDesign.
Resume Template for High School Nurse
This is a high school resume template that can be easily used by a nurse who previously works at a high school. All details included are closely related to the position.
Resume Template for High School Librarian
As previously mentioned, not every high school resume is intended for high schoolers. There are some of them that are designed for a librarian who works at school. This resume includes what a school librarian needs to write in their resume.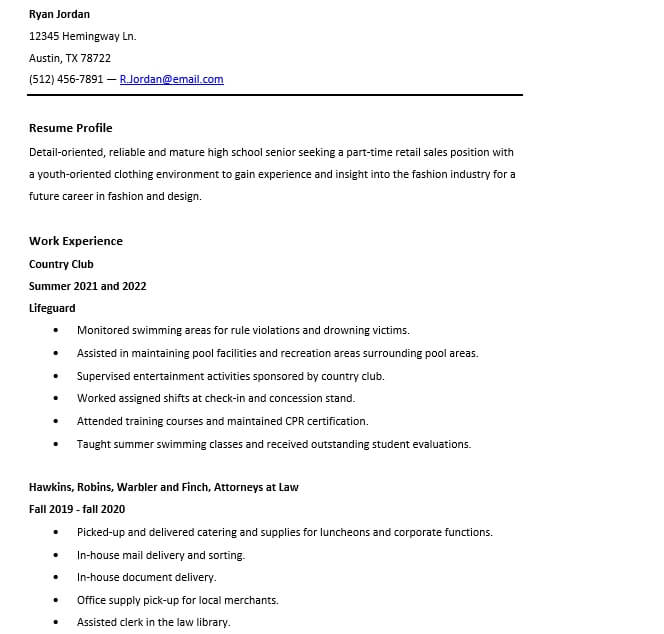 Resume Sample for High School Business Teacher
A high school resume template for a teacher at a business school differs from any kind of resume. It's more specific than a student resume. This template involves detailed work experience and job duties a business teacher has performed in the previous employment.
Resume Template High School Academic
It's a well-arranged pre-made resume for high school graduates who want to continue their study. It doesn't contain any unnecessary details, so it's perfect for academic purposes.
Classic Format of High School Resume
This high school resume template is in a classic format with only basic details, including applicant name, a photograph, and a summary of career objective. Unlike modern resume, the experience, skills, and educational background in this template are written in paragraphs.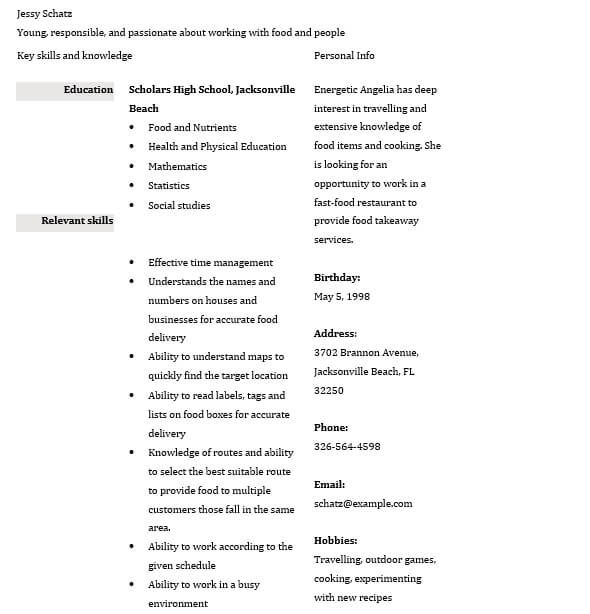 High School Resume Template for Food Delivery Job
This is a resume for high school student of graduate who applies for food delivery position. The template is relatively simple as it only includes career objectives, contact details, a background of education, and skills related to the job.
Cover Letter Template for High School Resume
While a cover letter is not always necessary, it's best for high school students to attach one while sending a resume. This cover letter template basically consists of a summary of the entire resume.
High School Resume Template in Word
This high school resume template is available in a .doc file. For you who have limited digital design skills, this one is the most ideal template.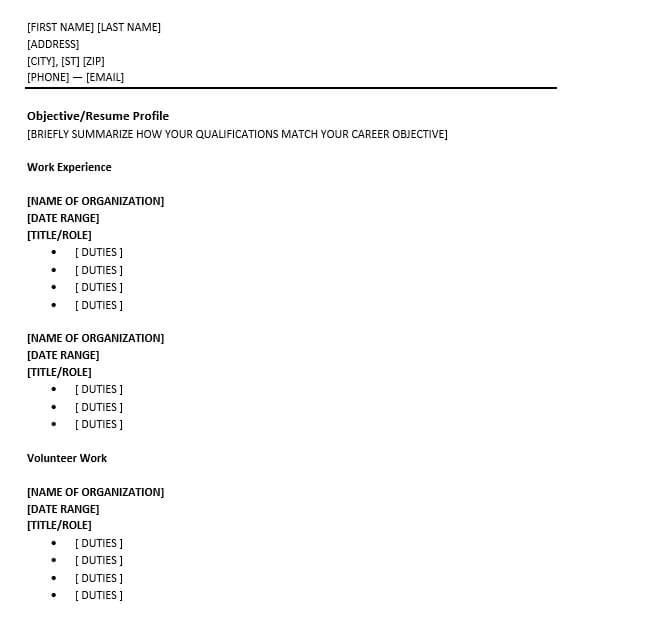 Example of High School Resume
It is the most basic template to compose a high school resume. It also consists of essential resume sections where you don't need to do anything but changing the details.
Resume Template for High School Graduate
It is high school resume template that can be used by those who have graduated from high school. Since the majority of students don't have practical experience, this resume provides all information that will help students succeed in the recruitment process.
Sample Template of High School Resume
Usually, employers won't expect too much from a high school applicant. This template can be used as a reference as it includes all the relevant details.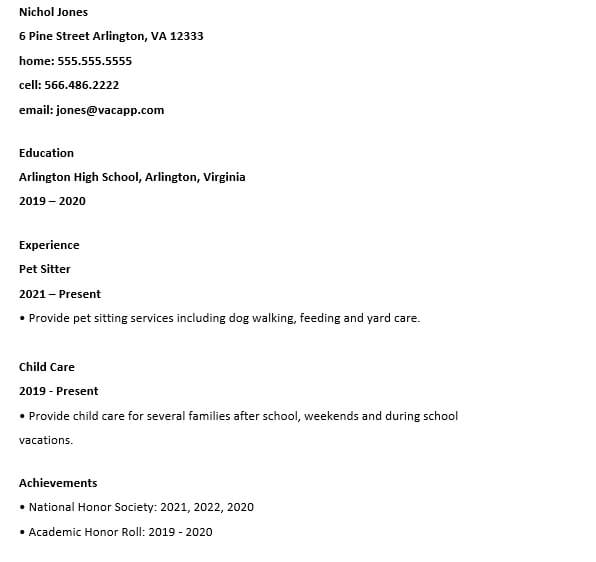 Basic Format of High School Resume
This template provides the conventional format of a resume for high school students. Besides, it's also available in a .doc file that's highly convenient for those who don't want to put too much effort into designing the document.
A high school resume template for students consists of less work experience as it is a normal thing for students. But there are several details mentioned above that will make the resume more stand out among others.