Example of Nursing Student Resumes and Writing Guidelines
Finding out an effective way to highlight your qualifications on nursing student resumes is one of significant factors that can help you land a job. With all your clinical experiences and certificates, you should know how to put yourself as a qualified applicant.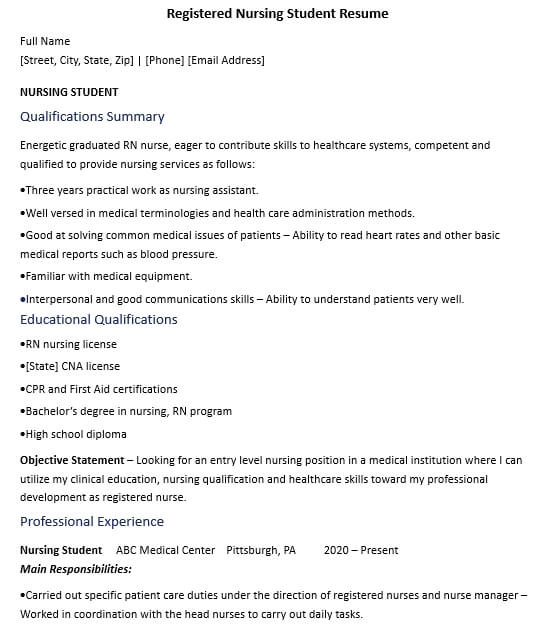 If you have just graduated from nursing school, it's understandable if the process of creating a resume can be a bit tricky. Below are samples of nursing student resumes and writing tips to compose a stand-out resume.
Sample of Nursing Student Resume
The following sample will help you to outline all the details in your resume:
Harper Klopp
Personal Info
Address: Townsend, MT 59644
Phone: 406-444-1121
Email: harperklopp@gmail.com
Summary
A Bachelor of Science in Nursing graduate with a GPA of 3.8/4.0 and professional experience as an ER nurse. Contributed to the comfort of a patient after and before surgery procedure by supervising the administer of secondary intravenous infusion.
Education
Bachelor of Science in Nursing, Montana State University
GPA: 3.8
Relevant courses: Professional practices in nursing, medical analysis, treatment of acute conditions, nursing pharmacology, and innovation in leadership.
Year of graduation: 2018
Experience
Montana State Hospital
Emergency Room Nurse | 2017-2018
Performed the administer of transparent films and pain relief medication for burn patients
Performed assessment and treatment to patients with allergies using albuterol as well as epinephrine
Briefed doctors in the Emergency Room about the signs the patient has and treatments that have been administrated to the patient
Help patients to keep relaxed as the initial evaluations are carried out
Certifications
Licensed Nurse, Montana Board of Nursing
Basic life support provisional certification
Certification of trauma nursing introductory course
Medical-surgical nursing certification
Skills
ER nurse level 1
Secondary intravenous infusion
Application of transparent films
Teamwork
Reasoning
Emotional intelligence
How to Write a Nursing Student Resume
Below are the steps to compose a nursing student resume:
First and foremost, include your personal details, such as an address, phone number, and email, at the top of the resume.
While it's not necessary, it's recommended to include a brief, compelling career objective.
Include all the licensure and certifications you have.
Highlight your most relevant skills.
Include your last education with GPA and relevant coursework.
Include your clinical experiences in chronological order.
If there is any, list the awards and accomplishments as well.
People Also Ask
How to write a nursing student resume with no experience?
First, make sure you use a correct format and set clear career objectives. Then, use all your certificates to present yourself as a professional. Describe the education and training you have passed, and emphasize the relevant courses you have learned.
How to write a good objective for a nursing student resume?
You need to include the name of medical institution you are applying to. This is to show that you are passionate about the position and the institution. In addition, keep the career objective to just two sentences. When specifying your qualifications and goals, use strong descriptive words.
What should be avoided when writing a nursing student resume?
Using an objective statement rather than a compelling summary
Not providing enough details about the employers in your previous health facility
The nursing student resumes contain too much or too few details
Not including relevant information
Types of Resumes for Nursing Students
Nursing student resumes are available in many different types. Therefore, it's essential to find out the most appropriate kind of resume to ensure the success of recruitment process.
Nursing Student Resume for New Graduates
This is an ideal choice for fresh graduates who are seeking clinical experience in a reputable health facility. This template provides the most detailed content about what they should include in a resume.
Free Template of Nursing Student Resume
It's a free template compatible with many design programs. In addition to this, this resume sample has all the important sections that nursing student resumes must have.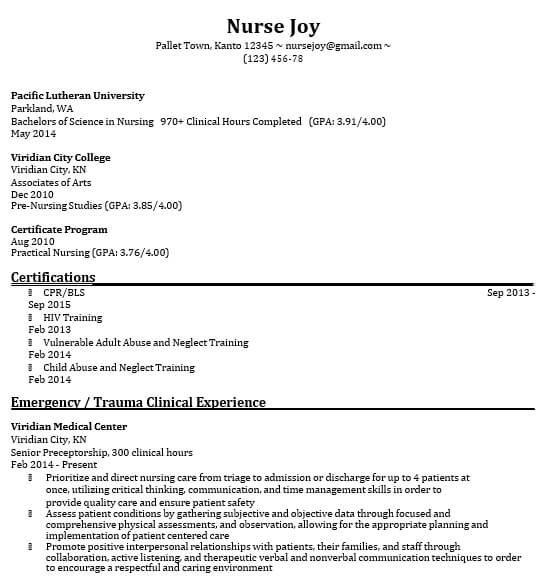 Nursing Student Resume with Professional Experience
This is the proper resume for nursing students who already have clinical experience. It helps you compose a well-written resume that includes the duties and responsibilities a nurse has to perform.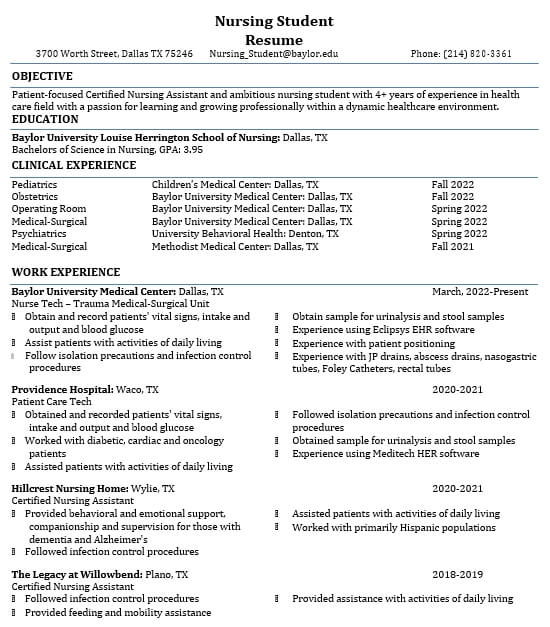 Formal Nursing Student Resume
It's obvious that nursing student resumes should be composed professionally. This sample will help you arrange all the essential details in a professional manner to attract the employers' attention.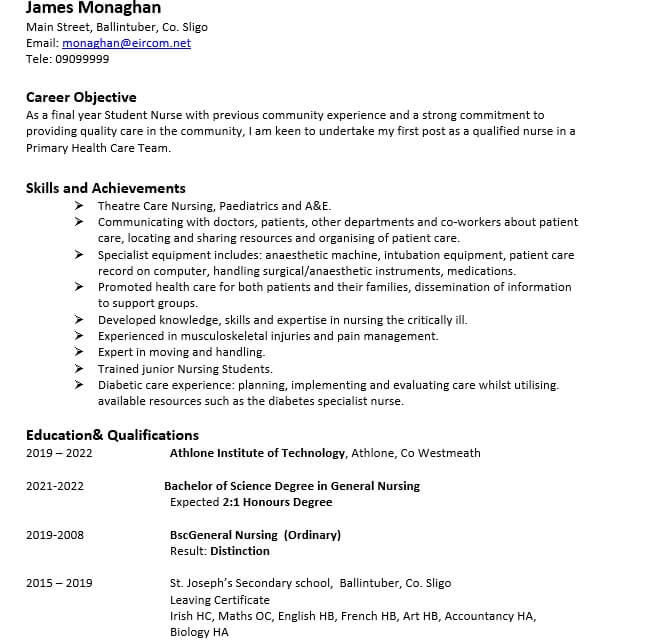 Simple Nursing Student Resume with Clinical Experience
This is a resume template for nursing students who have professional experience in healthcare organizations, government agencies, and hospitals. If you are the said student, this is the ideal sample you can use as a reference.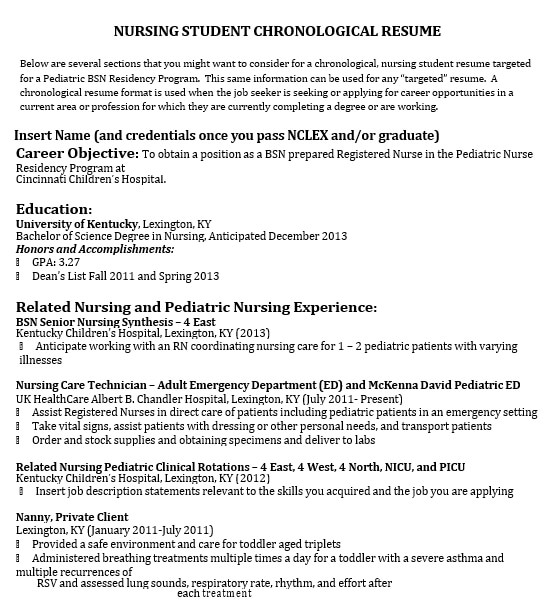 Nursing Resume for Final Year Students
Nursing student resumes for those with clinical experience and students in the final year are obviously different. This resume sample can be used for composing your resume that adequately explains all the relevant details.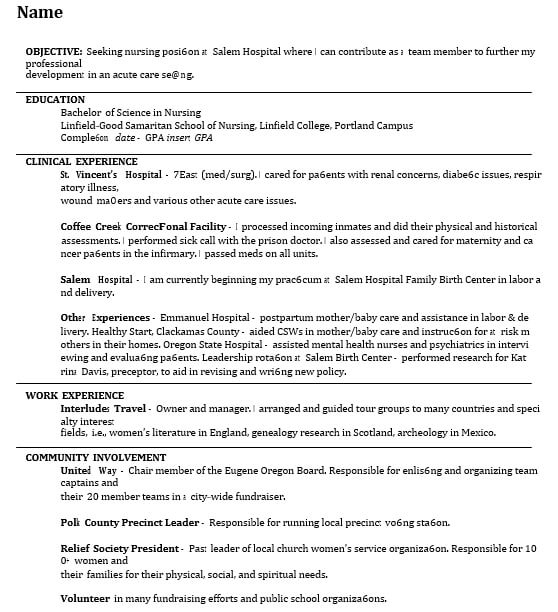 Cover Letter for Nursing Student Resume
While it's not essential, it's highly recommended to always include a well-composed cover letter while sending resume. The cover letter should mention what you have in your resume in paragraph forms.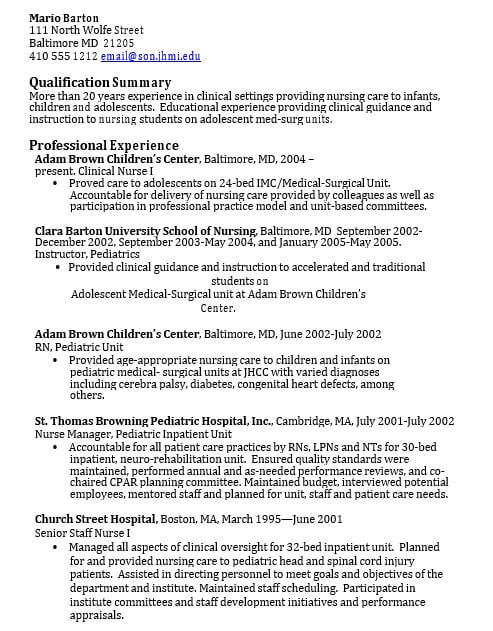 Nursing Student Resume Sample in PDF
Nursing student resumes are available in various file formats. This one is available in a .pdf file, meaning the file is not editable, and you should convert it first to another customizable file format.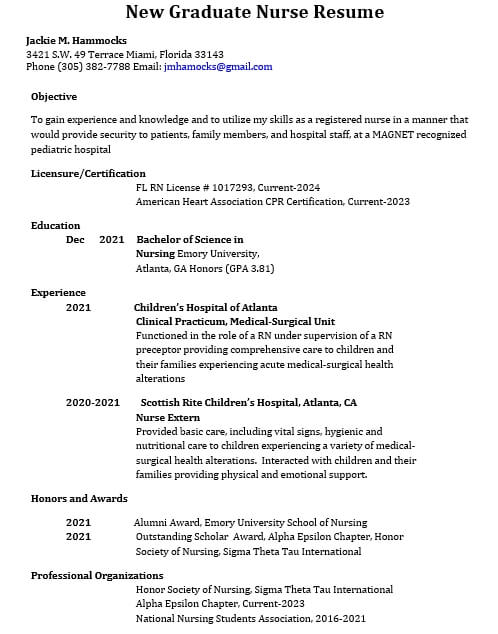 Nursing Student Resume in Chronological Order
This is a resume sample to list your professional experience in chronological order, with the most recent experience at the top of the list. It includes a career objective before the list of jobs and achievements relevant to the position you propose.
Resume Sample for Licensed Nursing Student
If you are a registered nurse and planning to apply for new position, this .doc template is an excellent reference to write your own resume. The good thing about nursing student resumes in a .doc file is it doesn't require any arduous editing process.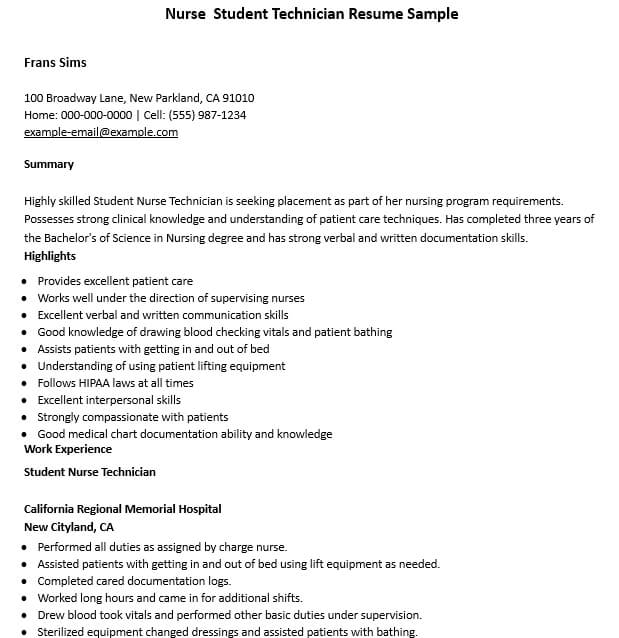 Resume of Student Nurse Technician
This is a pre-made resume layout for nursing students who acquire both theoretical and practical knowledge by performing specific duties. Well, you should focus more on the responsibilities you performed, as shown in this template.
Drafting nursing student resumes can be a little bit taxing, particularly when you don't have adequate professional experience. However, by looking at the samples above, writing a professional resume can be done in a matter of time.