Teacher Resume Template Samples and Writing Tips
Writing a resume is always a daunting task, not to mention for a teacher. It's advisable to review a teacher resume template that is relevant to your previous position. By using a template, you will know what you need to include in your resume.
You should also know how to compose a resume that represents the current resume trends for your profession. To help you create a stand-out resume, here are the samples of teacher resume template and writing guidelines you need to know.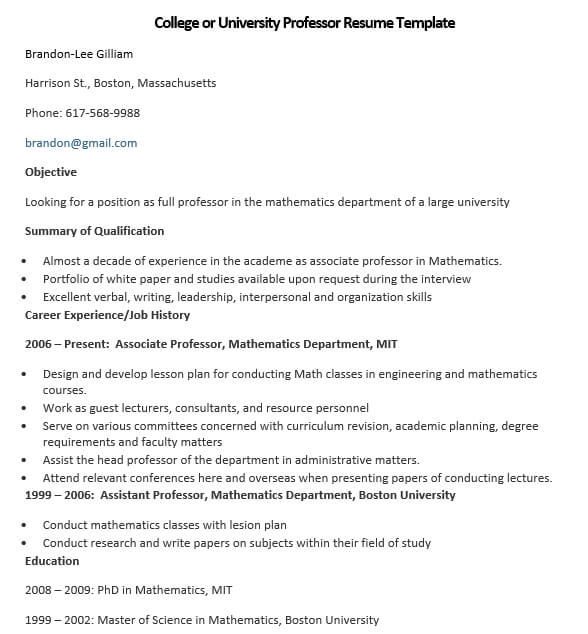 Sample of Teacher Resume Template
Here is teacher resume sample that you may use as reference:
Anthony Brown
Dallas, TX 75204
972-111-2222
anthonybrown@gmail.com
Summary
I am a passionate teacher in a Montessori-based environment pursuing a specialized educator position. I am committed to be involved in students' learning processes with different capabilities and providing assistance to them.
Education
Texas State University
Bachelor of Arts
Major in Educational Psychology
2013 – 2017
3.6/4.0 GPA
Texas State University
Master of Arts in Special Education
2017 – 2019
Professional Experience
St. Paul Elementary
Elementary Special Education Teacher (May 2017 – Present)
Provide students with special needs compassionate care, support, and guidance.
Keep an 80 percent score for all the students under my guidance with minimal violations in behavior.
Assist students one by one develop their ability and visit them at home to provide guidance for the parents on how to support the education of their children.
Skills
Non-verbal communication
Imaginative and critical thinking
Fluent in Mandarin
Awards and Achievements
Certification of Behavior Analyst
Best New Teacher of the Year (2017-2018)
Tips to Write a Teacher Resume
Below is the step-by-step to write a teacher resume:
Review the resume examples for teaching jobs
Choose the appropriate format
Include a compelling career objective
Include all your experience related to the position you apply for
Be specific when describing your previous job's duties and accomplishments
Proofread the resume to avoid spelling and grammatical errors
People Also Ask
What is the best format for teacher resumes?
A functional teacher resume format should focus on the applicant's skills rather than experience. Thus, it's ideal for those with little to no work history or relevant professional experience.
What makes a teacher resume looks good?
Using numbers
The resume more focuses on awards and certifications
Specific list of skills
Only list the most recent jobs
Proof that you're a tech-savvy
Using action verbs
Attaching a cover letter
Short but not too short
What to not put in a teacher resume?
You should not put too much irrelevant information, your age and details about your interests, the qualifications and experience inaccuracies, as well as personal information apart from address, phone number, and email
Resume for Ceramic Teacher
If you apply for the position of ceramic teacher, then it's advisable to check this teacher resume template. It provides you with resume details in a professional manner.
Resume Template for Art Teacher
This elegant looking template is ideal for art teachers. It comes with a format when you can insert many resume details.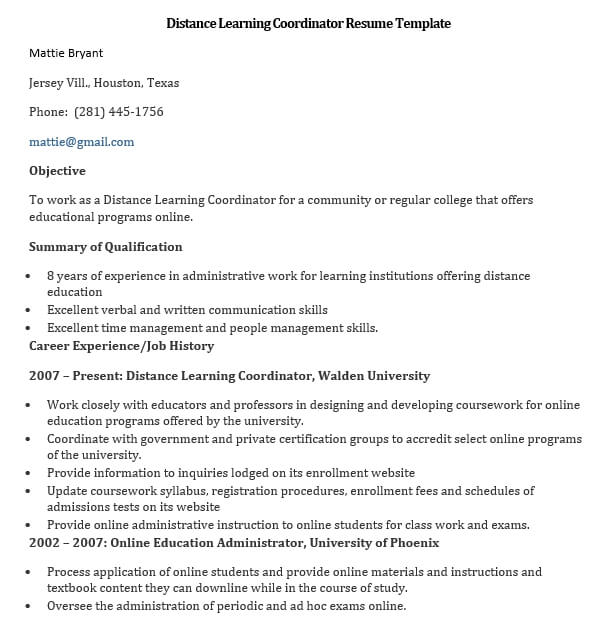 Resume Sample for Athletics Teacher
Include all your previous duties and accomplishments as an athletics teacher by using this pre-made resume. You don't need to do anything but edit the existing content.
CV Template for English Teacher
This teacher resume template is perfect for those who are specialized in English. However, if you want to look for a new job, this colorful template can be one of the best instruments to get a job.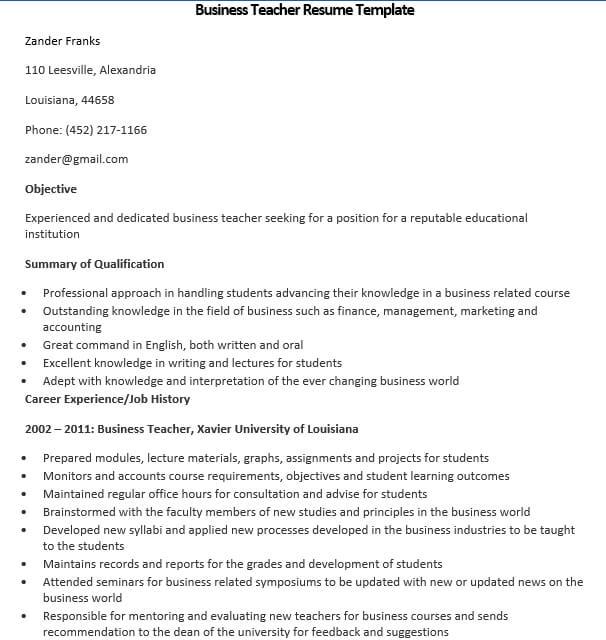 English High School Teacher Resume
This template features the conventional details of a resume for English teachers. The details include summary of professional experience and skills
Elementary School Teacher CV Template
This teacher resume template is available in a .doc file. It's an ideal sample for all experienced elementary school teachers who look for a new position.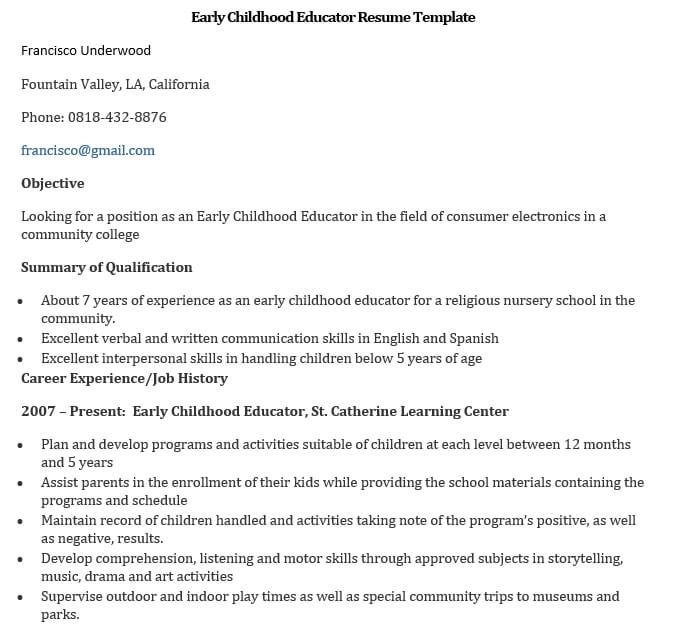 Pre-School Teacher CV Sample
Suppose you're a pre-school teacher looking for a new position in another institution. In that case, this is a resume sample you can use as a reference. This MS Word template can also be downloaded for free.
Resume of Adult Education Teacher
This adult education teacher resume only includes some of the essential details you need to put in a resume. Simply download this ready-made resume and edit the existing information with your information.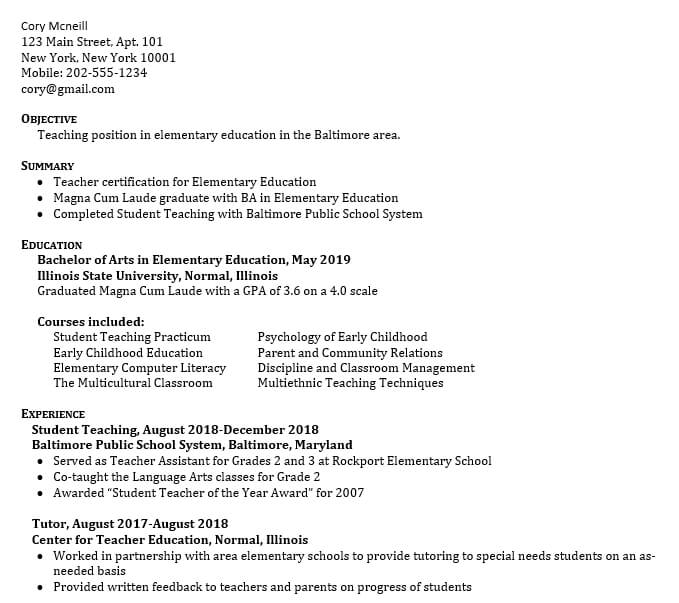 Resume Example of Acting Teacher
If you're an experienced acting coach, this teacher resume template will come in handy for you. Besides being free to download, this one is also available in doc format.
Braille Educator Resume
This particular resume comes in a customizable format. It also features all the required details for educating visually impaired students.
Art History Teacher Resume
This resume format is perfect for highly experienced art history teachers. The existing subheadings offer enough space for you to edit.
Document Analyst Resume Sample
It's a teacher resume sample for those who previously worked as a document analyst. All the provided details are related to the said position.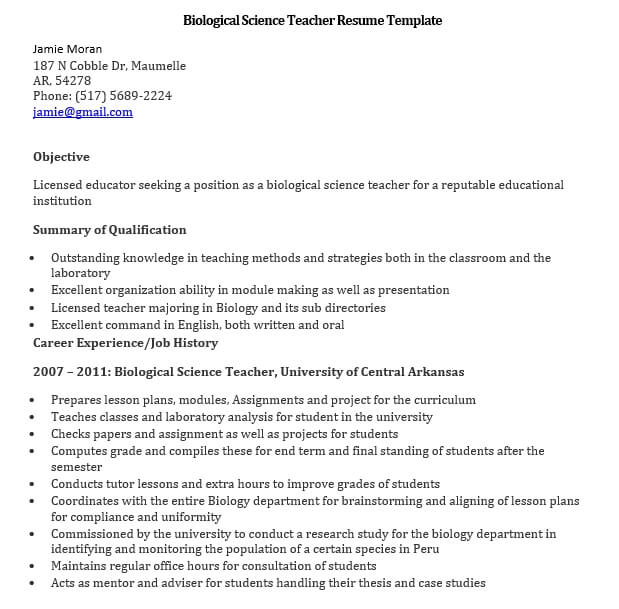 College Professor Resume Sample
This is a .doc template for educators who teach at a university or college. It's a template that focuses more on work history.
Early Childhood Teacher Resume
Looking for a resume for an early childhood teaching position? This teacher resume template might be an ideal reference for you. It includes the details relevant to the said position.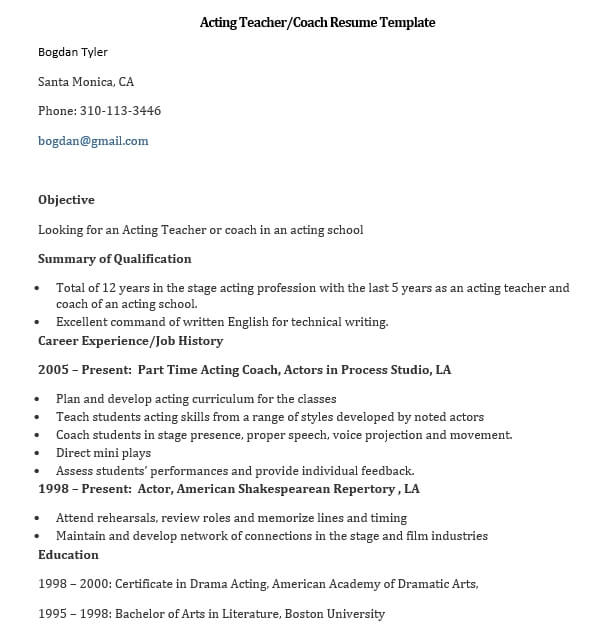 Resume of Pre-primary Education Teacher
This is a template of pre-primary education teacher resume available in doc format. It features the contact details of the applicant, objective, employment details, and skills.
Nursery Teacher Resume Example
Suppose you were previously employed as a nursery teacher and plan to move to another school. In that case, you need to check out this template to create a new resume. You don't need to do anything but fill in the template with your own details.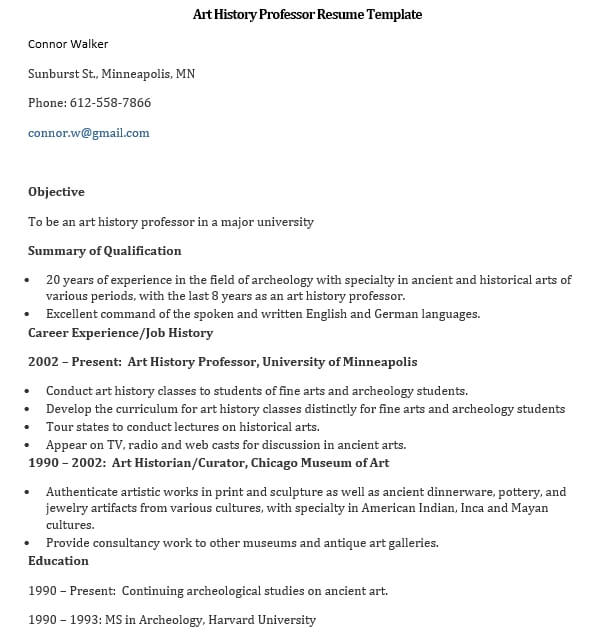 Template of High School Teacher Resume
This resume layout is designed for high school teachers and is available in a customizable file format. It also has features, such as career objectives, professional experience, and educational background.
Middle School Teacher Resume Sample
This is a CV sample for middle school teachers available in MS Word file format. This downloadable template features all the essential information you need to include in your CV.
Teaching Position Resume Template
If you have limited technical skills in editing, this teacher resume template is the most suitable for you. Not only does it available in an editable file format, but you can also download it for free.
Resume Sample for Sign Language Teacher
This resume sample is perfect for teachers experienced in sign language. This customizable template comes with career objectives, a brief description of qualification, educational background, and work experience.
Resume Template for Swimming Instructor
To apply for the position of swimming instructor, you will also need a well-written resume. Use this teacher resume template to help you compose a resume that guarantees you to land a job.