Doing a business is not as simple as it seems, including as an attorney. If you are an attorney, you would face many types of clients. To make your job unobstructed,  your client must always be willing to cooperate well. But, if you find a client who has a less response and is unprofessional, it's your time to withdraw from the case. The most polite way to withdraw from your client is by using an attorney client termination letter.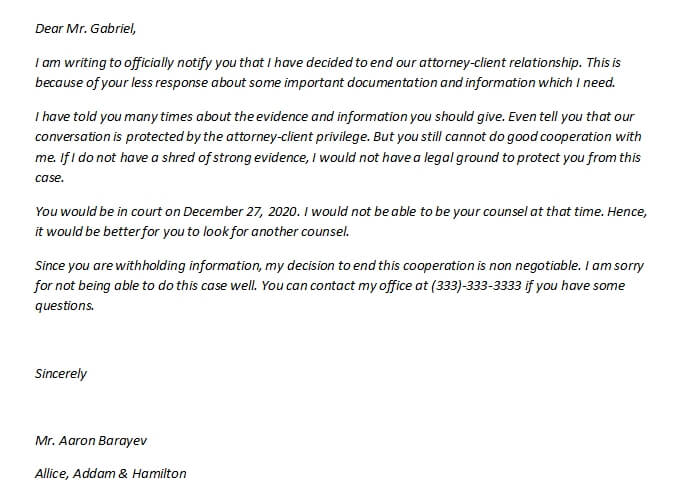 When Do I Let Go of My Client?
As an attorney, you will face many cases with different clients. The problem is that some clients cannot cooperate well. Since you need to do your job professionally, you have to take a firm step by letting go of your clients.
The question is when you should let go of your clients? The following are some indications that you must withdraw from your clients:
When your client ignores you
It must be very frustrating to have a client who doesn't listen to you. For example, your client never picks up your calls or do anything based on your suggestions. Besides, if your client doesn't give you some important information you need.
Your client has not an ideal profile – An ideal profile here means who will make your job works. You can describe the types of clients you would serve. This will help you to not do business with a troublesome client in the future.
If your client calls you excessively  – You cannot available 24/7 for your clients. Hence, if you find a person who makes a call nonstop to confirm anything new about the case, you must let go of the client.
How Do I Terminate a Client Service Politely?
You have to stay polite, calm, and rational if you want to fire a client. You can write a letter in a well-structured sample which consists of your reasons. Note that your words must be written in a respectful and professional tone. If your client gets angry and offended by your termination letter, stay calm, and don't get provoked.
How Do I Write My Client Termination Sample?
Your letter must be written to the point. You have to tell your client about the reason that has to encourage you to choose this decision. state your reason concisely and apologize for not being able to continue the case.
Attorney Client Termination Sample
Your termination letter must be written in a polite and concise format. Here is a sample for an attorney client termination that may inspire you to write your letter.
Dear Mr. Gabriel,
I am writing to officially notify you that I have decided to end our attorney-client relationship. This is because of your less response about some important documentation and information which I need.
I have told you many times about the evidence and information you should give. Even tell you that our conversation is protected by the attorney-client privilege. But you still cannot do good cooperation with me. If I do not have a shred of strong evidence, I would not have a legal ground to protect you from this case.
You would be in court on December 27, 2020. I would not be able to be your counsel at that time. Hence, it would be better for you to look for another counsel.
Since you are withholding information, my decision to end this cooperation is non negotiable. I am sorry for not being able to do this case well. You can contact my office at (333)-333-3333 if you have some questions.
Sincerely
Mr. Aaron Barayev
Allice, Addam & Hamilton
That's all our brief explanation about an attorney client termination letter with its sample. We hope it brings you some inspiration.