For those who get a penalty or punishment that caused them a termination during work without doing any violation of the company's policy, try to send a letter to the employer in order to get or defend your position. This letter contains evidence to be a ground for wrongful termination and this letter's success will depend on the reason and evidence used in the letter.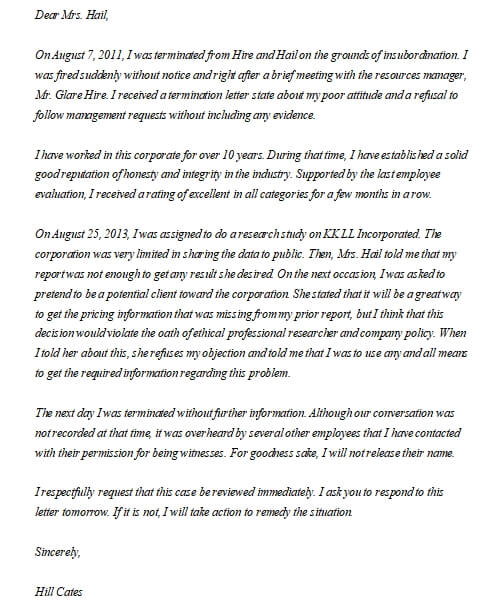 Tips And Tricks About How To Write A Wrongful Termination Letter
Write it as formal as possible.
Apologize and state your reason clearly.
Include any evidence to support your prior statement.
Ask for an opportunity to prove you are not wrong.
The Important Parts Of Wrongful Termination Letter
The formal business letter usually contains:
The sender's identity.
Date/Time.
Address of the person who receive the letter.
Body (include all the evidence and your supporting statement).
Signature (make sure to sign your letter).
Ensure you write this letter by using appropriate language, grammar, and spelling. The way you write this letter also affect the effectiveness of this letter to get a result.
The Example Of Wrongful Termination Letter
This example is from an employee who believes that she was fired for insubordination. She uses all of her power such as her reputation, history, and the other references as the basis to present her case. She states that the false allegation is truly evil especially as a threat to her professional reputation. And her livelihood.
Dear Mrs. Hail,

On August 7, 2011, I was terminated from Hire and Hail on the grounds of insubordination. I was fired suddenly without notice and right after a brief meeting with the resources manager, Mr. Glare Hire. I received a termination letter state about my poor attitude and a refusal to follow management requests without including any evidence.  

I have worked in this corporate for over 10 years. During that time, I have established a solid good reputation of honesty and integrity in the industry. Supported by the last employee evaluation, I received a rating of excellent in all categories for a few months in a row.

On August 25, 2013, I was assigned to do a research study on KK LL Incorporated. The corporation was very limited in sharing the data to public. Then, Mrs. Hail told me that my report was not enough to get any result she desired. On the next occasion, I was asked to pretend to be a potential client toward the corporation. She stated that it will be a great way to get the pricing information that was missing from my prior report, but I think that this decision would violate the oath of ethical professional researcher and company policy. When I told her about this, she refuses my objection and told me that I was to use any and all means to get the required information regarding this problem.

The next day I was terminated without further information. Although our conversation was not recorded at that time, it was overheard by several other employees that I have contacted with their permission for being witnesses. For goodness sake, I will not release their name.

I respectfully request that this case be reviewed immediately. I ask you to respond to this letter tomorrow. If it is not, I will take action to remedy the situation.

Sincerely,

Hill Cates
At last, we hope this article could help you to overcome the problem with this type of letter. Good luck!
Similar Posts: