Some people who dismissed from college due to failing grades may possibly of encountering any issues that are a reason for their drop in their grades. The solution is to write a formal academic dismissal appeal letter addressed to your lecture or teacher. It will possible to get another opportunity to be active again in a college or school.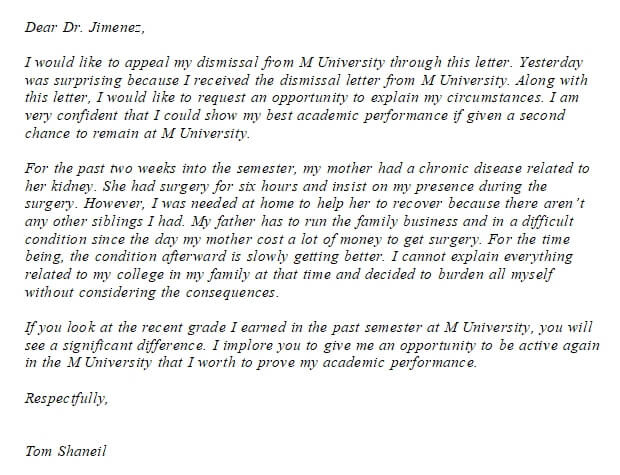 What Is A Dismissal Appeal Letter?
It is a letter where you can explain everything that put you into a situation that determines your academic status can be continued or not. It is general in this letter if you make it over dramatic, as long as you are honest to yourself and it worth to be delivered to the department. Remember, this letter will be a determination of your academic status, therefore, you have to write it properly in chronological order.
What Makes A Good Appeal Letter?
Ensure your letter should as factual as it was. You have to put in all things that make your grade failing. If it any misunderstand, state clearly what really happened in your letter, and don't forget to include the proof to make your letter stay credible. Remember to keep your honesty because it should be something worth to makes you able to continue your academics. If it's not, then you probably got a lower chance to get your status back active again.
How To Write Academic Dismissal Appeal Letter?
For students who have been dismissed due to poor grades should explain the reason briefly and put it into the appeal letter. The main format and content of this letter are sequences of event that leads to the students failing grade. The students should remain factual, and promise to be better in fixing the grade if given an opportunity to back into the college as active students. Pay attention to grammar, spelling, and language while writing this letter, and be polite in making the request through this letter.
Example Of Vacation Leave Letter
Here is an example below you may need in order to help you make a letter to your employer.
Dear Dr. Jimenez,

I would like to appeal my dismissal from M University through this letter. Yesterday was surprising because I received the dismissal letter from M University. Along with this letter, I would like to request an opportunity to explain my circumstances. I am very confident that I could show my best academic performance if given a second chance to remain at M University.

For the past two weeks into the semester, my mother had a chronic disease related to her kidney. She had surgery for six hours and insist on my presence during the surgery. However, I was needed at home to help her to recover because there aren't any other siblings I had. My father has to run the family business and in a difficult condition since the day my mother cost a lot of money to get surgery. For the time being, the condition afterward is slowly getting better. I cannot explain everything related to my college in my family at that time and decided to burden all myself without considering the consequences.

If you look at the recent grade I earned in the past semester at M University, you will see a significant difference. I implore you to give me an opportunity to be active again in the M University that I worth to prove my academic performance.

Respectfully,


Tom Shaneil
At last, may this information can be useful for your need and don't hesitate to edit the example. Good luck!