If you are renting a commercial space, it is important to notify your landlord that you are no longer renew the contract. This will help the landlord to find potential tenants for space so they will not get more loss. You can write the commercial lease termination letter to the landlord.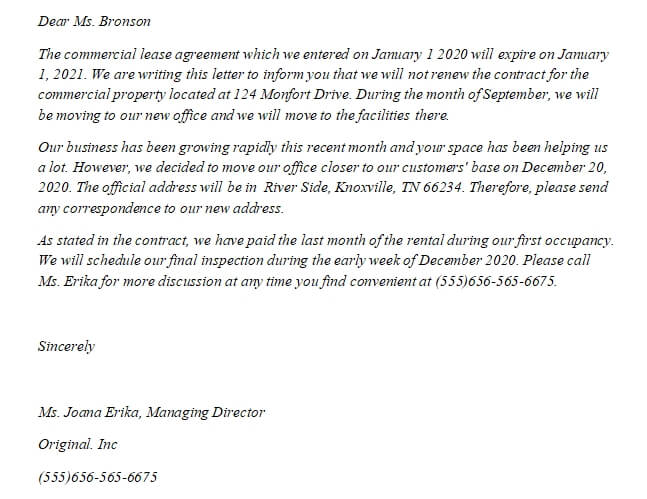 Can I Terminate The Lease Earlier Without Penalty?
There are some conditions that you are required to terminate your contract before it ends. Some landlords might be OK when you decide to terminate the lease, and unfortunately, some others will charge you a penalty. Here are some tips to minimize the risk.
Learn the potential risk
The rules for a tenant or landlord to break the lease vary from state to state. Some of the landlords allow you to break the lease without penalties, and some others require you to pay with a penalty. Some landlords allow you to break the lease under certain conditions such as an unsafe environment, domestic violence, and many more.
Check the lease
You must check the lease terms and conditions and learn about how to quit the contract. There might be a termination clause that you can point to.
Always talk to your landlord
Note that landlords will understand your reasons for breaking the lease. Even some of them might allow you to breach the lease without penalty if you have something urgent.
Offer them help to find the new tenant
If your landlord refuses to let you out without penalty, you can offer them another option which is offering them a new tenant. Most landlords accept this offer.
How To Write A Commercial Lease Termination Letter To Landlord?
Dear Ms. Bronson
The commercial lease agreement which we entered on January 1 2020 will expire on January 1, 2021. We are writing this letter to inform you that we will not renew the contract for the commercial property located at 124 Monfort Drive. During the month of September, we will be moving to our new office and we will move to the facilities there.
Our business has been growing rapidly this recent month and your space has been helping us a lot. However, we decided to move our office closer to our customers' base on December 20, 2020. The official address will be in  River Side, Knoxville, TN 66234. Therefore, please send any correspondence to our new address.
As stated in the contract, we have paid the last month of the rental during our first occupancy. We will schedule our final inspection during the early week of December 2020. Please call Ms. Erika for more discussion at any time you find convenient at (555)656-565-6675.
Sincerely
Ms. Joana Erika, Managing Director
Original. Inc
(555)656-565-6675
If you are not lucky to find a person who can replace you in renting the commercial space, consider to pay the remaining months. In the end, it helps you save a lot of money than breaking the lease agreement which can cause you a lot of trouble and energy.