When you were teaching your students, you are used to informing the parents about their children's development to the parents such as telling them the progress and some notes that parents must know. If finally, you end up vacating your position, this habit still needs to be continued but in the form of a formal letter. You need to tell them that you are going to resign soon and you have to address the substitute teacher that will teach the students when you are no longer there.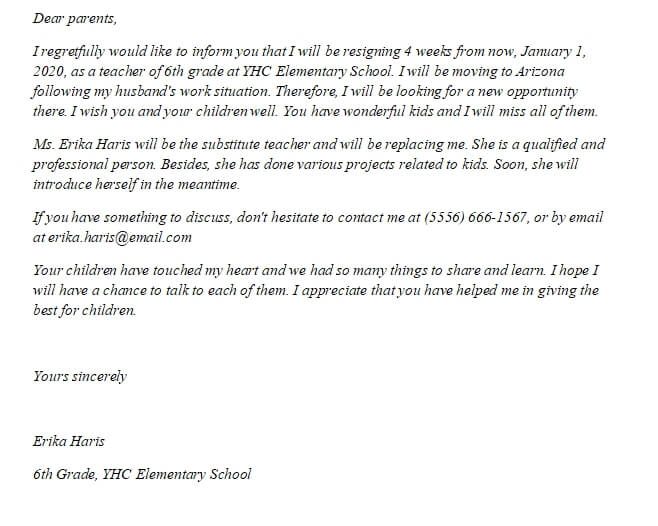 Why Do Teachers Quit?
There are various reasons why teachers quit their position. One of the main reasons is the lack of support. In reality, there are many issues in the classroom itself, from lack of funding, management issues, heavy workload, and over-populated classroom sizes. This doesn't count for a personal issue such as lack of skills, not passionate enough, too far from their house, until seeking for new careers and burnout.
How Do You Leave Your Teaching Job Properly?
Have A Conversation
Resigning can be something unpleasant for the boss and co-workers. You need to discuss it with them face-to-face to avoid any tension. you don't have to explain the real reason why you need to quit your job because sometimes people can't accept it. Think about something more rational if you quit your job and stay calm when discussing this. One day, you will need a recommendation letter from the former boss or colleagues. So, never try to burn the bridge.
Teaching After Resigning?
Many students, principle, and co-workers are curious about what you are going to do after resigning. As much as you can, avoid a deep discussion about this. Because people can easily twist the story. Therefore, try to keep it general, professional, and secret.
Leave A Pleasant Impression
During your last days, make sure you leave impressive footprints for your students. Make something memorable for them so they can remember you at any time. Also, make sure your room clean and it is also a good idea to give relevant teaching materials to the substitute teachers.
How To Write A Teacher Resignation Letter To Parents
However, parents are also the ones that need to be informed about your resignation. You need to give them an update about it. Here is a sample that you can use as a reference.
Dear parents,
I regretfully would like to inform you that I will be resigning 4 weeks from now, January 1, 2020, as a teacher of 6th grade at YHC Elementary School. I will be moving to Arizona following my husband's work situation. Therefore, I will be looking for a new opportunity there. I wish you and your children well. You have wonderful kids and I will miss all of them.
Ms. Erika Haris will be the substitute teacher and will be replacing me. She is a qualified and professional person. Besides, she has done various projects related to kids. Soon, she will introduce herself in the meantime.
If you have something to discuss, don't hesitate to contact me at (5556) 666-1567, or by email at erika.haris@email.com
Your children have touched my heart and we had so many things to share and learn. I hope I will have a chance to talk to each of them. I appreciate that you have helped me in giving the best for children.
Yours sincerely
Erika Haris
6th Grade, YHC Elementary School
Writing a teacher resignation letter to parents is necessary if you want to leave a good impression during your last days. This will also help them prepare what they need to do with the kids, especially if they get attached to you.