A doctor recommendation letter is useful to level up a career as a doctor. This is used by doctors who intend to get a job in a bigger hospital. The format must include some important points about the candidates' skills and experience. If you are asked to write a letter, you must give attention to some crucial and detailed information you should add.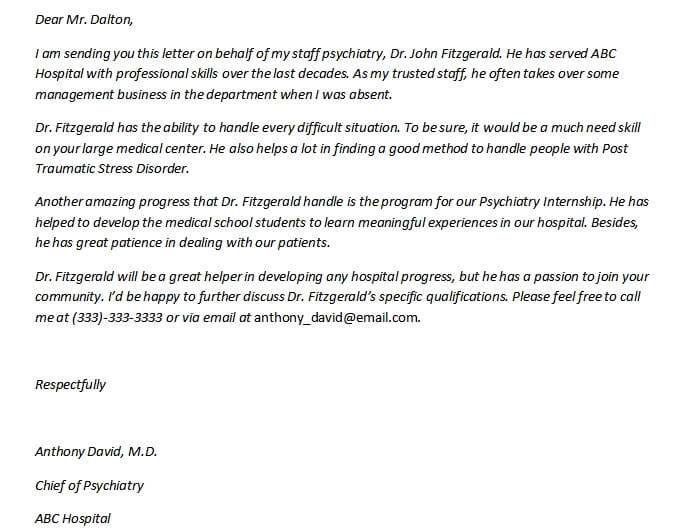 Who Can Give An Ideal Recommendation Letter?
Looking for someone who can give a good recommendation letter is a little bit tricky. If you want to write a recommendation for your colleague, make sure you comply with the following qualifications:
You are familiar withthe candidates
Theirwork must be closely related to your job
You have an authority position thatcan impress the hiring manager or employer
You have free time to write a well-formatted recommendation letter.
How To Write A Good Doctor Recommendation Letter?
A good recommendation letter will mean so much to the candidate. Hence, you must follow a good template in writing the letter. Here are some important points that you should include in your letter:
Salutation
It's important to write a salutation in the character reference letter. The salutation can be written like: Dear Mr. John, Dear Ms. Jennifer, and etc.
Your Relation With The Candidate
This is an important point that you shouldn't forget. When writing a recommendation letter, you must know well about the candidates. On this part, you are required to elaborate on your relationship with the candidates, how you know them, and why you recommend them to be hired.
Qualifications
You have to explain the candidates' skills, experiences, and contributions. You can use more than one paragraph if there are lots of qualifications you are going to write. It's better to write the information in detail.
Summary
On this part, you have to reconfirm that you are highly recommending the candidate to be hired. Write your brief summary and reason to give a strong impression of your recommendation letter.
Conclusion
A conclusion can consist of your detailed contact information, such as phone number and email address. State that you are available to be contacted for follow-up. Don't forget to give your sign.
Doctor Recommendation Letter Sample
There are some important points that you have to watch carefully. But the most important thing is you must feel comfortable to write the letter. The following is a recommendation letter from a Chief of Psychiatry to help his colleague finding a better job as a doctor in a large hospital.
Dear Mr. Dalton,
I am sending you this letter on behalf of my staff psychiatry, Dr. John Fitzgerald. He has served ABC Hospital with professional skills over the last decades. As my trusted staff, he often takes over some management business in the department when I was absent.
Dr. Fitzgerald has the ability to handle every difficult situation. To be sure, it would be a much need skill on your large medical center. He also helps a lot in finding a good method to handle people with Post Traumatic Stress Disorder.
Another amazing progress that Dr. Fitzgerald handle is the program for our Psychiatry Internship. He has helped to develop the medical school students to learn meaningful experiences in our hospital. Besides, he has great patience in dealing with our patients.
Dr. Fitzgerald will be a great helper in developing any hospital progress, but he has a passion to join your community. I'd be happy to further discuss Dr. Fitzgerald's specific qualifications. Please feel free to call me at (333)-333-3333 or via email at anthony_david@email.com.
Respectfully
Anthony David, M.D.
Chief of Psychiatry
ABC Hospital
That's all our short description about a doctor recommendation letter and its sample. We hope it would help you in getting a new idea.