A preschool teacher recommendation letter is an important key to help your colleagues in the hiring process. You need to include some relevant information in a professional format, so it would give a good impact on the applicants. Note that the letter must be written in a positive tone. It would be better to know about what to leave out and what to include in the letter. Besides, you are suggested to give the recommendation only for people who you have known as talented.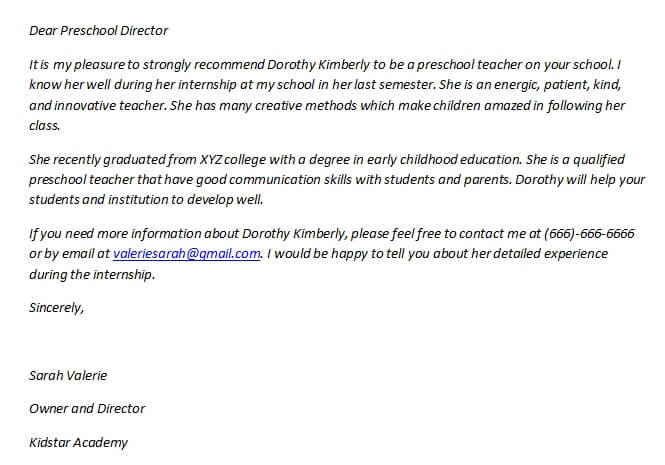 What Qualities The Preschool Teacher Should Have?
Being a preschool teacher is not easy. The candidates must have some important skills to be a qualified teacher for preschool. You might take a look at some important qualities below before giving a letter of recommendation:
Energetic
A preschool teacher must bring a good atmosphere to the class. The learning process and class discussion must be carried out in a cheerful manner. Sometimes, doing games are also required.
Patient
Children would give the same questions over and over again. The most important key to being a preschool teacher is to have abundant patience.
Engaging Personality
A preschool teacher must be gentle, kind, and have a good personality. The teaching style must interest the children's attention during class hours.
Make sure the candidate you are going to give the letter of recommendation has the qualities above. It would help you to write a well-organized sample.
What Information Should be Included?
There is some relevant information that you should include in the letter of recommendation. You must explain who you are and what your relationship with the people you are recommended. You can elaborate on their skills, awards, and other specific accomplishments. Don't forget to give your contact detail in the letter for follow-up.
How Do I Write A Good Letter of Recommendation?
A good recommendation letter must be written in a professional format. You must also state your detailed qualifications such as where and when you work with the candidates. If you have known them for a long time, you need to explain more about the soft skills, hard skills, even the teaching style in a specific and positive tone.
Preschool Teacher Recommendation Letter Sample
Here is a preschool teacher recommendation letter you can choose as an inspiration. The following letter is written by a director in preschool where the applicant had an internship.
Dear Preschool Director
It is my pleasure to strongly recommend Dorothy Kimberly to be a preschool teacher on your school. I know her well during her internship at my school in her last semester. She is an energic, patient, kind, and innovative teacher. She has many creative methods which make children amazed in following her class.
She recently graduated from XYZ college with a degree in early childhood education. She is a qualified preschool teacher that have good communication skills with students and parents. Dorothy will help your students and institution to develop well.
If you need more information about Dorothy Kimberly, please feel free to contact me at (666)-666-6666 or by email at valeriesarah@gmail.com. I would be happy to tell you about her detailed experience during the internship.
Sincerely,
Sarah Valerie
Owner and Director
Kidstar Academy
That's all our brief explanation about the tips in writing a preschool teacher recommendation letter and the sample. Hope it would help you to find new inspiration.