How to Make an Executive Assistant Resume Easily with a Sample or Template
Becoming assistant of an executive requires a lot of physical strength, deep focus, and of course, good experience. Besides, an executive assistant is expected to be knowledgeable. Some employers may even set some specific qualifications to sift the applicants and get only the best candidate. If you think you qualify for the position, try showcasing your skills in an executive assistant resume.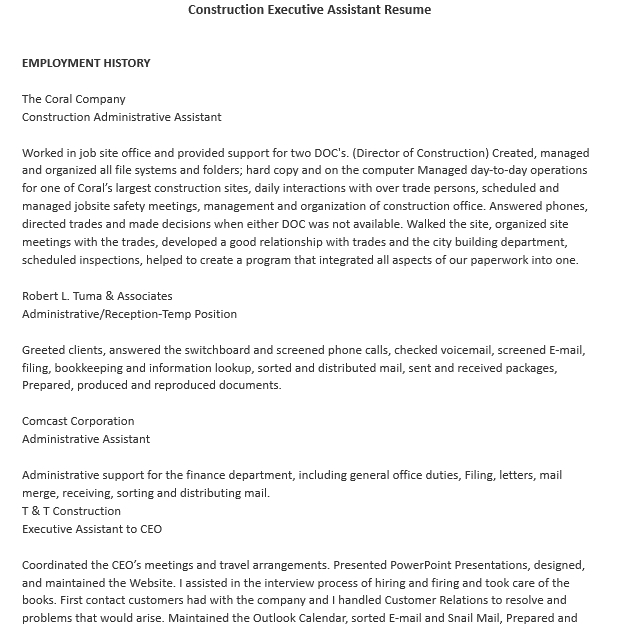 Building your executive assistant resume isn't that difficult. But it isn't that easy as well. That said, you should acknowledge first the much-required things to build your resume. If you think you're too busy even to allocate several hours for making your resume, you may rely on an executive assistant template. Using a template will ease you to have the document in a shorter time.
Example of Executive Assistant Resume
In order to make your resume, as said, you can rely on an executive assistant resume. You may try typing it from scratch, referring to a sample, or simply use a template. But still, you should know what aspects you need to include into your resume.
Joanna F. Rodriguez
Executive Assistant
12 Flyer 32th street, Portland, Oregon 84732 | joannafr@gmail.com | 012-343-843-439
PROFESSIONAL SUMMARY
A passionate and experienced executive assistant with more than 5 years of experience.
Experienced in providing extraordinary-level support to COO and CEO.
Proficient in using various Office programs and able to type quickly at 70 WPM.
PROFESSIONAL EXPERIENCE
Executive Assistant, A! Company, Portland, Oregon 2017 – present
Providing business and administrative support to the CEO of A! Company.
Working as a part of the executive management, and ensure the schedule is maintained properly.
Planning and setting schedule for meetings, travel, and teleconferences.
Negotiating pricing agreements with vendors, resorts, and caterers, and other kinds of providers in order to prepare for special events; saving at least $80K annually.
Implementing effective filing system and additional time-saving methods to file documents.
Improving communication between each department and the executive team, bridging the tams to foster a good collaboration between executive and the subordinates.
Executive Assistant, A! Company, Portland, Oregon 2014 – 2017
Provided mainly administrative support to the COO of A! Company.
Worked as one of the members of the management, ensured the files are arranged accordingly, and made a system in which the COO could search the file easily.
Worked in creating the documents needed by the COO, maintained the inventory, and bridged departments to hand their reports to the COO.
EDUCATION BACKGROUND
AAS in Business Management, Oregon State Institute of Business, Portland, OR  (2010 – 2013)
How to Make Your Executive Assistant Resume
In order to make your own executive assistant resume, you should know that it'll be easier to prepare some of the required data beforehand. These data will include your personal details or identity (name, email, phone number, and home address – if you wish to show that as well), working experiences, educational background, professional summary, and skills.
In mentioning your working experiences, make sure to insert the job descriptions as well. Additionally, you may add another field to enclose your references. References, especially from a superior will help you to get the position; since it means you are a trusted person to work with.
Once you gather all the data, grab an executive assistant resume sample and start writing your resume. Alternately, you can have a template as well to make your resume quicker. But don't just submit it without any final touch: always proofread and ensure the format is looking neat and professional enough.
People Also Ask
What should an executive assistant put on a resume?
It's basically similar as the things required in another job's resume. Listed below are the aspects you need to include into your executive assistant resume:
Personal identity,
Professional qualifications/summary,
Working experiences and achievements,
References, if any
Skills,
Education background and training
What are the top 3 skills of an executive assistant?
Knowledge about the job as an executive assistant.
Event planning and project management
Leadership skills
These may not be able to be measured, so consider adding measurable skills such as foreign language proficiency, etc. to your executive assistant resume.
What does a CEO look in an executive assistant?
Typically, CEO will prefer an executive assistant who possesses efficient and excellent verbal and written communication skill, great attention to detail, loyal, and willing to work heartily in order to reach the target set together with the executive itself.
Several Samples for Executive Assistant Resume
You may have decided to get an executive assistant resume, but you are confused which one to pick since there are many samples available out there. How to determine that? Well, it's simple. Just take a preview of that resume sample, and pick one that fits your preference.
Resume Sample for Executive Administrative Assistant
Don't be shy to use an executive assistant resume template or sample if you're a busy person that has no long time to work on this document. Templates will help you to get the document ready in no time.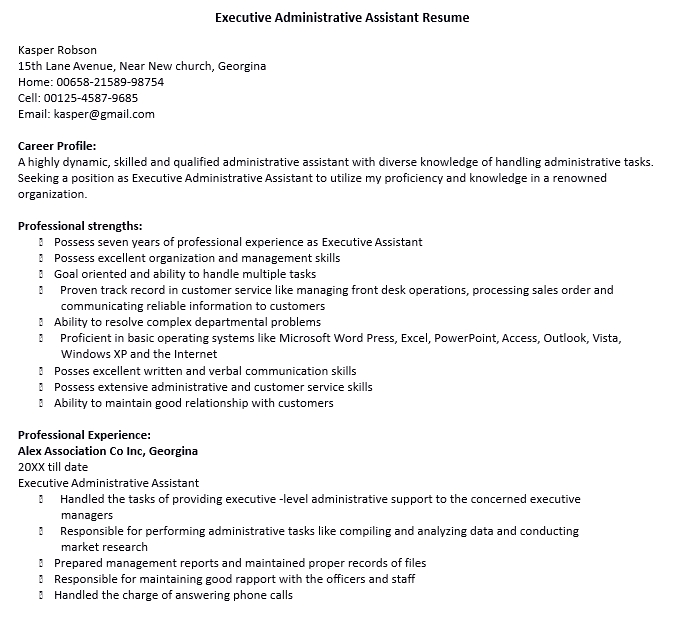 Executive Administration Assistant Printable Resume
If you are an executive assistant experienced in dealing with various administration jobs, then it may be easy for you to write your own resume—although that's not always the case. Need help? Never hesitate to get a resume sample or template.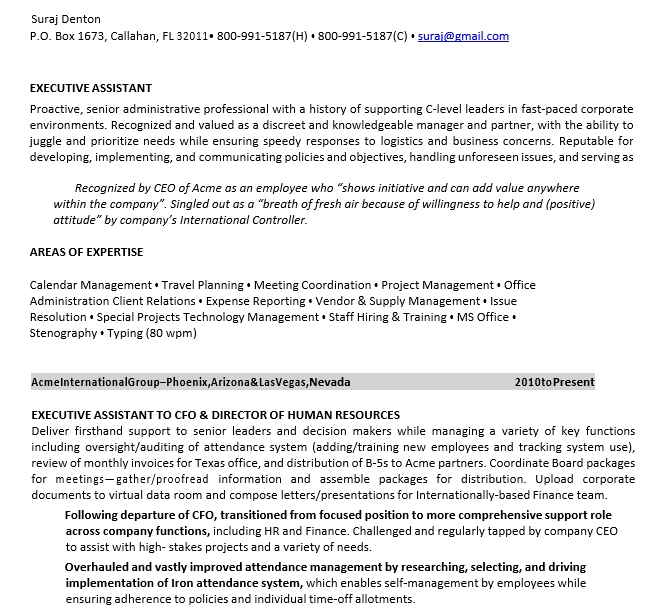 Free Download Executive Personal Assistant Resume Sample
What's good from an executive assistant resume is that it's free to download. That eases you in order to make your resume, given that you can do it yourself, at zero cost since you don't have to recruit anyone to work on your resume.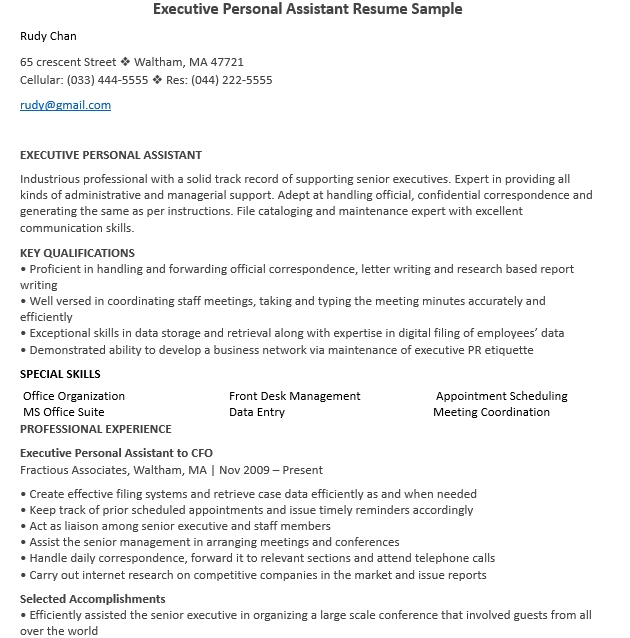 Bilingual Executive Assistant Resume Sample
Being a bilingual is a plus point for executive assistant, especially if the company you are working for deals with people from many countries. If you have that skill, make sure to include it into your executive assistant resume.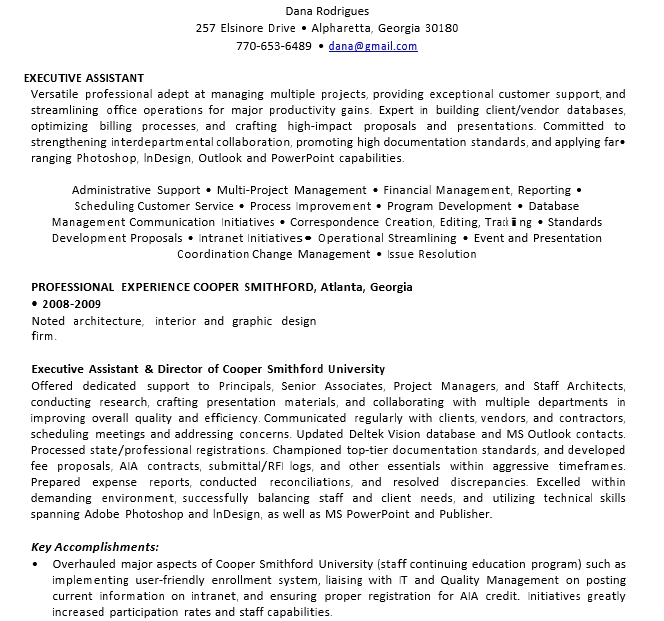 Sample Resume for Experienced Assistant for Executive
Experienced personnel will be the ones benefitted when it comes to applying for an executive assistant job. So, what's more to wait? You just have to make an executive assistant resume that will ensure your soon-to-be employer, and submit it after checking it.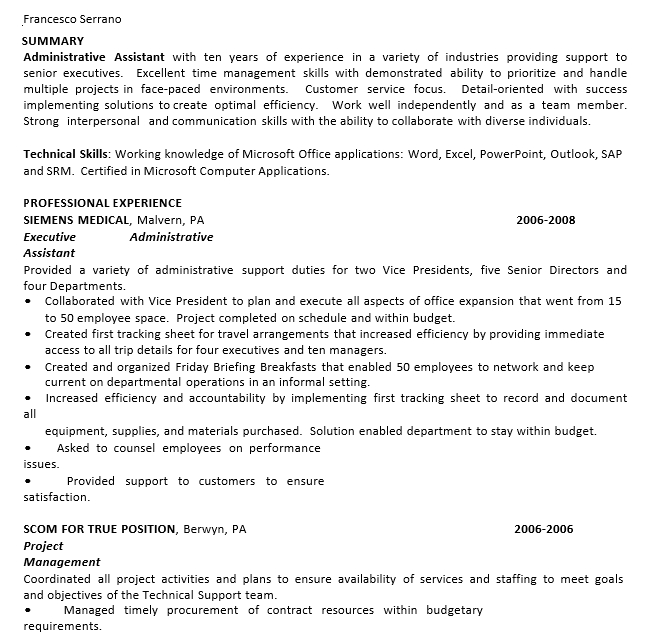 So those are some information you may need in order to make your executive assistant resume. It's actually a pretty easy resume to make, especially if you have prepared the data beforehand. Making it with a proper template will make it easier to build your resume.