Best Medical Assistant Resumes Sample Resources for Free Download
Getting a career in medical field is becoming harder because of the competitiveness. That's why having a properly built and interestingly designed resume can help a lot. Below, you will find an example, writing tips, and several templates of medical assistant resumes that will save your time on formatting and structuring, and use the time to focus on the actual substance of your resume instead.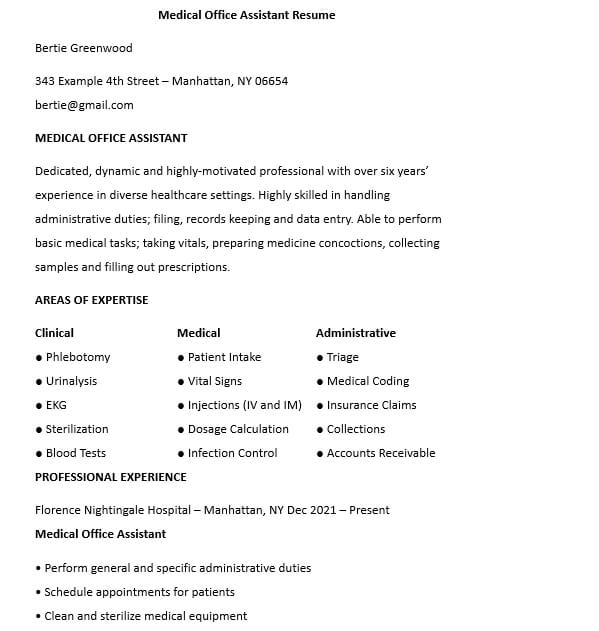 The sample and templates are available for free. You may use them as useful resources to see what it takes to get noticed by the employers and secure a position in interview phase. See the provided medical assistant resumes samples below and learn how to showcase your qualifications, lay out your skills, and highlight your achievement in a way that makes you distinctive amongst other applicants.
Resume Example for Medical Assistant
Michelle Chris
1975 Hill Street
Toledo, Ohio 43615
419-304-7384
Summary
A hardworking and detail-oriented individual, with extensive knowledge in medical assistance and administrative work.
Outstanding customer service and communication skills.
Seeking for obtaining medical assistant job position at New Hope Hospital.
Patient Care Skills
Blood pressure and vital organs checks
Basic laboratory tests, phlebotomy, and injections
Prescription descriptions
Medical equipment sterilization and room preparation
Communication with patients
Administrative Skills
Health records maintenance
Documentation and collection of patient's informational details
Medical files organization
Technical software operation including Microsoft Word, Microsoft Excel, and Microsoft Outlook
Education & Certifications
Medical Assisting Associate
Ohio School of Phlebotomy, Ohio, 2018
Certification of Dynamic Phlebotomy & CPR
2018
Internship Experience
Intern of medical assistant
ProMedica Hospital, Toledo, OH
June 2017 – present
Record patients' vital signs and their medical histories
Prepare patients for examinations, electrocardiograms, x-ray, and blood draws
Change patients' dressing and remove sutures
Communicate medical procedure to the patients
Assist physicians during patients' examination
Volunteer
Community Care Medical Clinic
Supporting the process of basic laboratory test
Arranged and collected lab test specimens
Sterilized medical equipment and disposed medical trash
Inform patients about medications
Arranged equipment and instruments in examination room
Other Capabilities
Knowledge of medical terminology
Understanding in medical confidentiality and ethics
Tips to Write Resume for Medical Assistant
Select the correct format. If you already have experience as medical assistant, then use chronological resume format. On the other hand, if you are an entry-level medical assistant, it is better to use functional resume format.
Focus on the demanded skills of medical assistant. In medical field, there are plenty of jobs that require certain skills to be included on the resume. You may want to consider dedicating single section at the upper part of the resume to display your relevant skills to the role listed in job ads.
Incorporate your certifications. It is quite common for medical assistants to pursue specialty field's certifications like surgery or pediatrics, and these can help to make you stand out from the other job applicants. Some examples of medical assistant certifications are CCMAA, RMA, NCMA, and CMA.
People Also Ask
What is a good resume objective for medical assistant?
Here's how you can catch the employers' attention by using substantial objective and set apart your medical assistant resumes from other job seekers:
Do a research of building resume from online resources with keyword of 'medical assistant'
Create a list containing common responsibilities of medical assistant
Identify which tasks that you are the most knowledgeable from the list
Put your specific list into the resume that you're creating
What are the skills of a medical assistant?
Here are some of the most sought skills to put on your medical assistant resumes:
Basic medical procedures knowledge
Administrative skills
Interpersonal skills
Organization and cleanliness
Detail-oriented
Time management
Technical skills
What is the hardest thing about being a medical assistant?
Other than daily responsibilities and tasks, the hardest parts about being medical assistant mostly related to emergencies and unexpected situation that may occur during shift – both clinically and administratively. That being said, it is very necessary to remember that such situations might appear more stressful to the untrained individual then how they are actually.
Entry-Level Medical Assistant Resume
It is still possible to show that you can be a valuable member of the team even if you have no prior job experience as medical assistance. Focus to build your medical assistant resumes based on your education, volunteer work, and skills. Here is a sample of entry-level resume for medical assistance position, that provide a guide on how to establish excellent resume to get noticed by the recruiter.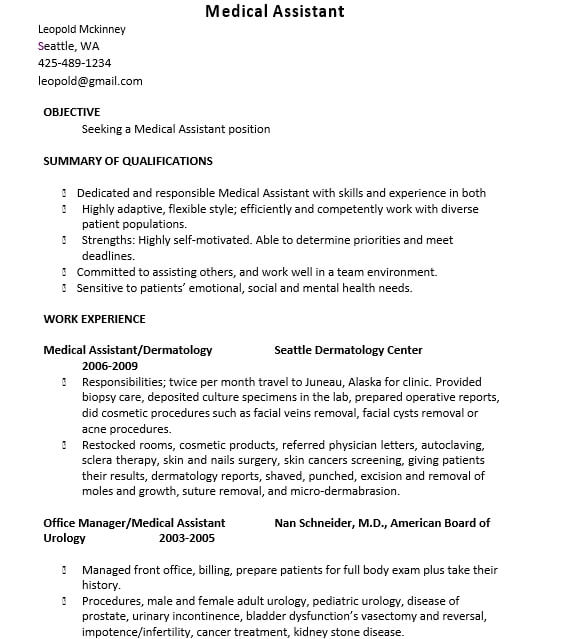 Senior Certified Medical Assistant Resume
It is not enough just to have outstanding experiences, as you still need to showcase it in proper and readable format and get hired for the job position that you're looking for. Use the medical assistant resumes to develop effective document to obtain position in the medical field.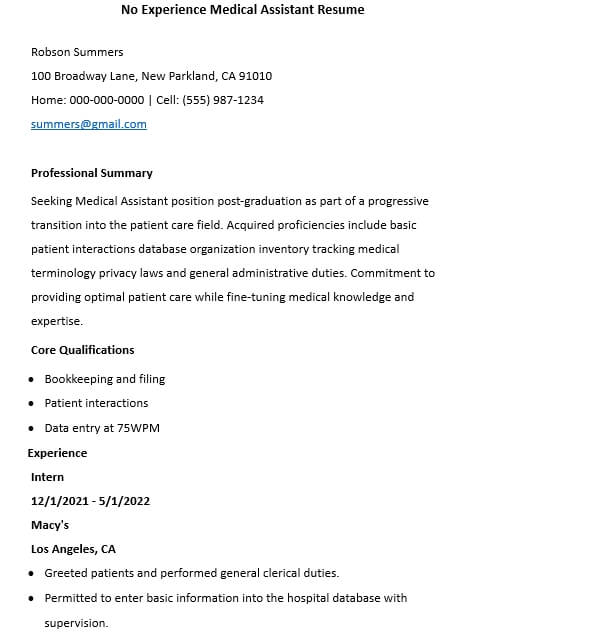 Template of Medical Assistant Resume PDF
It is important to understand that resume is a tool to create first impression on the future employer. These medical assistant resumes can help to make you and your qualifications noticeable from the rest of the job applicants, and make sure that you create the best resume possible.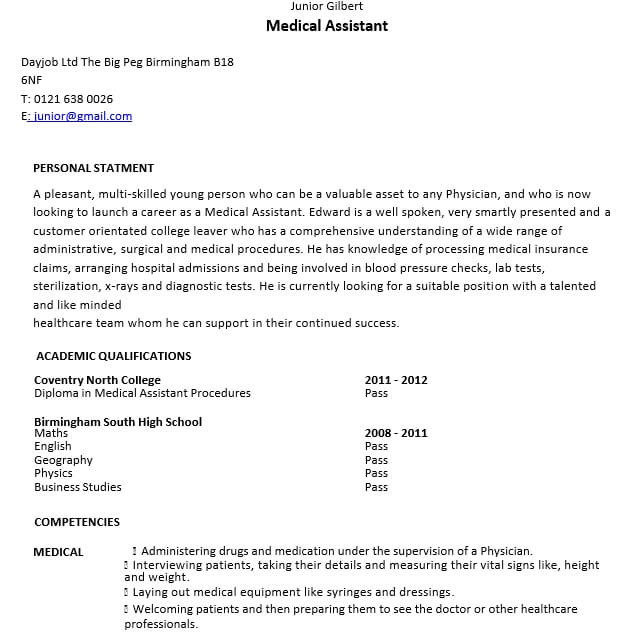 Free Sample of Medical Office Assistant
The medical assistant resumes are specifically created for the industry. Combine it with great writing tips, and you have valuable resources. Download and edit this sample template document for free to practice to build your application.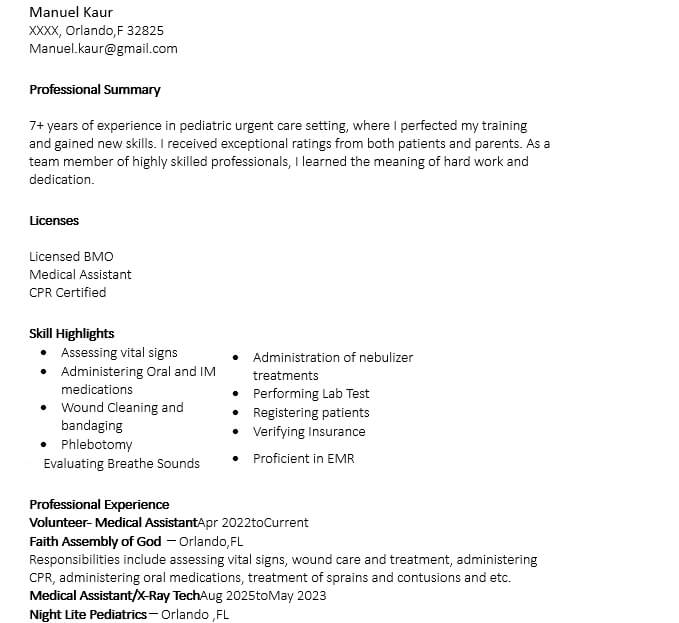 Best Professional Medical Assistant Resume
A remarkable resume is required to increase your chance to land on your desired job. This is where the medical assistant resumes can help. The format and design will raise the opportunity to be noticed by recruiter and make sure that your job searching process ends up as you want it to be.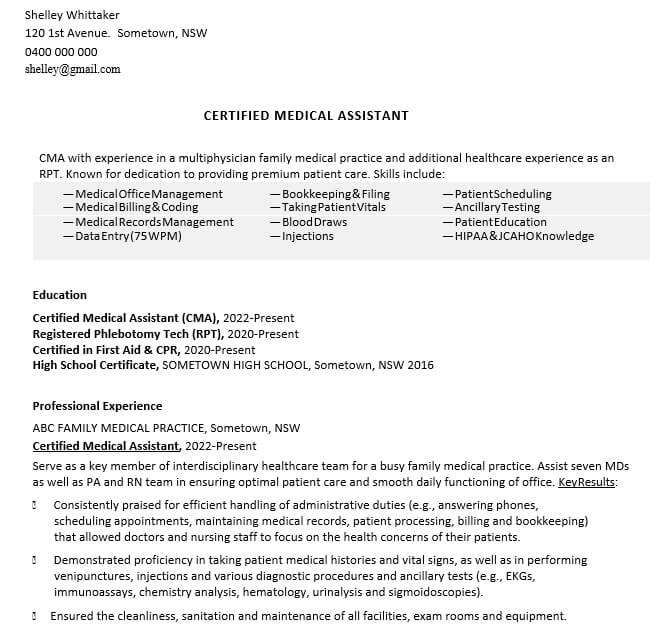 Just because medical assistant position is growing in demand, does not mean everyone can land this job easily. Your medical assistant resumes might be unnoticed and blend with the others unless you have strategy to make it more impressive, so it is better to try to use these resume samples and see where they can bring you further into the job seeking process.