If you have just been running a new real estate business, you need to start generating leads to earn money. One of the ways in delivering the new real estate agent announcement letter. This letter is purposed to boost the mouth of mouth marketing letting people know your business faster. You can deliver this letter to your relatives, friends, and other close colleagues to stimulate your business.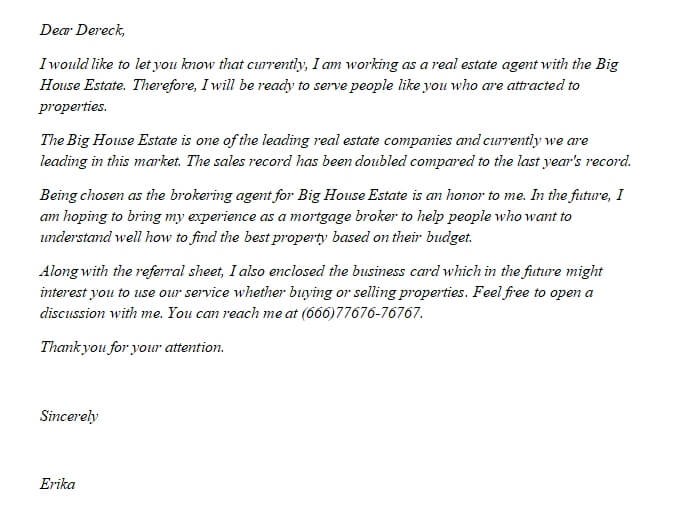 How to Promote A Real Estate Agent?
Marketing is something complex that you must look for it from various point of views. The following is a list of tips you can begin with while finding the best ways to promote your business.
Create your online presence
Today, an online presence is important. we are not only focusing on the website. We have to move to social media where people find the best things and recommendations. Start your online presence to boost every aspect. You need to build your Facebook, Instagram, Pinterest, Twitter, and many more, and make sure you increase your engagement with the audiences.
Always keep on eye on your competitor
Know what the other realtors are doing in your areas. Check how their websites look and how active they are on social media. Find out what the competitors are offering and evaluate it on your own business. You need to offer something that differentiates you from the competitor.
Put a clear contact
where your potential clients can reach you? You have to decide and post your contacts from email, address, websites, and phone number.
Business cards still matter
In the new era of marketing, business cards still play a big role. You might want to attend certain events that allow you to meet your potential clients. Always bring your business card and let them have it.
Post and show stunning images
Hire a professional photographer. Make sure you only show high-quality photos. remember that visual things attract more people to try your business.
Sample Of New real estate Agent Announcement Letter bellow is a new real estate agent announcement letter format that you can use for inspiration. This is a sample that is written with a fictive name, address, and company. We hope this helps you.
Dear Dereck,
I would like to let you know that currently, I am working as a real estate agent with the Big House Estate. Therefore, I will be ready to serve people like you who are attracted to properties.
The Big House Estate is one of the leading real estate companies and currently we are leading in this market. The sales record has been doubled compared to the last year's record.
Being chosen as the brokering agent for Big House Estate is an honor to me. In the future, I am hoping to bring my experience as a mortgage broker to help people who want to understand well how to find the best property based on their budget.
Along with the referral sheet, I also enclosed the business card which in the future might interest you to use our service whether buying or selling properties. Feel free to open a discussion with me. You can reach me at (666)77676-76767.
Thank you for your attention.
Sincerely
Erika