Not everyone can get good work, a workplace with a pleasant atmosphere, and understanding colleagues. If you belong to a person who has all of the best things, the moment of retirement will be a sad moment for you. You may be happy that retirement has come, but there is a sense of deep loss considering that you will no longer be working with all your amazing co-workers. The best way to say goodbye to your colleagues is by writing a retirement letter to coworker.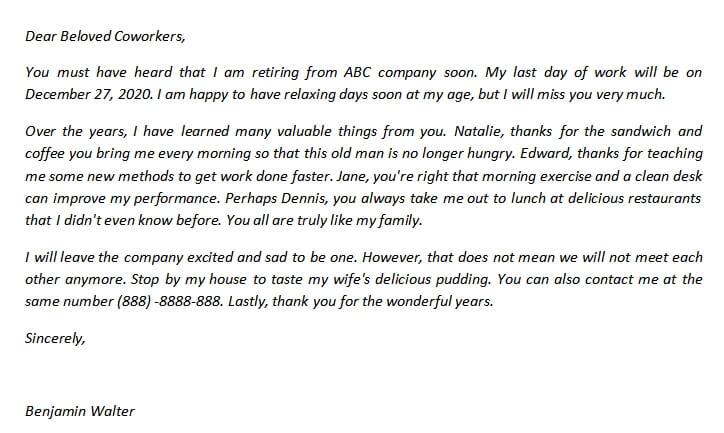 Why Do I Send A Retirement Letter?
In some cases, writing a retirement letter to a colleague can be very important and obligatory. This can be the last gift for your co-workers before you officially leave them. It is undeniable that a farewell letter can cause warm feelings if it is written in a tone full of affection.
You can write a letter using a different tone, depending on who the letter you are giving. If you want to send a letter to a good friend, you can use a relaxed and humorous tone, but if you want to send it to a friend who isn't too close, you can use a slightly formal tone.
You can send the retirement letters one by one to your co-workers, but writing one letter for several people is also allowed.
How To Write A Retirement Letter to Coworker?
There are several important aspects you should notice to write a good retirement letter. Here are the aspects:
Written Briefly and Friendly
The retirement letter should be written briefly in a friendly tone. Remember, this is a farewell that requires you to be as good as possible before leaving. Choose the best diction which seems friendly and warm. Keep your letter in short sentences and get to the point.
You are also free to provide your contact after your retirement, or a new home address if you are planning to move. Don't forget to include your last day of work.
Your Planning After Retirement
You can tell your plan related to what activities you will do after retirement. Besides, you can also write about some wonderful experiences you have passed with your friends during work.
Retirement Letter to Coworker Sample
Here is an example of a retirement letter written for several coworkers at once:
Dear Beloved Coworkers,
You must have heard that I am retiring from ABC company soon. My last day of work will be on December 27, 2020. I am happy to have relaxing days soon at my age, but I will miss you very much.
Over the years, I have learned many valuable things from you. Natalie, thanks for the sandwich and coffee you bring me every morning so that this old man is no longer hungry. Edward, thanks for teaching me some new methods to get work done faster. Jane, you're right that morning exercise and a clean desk can improve my performance. Perhaps Dennis, you always take me out to lunch at delicious restaurants that I didn't even know before. You all are truly like my family.
I will leave the company excited and sad to be one. However, that does not mean we will not meet each other anymore. Stop by my house to taste my wife's delicious pudding. You can also contact me at the same number (888) -8888-888. Lastly, thank you for the wonderful years.
Sincerely,
Benjamin Walter
In short, you can pay attention to the explanation and example of a retirement letter to coworker above before writing yours. Hopefully, you can enjoy your retirement days beautifully.