Maintaining your SAP (satisfactory Academic Progress) is important for the success of your study so you will not be worried about financial problems. However, some accidents may come to you and interfering your study. When that happens to you, there is a solution you can try: writing a SAP appeal letter.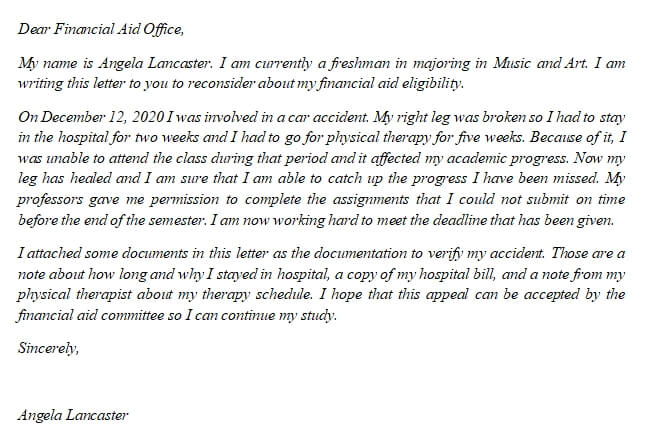 Important Things before Writing an Appeal Letter
Make sure you know the right procedure of writing a SAP appeal letter in your school. Each school may have different rule and procedure regarding this. You can ask your financial aid committee in your school. Don't forget to save any documents related to the unfortunate events which interfering your study progress. Most of school only reviews an appeal letter for SAP at one time in an academic year. The review process is about 2-4 weeks.
Important Things after Writing an Appeal Letter
There are two probabilities after you submitting your SAP appeal letter:
Approved
If your appeal letter is approved by the financial aid committee, you will be placed on financial aid probation. They will return you to your SAP academic plan.
Denied
If your appeal letter is denied, you will not be granted a probationary for a semester due to financial aid suspension. You may send a second appeal letter; the rules different for each schools. The other options are switching major, transfer to different school, or turn to other financial aid sources such as private student loans.
A Good Way to Write an Appeal Letter for SAP
Here are some steps to make a good SAP appeal letter:
Start with a good salutation to the financial aid committee;
State the purpose of your letter;
Explain why you cannot maintain your SAP;
Attached some documentations related to your problems;
Be respectful, honest, and keep the letter short;
A Good Sample of SAP Appeal Letter
Here is a reference of a good appeal letter:
Dear Financial Aid Office,
My name is Angela Lancaster. I am currently a freshman in majoring in Music and Art. I am writing this letter to you to reconsider about my financial aid eligibility.
On December 12, 2020 I was involved in a car accident. My right leg was broken so I had to stay in the hospital for two weeks and I had to go for physical therapy for five weeks. Because of it, I was unable to attend the class during that period and it affected my academic progress. Now my leg has healed and I am sure that I am able to catch up the progress I have been missed. My professors gave me permission to complete the assignments that I could not submit on time before the end of the semester. I am now working hard to meet the deadline that has been given.
I attached some documents in this letter as the documentation to verify my accident. Those are a note about how long and why I stayed in hospital, a copy of my hospital bill, and a note from my physical therapist about my therapy schedule. I hope that this appeal can be accepted by the financial aid committee so I can continue my study.
Sincerely,
Angela Lancaster
Those are all the important things that you should know to write an appeal letter for SAP. Hope that it can be any help for you to use. Good luck!