How to Create Substitute Teacher Resumes Referring to a Resume Sample
A successful teaching process isn't far from something called as substitute teacher. This kind of job may be temporary, yet it's too significant to be ignored. Planning to apply for a substitute teacher vacant job means you need to prepare your own substitute teacher resumes.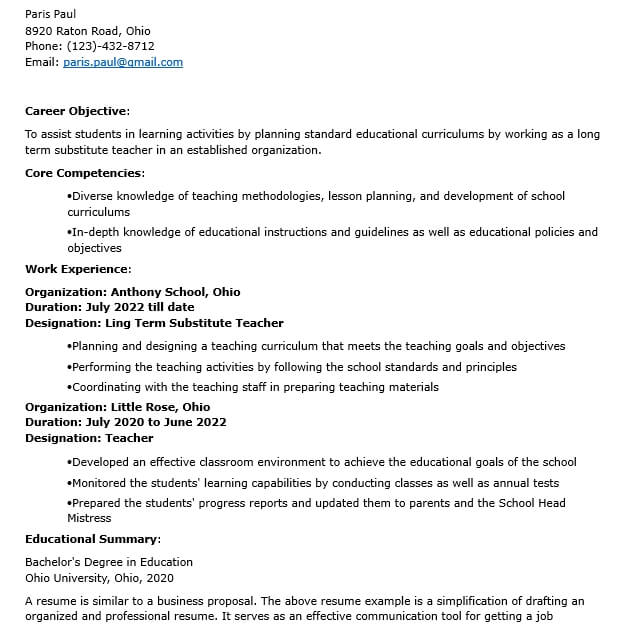 That said, knowing the nitty-gritty of making substitute teacher resume becomes the first thing to know. What's left after that is to get your copy of resume template (if planning to use one) and customize it. But if you want to make it from scratch, understanding the essentials will be enough to help you make your resume.
Sample of Substitute Teacher Resume
Before going far with any nitty-gritty about substitute teacher resumes, take a look at this shortened version of substitute teacher resume written by someone with a prior experience as long-term substitute teacher.
Adam Jones
102 Button Road, Ohio
Phone: (218)-7726 -2819
adamjones@frizmail.com
Qualifications:
Capable in maintaining and developing an effective learning environment
Competent to communicate effectually with outstanding monitoring skills
Comprehensive knowledge of educational guidelines, educational policies and objectives
Experienced with lesson planning, and developing school curriculums
Work Experience:
Organization: Maple High School, Ohio
Duration: July 2019 – present
Designation: Long-term Substitute Teacher
Preparing a curriculum that meets the teaching objectives
In-charge for teaching activities by following the curriculum, school standards and principles
Organizing teaching materials with the teaching staff
Assisting other school staff in planning school rules and regulations; establishing staff and parent meetings
Organization: John High School Academy, Ohio
Duration: July 2018 to June 2019
Designation: Teacher Assistant
Creating an effectual classroom surrounding to obtain the school's educational goals
Developed effective lesson plans
Offering educational aide to students on an individual level
Evaluated the students' learning capabilities by conducting classes as well as annual tests
Tracking each students' performance
Arranged the students' progress reports and provided parents and the School Head Mistress updates about it
Educational Summary:
Bachelor's Degree in Education
Harvard University, April 2018
References:
Mrs. Annie Hoffman (Headmistress of John High School Academy)
Mr. Pedro Sanchez (Principal of Maple High School)
How to Create a Great Substitute Teacher Resume
Great substitute teacher resumes don't rely merely on a decorated resume. It is basically the one that has effective content, proper formatting, and not to forget, the data involved. It means that your credentials are equally important to a decent formatting.
To make substitute teacher resumes you will need to include your personal details, qualifications, and working experiences. If you have references, that'd be great.
People Also Ask
What skills should a substitute teacher have?
Teaching skills
Working with children
Class managerial skills
Public speaking
Time management
What should a substitute teacher put on resume?
It's literally as aforementioned: personal details, qualifications, working experiences. If possible, include references as well.
What is the job description for a substitute teacher?
In general, substitute teacher will be in-charge of performing classroom management processes. This can be done for one or longer periods of time.
Types of Substitute Teacher Resume
Finding the substitute teacher resumes that resonate with your condition may not be easy. What if you try finding one from the list?
Entry Level Substitute Teacher Example Resume
If you're looking for an entry-level substitute teacher resumes sample, it may be an indication that you still don't have many experiences. But still, you shouldn't worry about that. As long as your qualification is what the school is looking for, having no experiences isn't something that you should be ashamed of.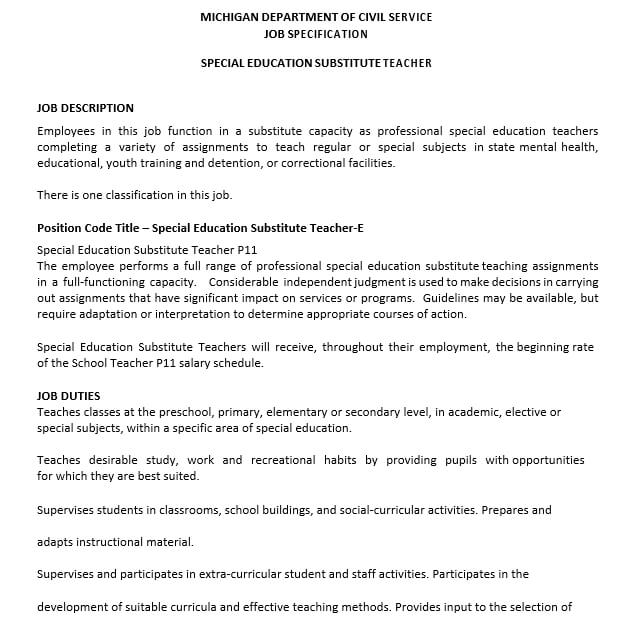 No Experiences Substitute Teacher Resume
Everyone comes from a condition of no experiences when it comes to working, not to forget becoming a substitute teacher. Dare yourself to admit your no-experience circumstance and promise that you'll be doing great for the job you intend to apply for.
Primary School Substitute Teacher Resume
If working with kids has been your long-term passion, then becoming a substitute teacher for primary school can be one option that you can go to. But first, prepare yourself not only with skills for attending an interview, but you also need to tailor your resume. Make sure your substitute teacher resumes meet the requirement.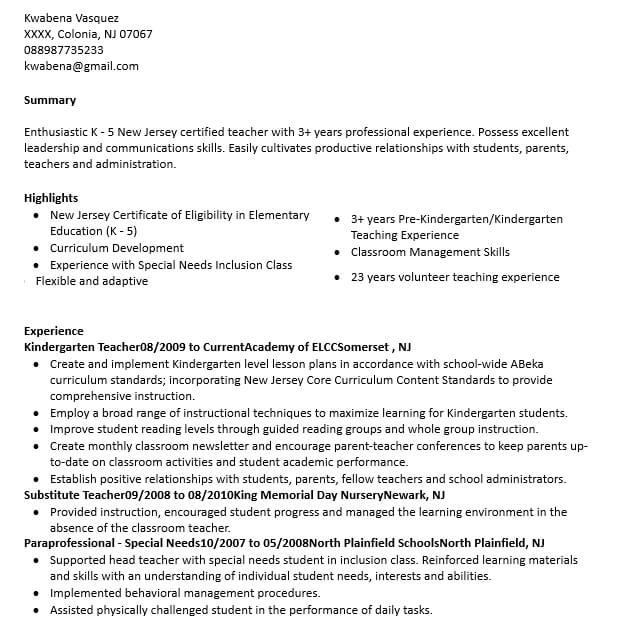 Resume Template for Substitute Sample Teacher
Substitute teacher resume may be similar to other kinds of resume, as it includes personal details, qualifications, skills, and working experiences. However, knowing what's specific for teacher resume will help you to bring only the best while building your resume to apply for that substitute teacher job.
Resume Template of Long-term Substitute Teacher
Have been long into the field yet planning to move workplace? You can write a long-term substitute teacher to showcase your professional experiences. By referring to a sample of substitute teacher resumes, you'll feel no confusion about putting what should be put into the field.
Substitute Elementary School Teacher Resume
Becoming an elementary school teacher is just a noble profession like other teaching jobs out there. If there's a substitute elementary teacher job available and you're interested in being one, making your resume right is the best decision to make.
Substitute Special Education Teacher Resume in PDF
PDF resume is one of the most common file types to be asked by employers. Substitute teacher resume isn't exempt. You may find it easily, but it's unfortunate that you cannot directly copy-paste it. Hence, if you find a PDF template that suits your need in terms of making resume, you may need to convert it to an editable version.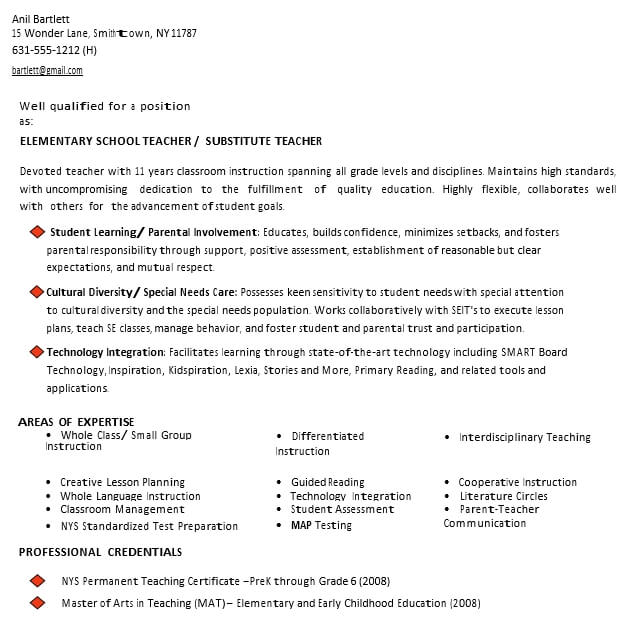 Substitute Teacher Resume Sample
Substitute teacher job may not be available anytime you try to find one. Hence, when you find one that clicks with you, it's a great decision to directly make your substitute teacher resumes and submit it along with a cover letter. So, what are you waiting for?
Teacher Resume Template for Free
What's best from downloading a substitute teacher resume template? It can be downloaded for free. Everyone loves freebies – and that may include getting a resume sample for free.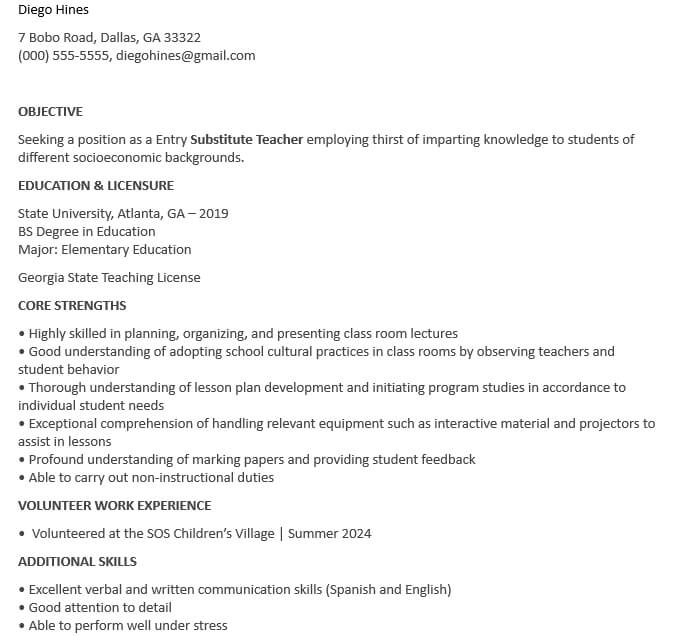 Template of Substitute Kindergarten Teacher Resume
Whether working with younger kids is a long-term profession that you cherish, or it is something new for you, you will still need to write a substitute teacher resume before applying to a vacant job. Hence, make sure to write it decently simply by writing it after a reference.
So, those are some much-needed information about making substitute teacher resumes. What to do after this is to grab your resume sample, learn it a bit, and start making your own resume.