The Impressive High School Resumes for Students Who Want to Develop Their Career
To be selected as an employee in a company, you must have impressive high school resumes. However, it may be hard for you who graduate as high school students since you do not have enough experiences.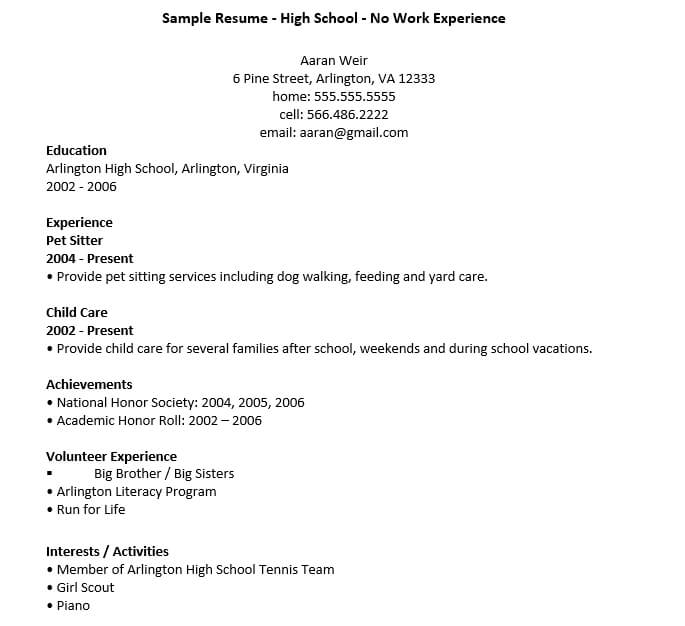 In fact, we all have the same opportunities, and you can try to write impressive high school resumes. Highlight your achievements while you study or any non-academic accomplishments.
High School Resume Samples
Here is the most common high school resume that you can follow:
Schelle, Pearl E.
Contacts
Phone   : 8500432764
Address            : 18 Eleanor St., Orlando, Florida
Email    : pearl.schelle@gmail.com
Career Objective
As a fresh graduate from Orlando High School, I am currently looking for a job in Advertising Industry that will help me to develop my skills and experiences while making a great contribution to the company. I am seeking a challenging position in a reputable company to expand my skills, knowledge, and learning.
Achievements
Lay-out artist – The Journal Student Magazine (2008-2011)
Vice President – Association of Design Students (2009)
President – Association of Design Students (2010)
Personal Skills
Advance level in 3 languages (English, Chinese, and Spanish).
Excellent verbal and written communication skills.
Proven excellent leadership skills.
Excellent work as a part of a team or independently.
Advance level in using Adobe Creative Suite, Microsoft Office, and Adobe Illustrator.
Educational Background
High School (2008-2011)
Orlando High School
Junior High School (2005-2008)
Orlando Junior High School
Elementary School (1999-2005)
Saint Eleanor's School
Tips to Write High School Student Resume
Writing impressive high school resumes is not that easy since this might be your first experience in making resume. After knowing the sample, here are few things you should consider to write resume:
Provide the resume with your achievements while you are a student (it could be any academic or non-academic achievements, awards, volunteering experiences, or anything that can make your resume more outstanding).
Include your supervisor's testimonial as plus point.
People Also Ask
What looks good on a high school resume?
Your resume should be included all these things:
Work experience (School program jobs or summer activities)
Educational background (educational history, achievements in and out of school, GPA, and class rank)
Basic information (Your full name, email address, and phone and address)
How do I make my high school resume stand out?
There are plenty of things to make impressive high school resumes
Join any studying abroad program
Be active in your school activities, either academic or non-academic activities
Try any internship program in summer holidays
Be a volunteer in any club or charity organization. This will develop your soft skills, such as leadership, responsibility, and the ability to work in a team.
How to make a resume with zero experience?
If you are just graduating from high school and don't have any work experience, do these things to make your resume more valuable:
Make sure to make impressive high school resumes with the right format and do not overdo them.
Include your extra skills (soft skills and hard skills)
Put relevant background and experience
Use an interesting cover letter
Types of High School Resume Template
Now, you can start to create resume, and here are few examples of impressive high school resumes that you can follow based on your condition and needs.
High School Resume for Student Counselors
If you have many experiences in counseling, such as volunteering in social campaigns, being an intern in counseling school, or even creating a social campaign, these impressive high school resumes is a great choice to build your career in counseling.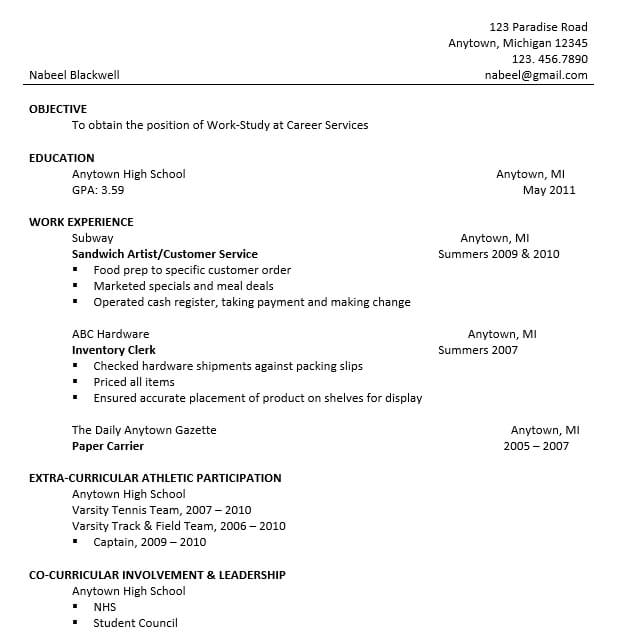 High School Resume for Accounting Students
Accounting student's resume template is designed for you who have a passion for retailing or customer service. In this template, enlist all your achievements, skills and knowledge in accounting, for example Microsoft skills, mathematics, and accounting skills.
Experienced High School Students Resume
The impressive high school resumes are suitable for you who have many experiences in working, whether in summer internship program or part-time jobs. Put all your job experience details on the resume. It would be best if you have other astounding achievements in or out of the school.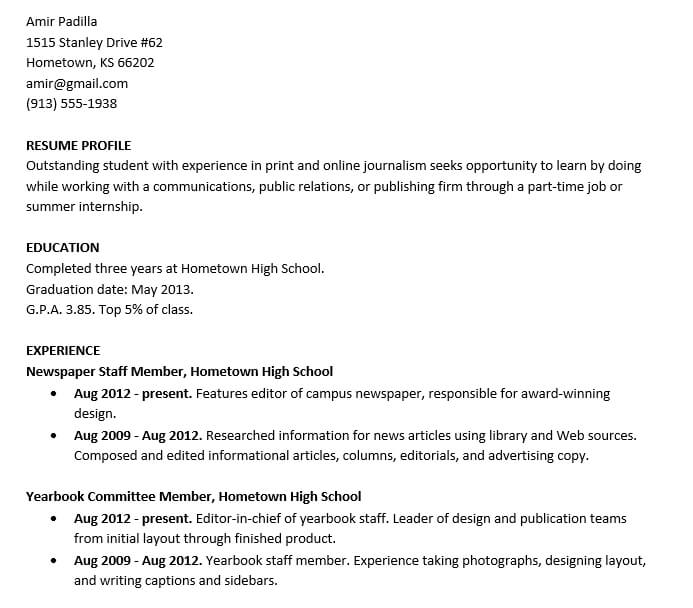 Outstanding High School Students Resume
If you graduate as the best student because of many achievements and experiences in school, choose this template. You can put all details of your academic and non-academic achievements, work experiences, extracurricular, or clubs that you attend.
Diploma Students Resume
This template is for diploma students who eager to build career in every field. Make sure to put the details of field where you want to work in into your objective.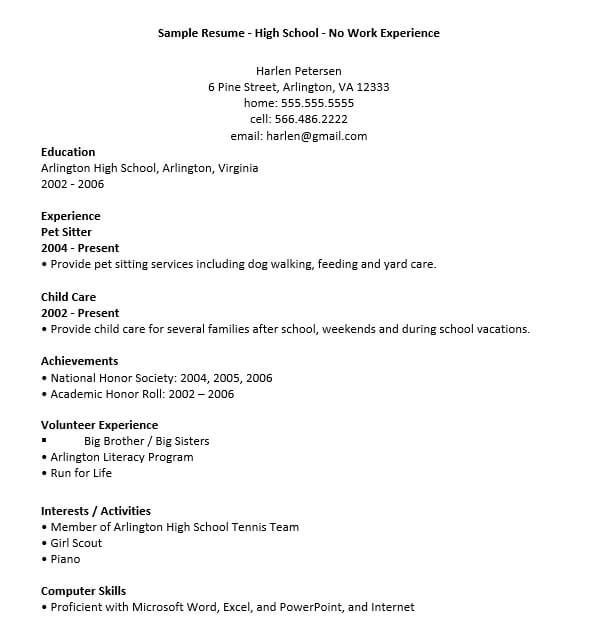 College Students Resume
Use this resume template if you are currently studying in college but need to do some part-time jobs. Your resume will be impressive if it includes your job experiences because it will be a plus point for your recruiter.
No Experience High School Students Resume
Do not worry if you are a high school student who doesn't have any experience in working. Just follow this template to make a good resume. Make sure to put all your interests and skills into the resume.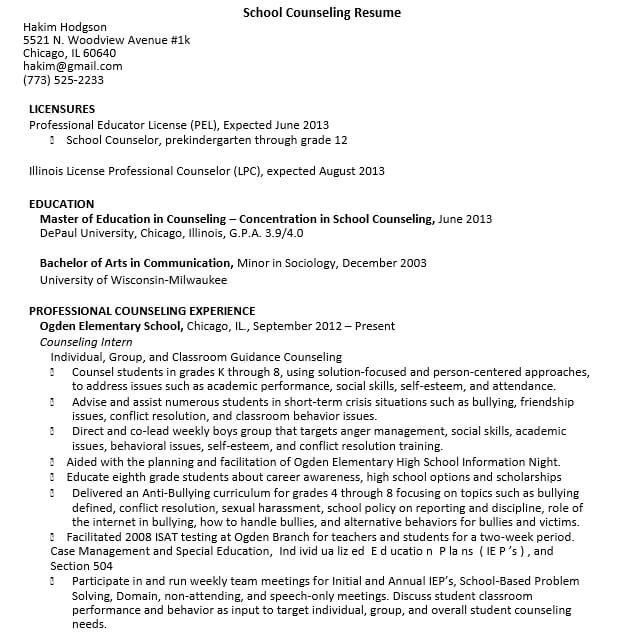 High School Students Application Letter for Job
Besides knowing how to make impressive high school resumes, you need to know how to make application letter. Do not overwrite this letter, and put only the relevant things.
High School Volunteering Students Resume
Do you love to volunteer in summer holidays and have plenty of experiences in volunteering clubs in your town? Try to use this template. It can enhance your career as an astounding high school student.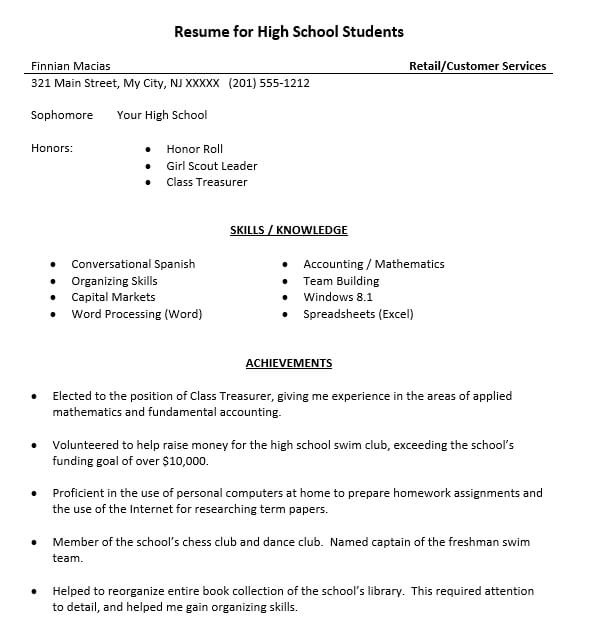 Highly Creative High School Students Resume
If you are a highly creative high school student who has incredible skills in editing and design, this resume template is the best choice. You can create the design and put your imagination into your resume. This will surely make it more interesting to increase the chance of being accepted into any company you want.
High School Students Internship Resume
This internship resume is great for you who want to develop internship experiences. Do not forget to put all your strength, including any achievements, personal skills, GPA, and key competencies into your impressive high school resumes.