What Is A Teacher Retirement Letter?
A teacher retirement letter is a notice that you are going to quit or leave your position as a teacher. Typically, this notice is sent to the hiring departments. However, you are also suggested to distribute the copies to other departments to help them be aware of your resignation.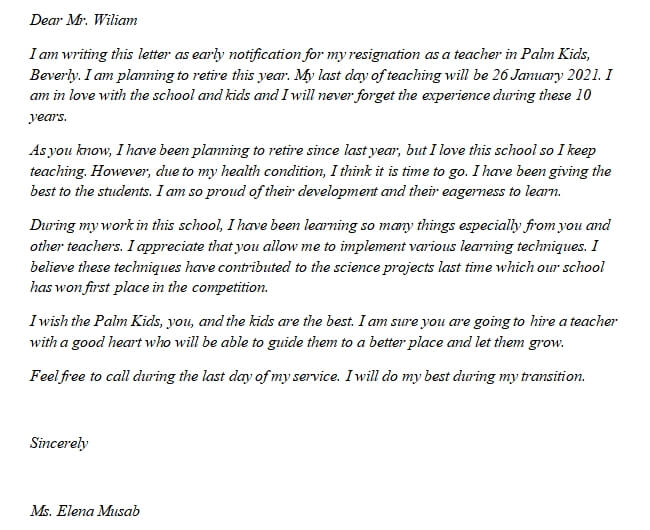 How To Resign From Your Position?
A resignation letter for retirement cannot be blindly submitted to your hiring department. You have to get prepared well before deciding to vacate your position. Check the tips bellow:
Know what you are going to do during your retirements
Before deciding to retire from your position, you must think about what you are going to do. This means you must know you still need some income streams. Even though you might get some retirement compensation, you are not as active as your time in the office. Doing something that can create the second stream without making you stressful will be much better.
Speak to the superintendent
Before you decide to vacate your position, make sure you have given notice to the superior. This will give them time to get prepared for the new hiring. Sometimes, it is not easy to find a substitute teacher.
Write down the teacher retirement letter
Retirement is something that you can plan. However, a teacher retirement letter is still as important as the formal notice. You can use our example to help you write a proper resignation letter.
File resignation
You must give your resignation letter to the related department. Ensure to discuss it with the school board in case you are required to submit the additional copies to other boards.
How To Write A Teacher Retirement Letter?
Dear Mr. Wiliam
I am writing this letter as early notification for my resignation as a teacher in Palm Kids, Beverly. I am planning to retire this year. My last day of teaching will be 26 January 2021. I am in love with the school and kids and I will never forget the experience during these 10 years.
As you know, I have been planning to retire since last year, but I love this school so I keep teaching. However, due to my health condition, I think it is time to go. I have been giving the best to the students. I am so proud of their development and their eagerness to learn.
During my work in this school, I have been learning so many things especially from you and other teachers. I appreciate that you allow me to implement various learning techniques. I believe these techniques have contributed to the science projects last time which our school has won first place in the competition.
I wish the Palm Kids, you, and the kids are the best. I am sure you are going to hire a teacher with a good heart who will be able to guide them to a better place and let them grow.
Feel free to call during the last day of my service. I will do my best during my transition.
Sincerely
Ms. Elena Musab
Science Teacher
Palm Kids