If you are a teacher or an educator, surely you have a time to provide a recommendation letter for your students. This implies appreciating your students' hard work and capable to promote them as the potential candidates for a job or a college. It's possible if you had witnessed their result and achievement for a long time and thank them for giving the honor they deserve.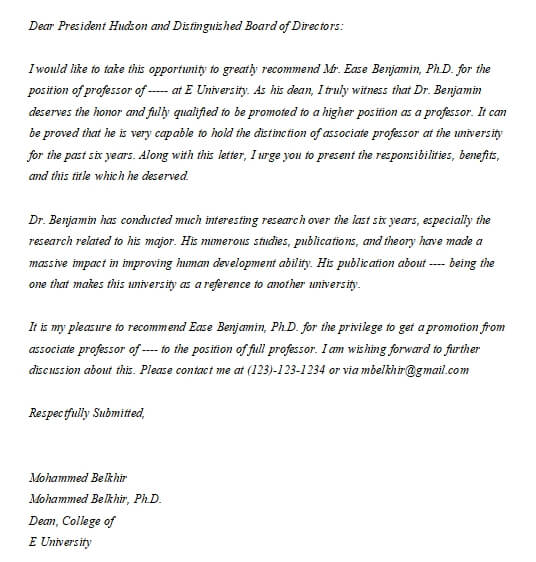 What Is A Professor Recommendation Letter?
It is an academic letter of recommendation, specifically addressed to someone who plays an important role for the school or company. Using this letter can also award the person who deserves a special honor for the research they have done. This letter can help them to get a better impression and valuable to achieve their dream job or college.
Why Does A Recommendation Letter Becomes Valuable?
As we know, a recommendation letter can be a special gift to someone for their hustle in making changes. Whoever a recommendation letter you presented to, it really describes you as a hard working person who always concerns with others and you will make a positive vibe around.
How Do I Write A Professor Recommendation Letter?
Before you write this letter, it is better for you to read this part. Check them out:
Pay Attention To The Language You Used
Make sure grammar and spelling are in the correct form. You can begin the letter with greetings to the specific person or to whom it concerned, then start to make a positive content toward someone you recommend.
Focus On Who You Concerned About
Explain how you know the person and don't forget to include the data you collected to make it look convincing enough. Remain positive until the end of the line. Provide your contact information, and follow the submission guideline if any.
Professor Recommendation Letter Example
The example below is editable, you may get some idea to make a new one.
Dear President Hudson and Distinguished Board of Directors:

I would like to take this opportunity to greatly recommend Mr. Ease Benjamin, Ph.D. for the position of professor of —– at E University. As his dean, I truly witness that Dr. Benjamin deserves the honor and fully qualified to be promoted to a higher position as a professor. It can be proved that he is very capable to hold the distinction of associate professor at the university for the past six years. Along with this letter, I urge you to present the responsibilities, benefits, and this title which he deserved.

Dr. Benjamin has conducted much interesting research over the last six years, especially the research related to his major. His numerous studies, publications, and theory have made a massive impact in improving human development ability. His publication about —- being the one that makes this university as a reference to another university.

It is my pleasure to recommend Ease Benjamin, Ph.D. for the privilege to get a promotion from associate professor of —- to the position of full professor. I am wishing forward to further discussion about this. Please contact me at (123)-123-1234 or via mbelkhir@gmail.com

Respectfully Submitted,


Mohammed Belkhir
Mohammed Belkhir, Ph.D.
Dean, College of
E University
At last, you can edit the example as if you need it in order to help you make a professor recommendation letter. Make it as good as possible and good luck!