A decline of business or economic slowdown may cause a company to make a tough decision either to layoff some employee or make significant changes. When a company decided to terminate an employee, usually they will send a formal type letter to explain the condition due to the economic condition experienced by the company.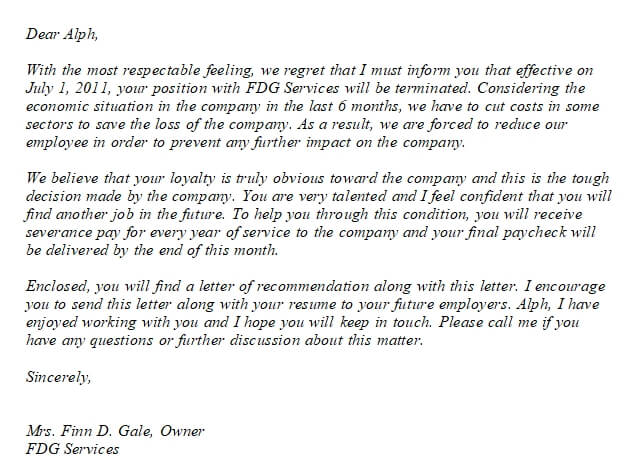 What Does Laid Off Due To Lack Of Work Mean?
Generally, when an employer hard to defend your position in the company or can't afford your salary on the payroll due to some financial issue that occurs, there will be a termination of some employee in order to return the balance of the company. Often, this called layoff due to lack of work.
Is It Possible To Terminate An Employee For Poor Performance?
Mostly this will need an investigation first before deciding this action because if it is not followed by precautionary, there will be a possibility for an employer of losing end of a lawsuit for unreasonable termination. Nonetheless, it still possible to terminate an employee for poor performance as long as the investigations are at the exact point to be proven. This will be the most appropriate way to deliver a termination letter with the reason of lack of work.
How To Write A Termination Letter Due To Lack Of Work?
The main purpose of this letter is to notify the employee that they will lose a job due to specific reasons related to economic conditions. This letter should inform the specific reason for making the decision. Pay close attention to the language used in this letter with the purpose to protect the employee's self-esteem. Appreciate their hard work for the company, and include the information related to the date of the termination followed by any details regarding pay and benefits.
Example Of The Letter
In order to help you to understand this type of letter, here is an example below that may help.
Dear Alph,

With the most respectable feeling, we regret that I must inform you that effective on July 1, 2011, your position with FDG Services will be terminated. Considering the economic situation in the company in the last 6 months, we have to cut costs in some sectors to save the loss of the company. As a result, we are forced to reduce our employee in order to prevent any further impact on the company.

We believe that your loyalty is truly obvious toward the company and this is the tough decision made by the company. You are very talented and I feel confident that you will find another job in the future. To help you through this condition, you will receive severance pay for every year of service to the company and your final paycheck will be delivered by the end of this month.

Enclosed, you will find a letter of recommendation along with this letter. I encourage you to send this letter along with your resume to your future employers. Alph, I have enjoyed working with you and I hope you will keep in touch. Please call me if you have any questions or further discussion about this matter.

Sincerely,


Mrs. Finn D. Gale, Owner
FDG Services
Hopefully, this information can be useful for you in understanding this type of letter. The example above can be a reference for you to make a new one. Good luck!