The Waitress Resume Template and Free Examples
A waitress resume template will be such a good hand when you are in need of writing the document. Writing resume on your own will take too long, and the content is full of flaws. This is why the resume template is needed. You will find several of them below, and feel free to download them.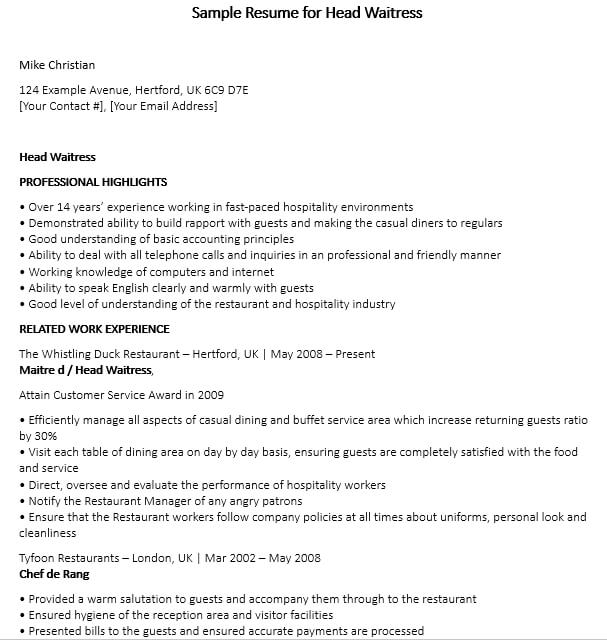 The examples are all available for free. You just have to download one, and then by the time you need to have your own resume, use the template instead. Without further ado, here are some examples and few templates for you.
Example of Waitress Resume Template
RESUME
Name: Penelope Howard
Email: pennyhoward@mail.me
Phone: 2890-1028
Address: 7 Cake St., Mary Land, JK, 172
Profile
Currently studying for Public Relation at the University of Saint Mary.
Having been waiting tables since high school days.
Having been working in fine dining restaurants and casual restaurants.
Willing to work hard and prefer night shifts.
Good to work in teams and having excellent communication skill.
Education
Hudson High School, Graduated 2019, GPA 3.8
University of Saint Mary, Ongoing (since 2019), Currently studying for Bachelor's Degree in Public Relation.
Waitressing Jobs
2018-2019, Philip's Cafe, Waitress
Duties:
Answering questions from customers
Checking food and beverage quality
Greeting customers
2019-2020, Fabio Italian Corner, Waitress
Duties:
Keeping tables clean and tidy
Making suggestion for menu of the day
Preparing bills
Presenting menu
2020-Ongoing, John's Fish and Pizza, Waitress
Duties:
Processing table reservation
Providing customer service
Setting up tables
Taking and serving the customer's order
Skills
Time-Management
Communication
Quick-thinking
Compassion
Multi-tasking
Language
English, Advanced
Italian, Intermediate
German, Advanced
How to Write Waitress Resume
In order to write a good waitress resume, you need a good template. The template is like ready-to-use stencil where you can just use it to make sure whatever you make or write it, it will be good. This is the step-by-step to make the resume for waitressing jobs:
Download waitress resume template or two. Save them later in your computer.
By the time you need your resume, open the resume template using Microsoft Word.
On the first section, it is going to be your contact information. Add in your phone number and active email. If you will, you can add the mailing address, too.
Next, it will be your brief profile. Write about a paragraph of it. Do not let it be too long. so the readers do not find it boring.
After that, you list your history of education and the waitressing jobs. Waitressing jobs are usually done by young people in their school to early college days.
Then, add your skills and then your mastered language. If you are a waitress and can speak more than one language, it will be a plus point after all.
Check the resume again before you hand them over or send them.
People Also Ask
How do you describe waitressing on a resume?
Waitressing should not be described very clearly. Everyone knows what it is, and thus you just have to state your duties on the resume. Everyone knows waitressing is the kind of job in the food industry where you wait for the table, and provide services to the customers.
There is no need to let everyone knows what it is. However, you have to list your duties there. Each restaurant has its own policy about what the waiter/waitress should do. This is why the description of duties is considered more important.
What should I put on my resume for waitressing skills?
Waitressing job is like any other job, and the resume should look like one, too. In waitress resume template, you will see the resume is completed by contact information and brief profile. The waitresses also have to write the history of education as well.
Next, the waitress will have to list the waitressing experience. As stated before, in waitress resume template, there will be places to write up the duties. Explain the duties in details, so everyone knows what you have done over the years and what you are capable of.
What should I put on my resume for food service?
In waitress resume template, you see the resume is like full of job description and skills. Well, skills for waitress are the soft skills, especially the communication. This is related to the language skills as well. If you have multi-language skill, it will be more valuable because it means you can communicate with different people from different countries. Just in case a foreigner visiting the restaurant, this skill should be able to handle the guests just so easily.
Entry Level Waitress Resume Example
Entry level is basically someone who is very new in the restaurant. You do not have to be afraid to write the resume since waitress resume template will help you do it. It is free to download after all.
Experienced Waitress Resume Example
Experienced waitresses are like the polar opposite of the entry level one. They have years of experience, and of course they still need to write resume every now and then. This is the waitress resume template to use.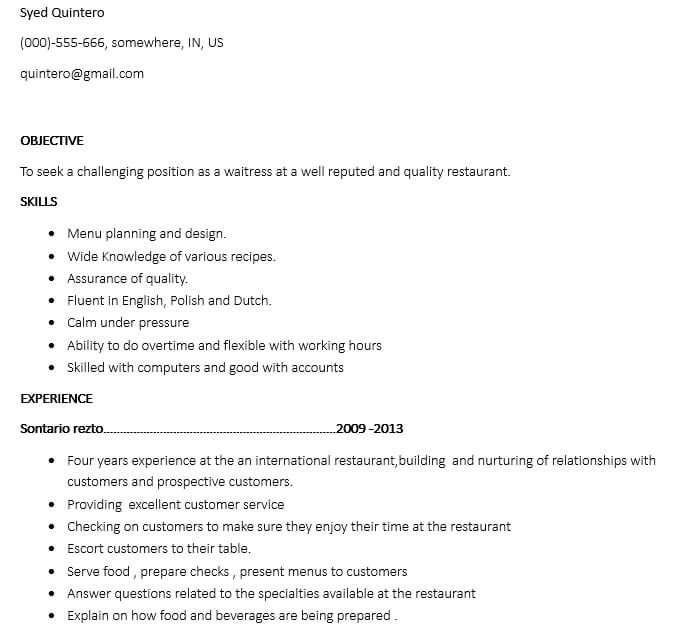 Head Waitress Resume Example
Head waitress is someone in charge when it comes to the profession. Instead of writing the resume from scratch, download the waitress resume template, and use it anytime you want.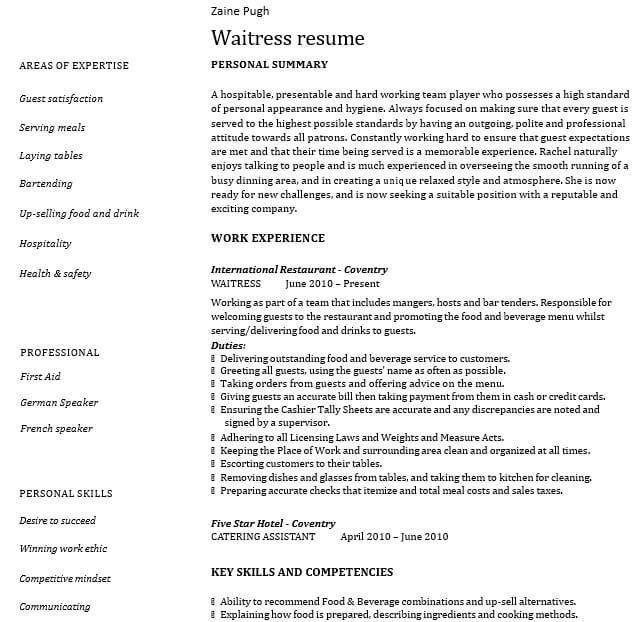 Professional Waitress Resume Example
To make a good resume written professionally, you will need some examples. This is one of them. The waitress resume template can be used anytime you want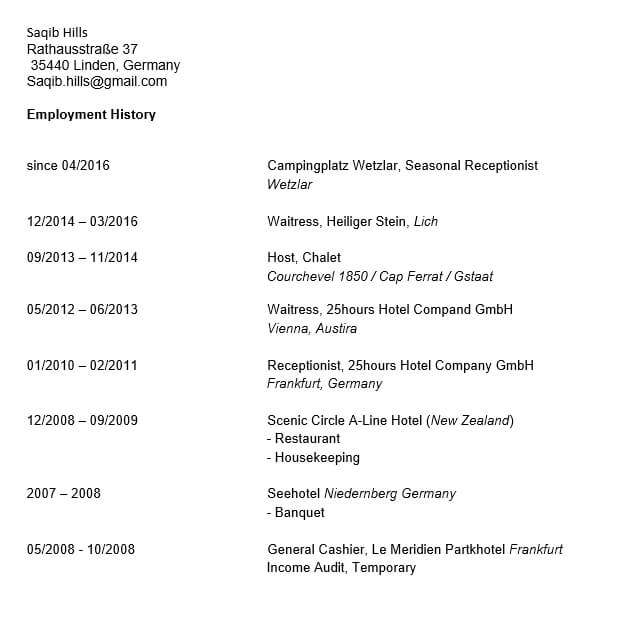 .
Receptionist Waitress Resume Example
Waitresses who wait at the front table in the restaurant have different job. This is the example for the resume for that particular profession.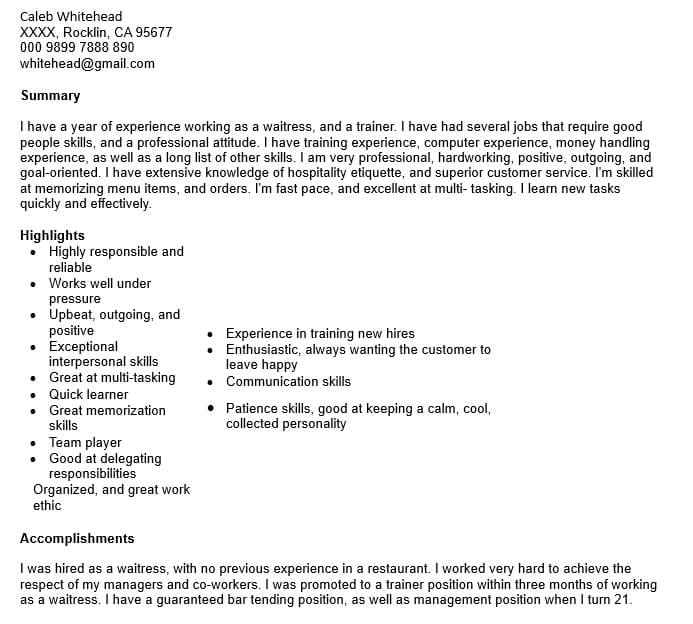 Waitress Trainer Resume Example
In a restaurant, there will be a waitress trainer. The job is to train new staff and new waitress. They will teach them what to do, and where to find stuff. Use this waitress resume template to write the resume.