Free Fresher Resume Template for Fresh Graduates
Being a fresh graduate might sound challenging when applying for the first job as you don't have enough working experience that could highlight your profile. Before being a professional in your job field, you have to start from the bottom.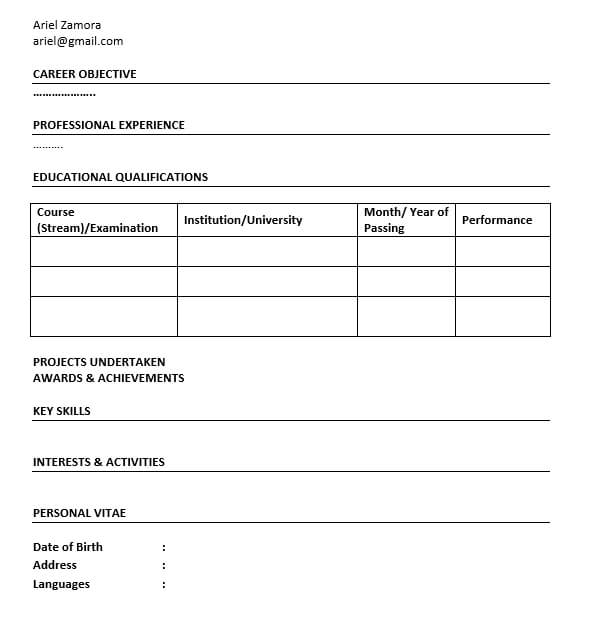 You can't automatically have many remarkable working experiences without being a newcomer first, especially if you are just recently graduating from college or high school. Well, now you can choose one of many fresher resume template examples provided below.
Example of Fresher Resume Template
Using a sample of fresher resume can help you to write first resume faster and easier. Try to follow the fresher resume template below:
Profile
Name                : Nicky Austen
Birth Place        : Chicago, Illinois
Date of Birth     : July 12, 1993
Age                  : 27
Gender             : Female
Personal Contacts
Address            : 73 Bend Ave, East Chicago, IL 82738
Phone               : 220 8478 7262
Email                : nicky.austen@live.com
Career Objective
I am Nicky Austen who just recent graduate as an IT graduate and aim to find a challenging and exciting job position in the IT industry with a company that continuously drive and motivate me to do my best and improve on my abilities and skills. Therefore, I can be able to help the company in reaching the goals, vision, and mission.
Academic Background
Masteral Degree (2016 – 2018)
BS Information and Technology
University of Illinois
Bachelor Degree (2012 – 2016)
BS Information and Technology
University of Illinois
Diploma (2011 – 2012)
Information and Technology Management
University of Chicago
Internship Experience
Web Developer Internship (2018)
Illinois Matric Co.
IT Management Internship (2016)
Illinois Digital Lab
Personal Skills
Critical thinker
Communication skills
Attentive listener
Quick thinker
Leadership
Paying attention to details
Multitasking
Areas of Expertise
Oracle
WordPress
Adobe Creative Cloud
Tips to Make Your First Fresher Resume
Making very first resume as fresh graduate might be difficult since you don't know exactly how to start. If you are confused with that, try to follow these tips:
Send your resume before officially graduating, so you can start having a job right when you are officially graduating.
Do enough researches about the company that you are targeting. This will be a great help, especially in the interview session.
Include your internship or achievements certificate to make your profile more valued even though you don't have any working experiences yet.
People Also Ask
Which kind of resume is best for fresher?
As fresh graduate, you may confuse about which resume type that you should use to make your own resume. Using functional resume is recommended since this format is flexible. You can focus on personal skills or your experiences (training, workshops, etc.).
What should fresher write in the professional experience section?
Being a fresher means you don't have any working experience yet since you were busy studying for college or high school. Therefore, you don't need to include working experience. Just list your courses or internship experiences instead. But, of course, if you have working experiences because you have been working in the summer or winter break, include them in your professional experience section.
What are the essential skills requires for fresher?
Being a fresh graduate without working experience means you should highlight other strength, such as your skills, achievements, training experience, internship experience, or anything else. You have to show your skills, such as:
Negotiation skills
Persuasive skills
Management skills
Critical thinking
Problem solving
Spoken and written communication skills
Creativity
Adaptability
Quick thinker
Teamworking skills
Relationship building skills
Types of Fresher Resume Template
A fresh graduate has so many opportunities to step into any field or job, and the following are the types of fresher resume template that you can choose based on a field you may seek.
Fresher Resume Template for Hotel Job
The fresher resume template for the hotel job template is best used for any fresh graduate who is passionate about the hospitality field and looking for a way to pursue the career in this field. You can highlight your career objective to make the resume look fantastic.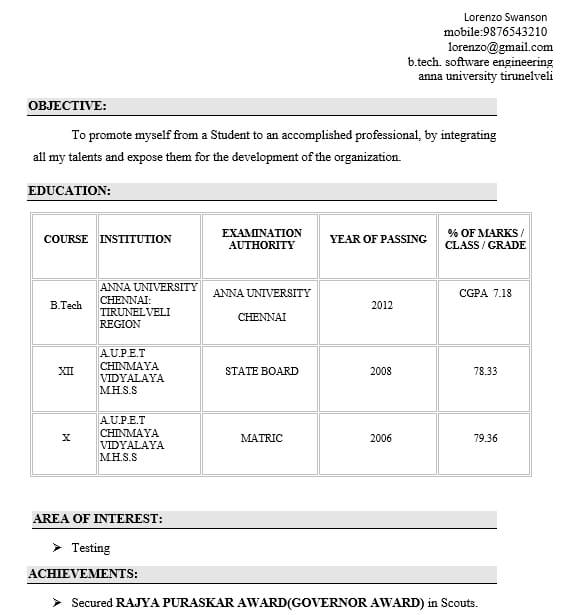 Fresher Resume Template for Electrical Engineer
If you are an electrical engineering fresh graduate and want to start your very first job in engineering field, this fresher resume template might be good for you. Do not forget to fill in your personal contact details since this is the only way for the recruiters to get in touch and contact you for further information about the job.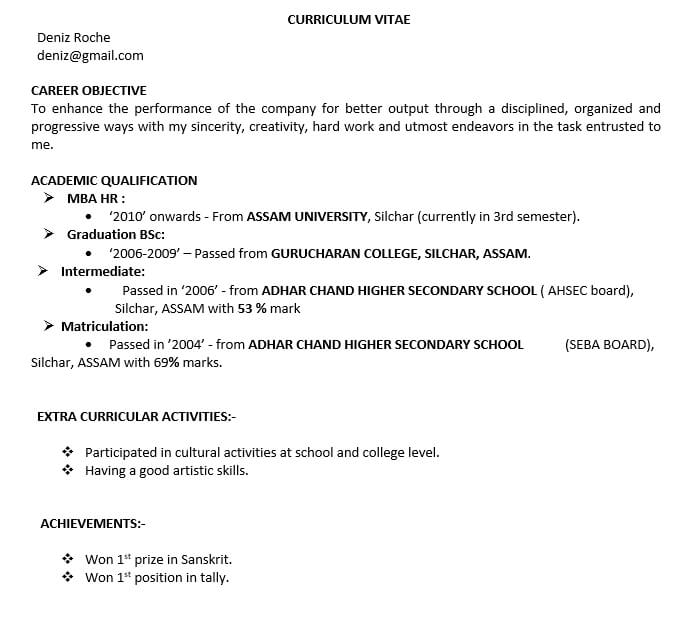 Fresher Resume Template for Software Development
IT is one the highest-demand field jobs as these days everything goes online. Well, use this software developer fresher resume template to maximize yourself as the next top professional in IT. List your educational background in reversed mode, so the recruiters can read it easier and faster.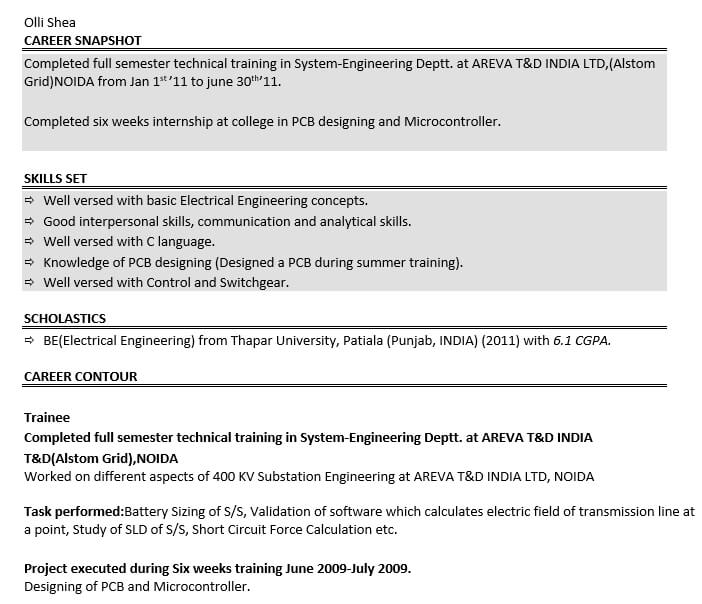 Fresher Resume Template for Business Analyst
The business analyst is one of the most important jobs in the world. Therefore, if you are passionate about this field, you have the big opportunity to be the best business analyst in your city. Use the business analyst fresher resume template as your first start to get into this tempting field job.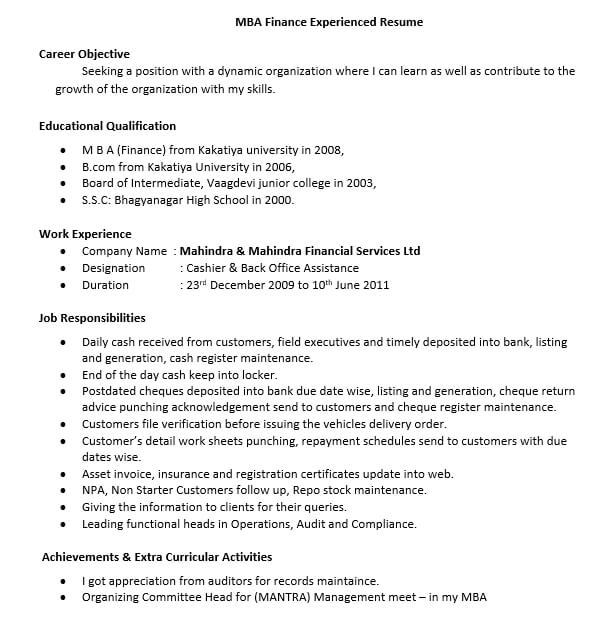 Fresher Resume Template for Accounting
If you are a highly passionate accounting fresher and ready to step into the competitive accounting field, try to follow this accounting fresher resume template. It helps you to write your basic accounting resume without forgetting about highlighting the best skills you can offer to the company.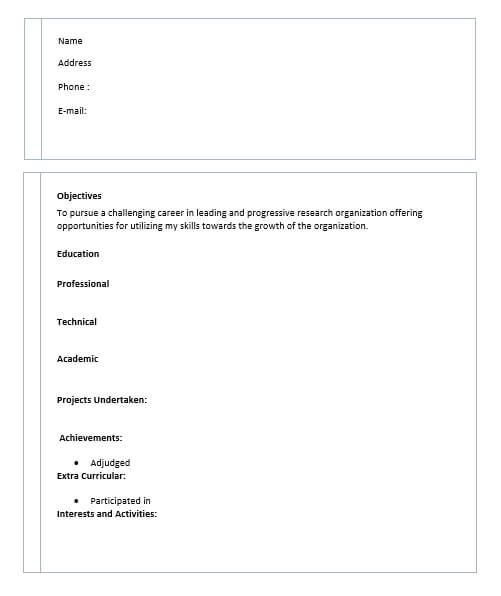 Fresher Resume Template for Graphic Designer
By using this graphic designer fresher resume template, you can be both: showing the great design skills as well as showing that you have an impressive resume because of the great qualities you have. Do not be afraid to play with the design and layout, but keep in mind you can't overdo the design as this can be a big issue for your recruiters.
Fresher Resume Template for Banking
Can you see how cool and impressive the banking fresher resume template is? Using this template will boost your personal value because it looks glamorous yet simple. Use the header format wisely because the wrong photo could make your whole resume look unprofessional.