Get the Samples of Cashier Resume Template to Make the Best Resume
Are you good with mathematic and have great attention to detail? Well, you may be the best potential person to fill in the cashier job position. You can decide to apply for this position by imitating the next imposing sample of cashier resume.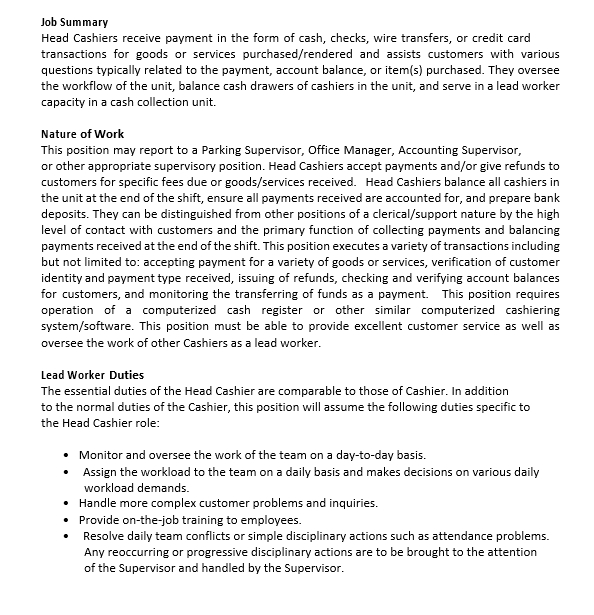 There are so many responsibilities and duties of a cashier. The main duties start from assisting the customers to check out their groceries, collecting the payments, totaling and itemizing customer's purchases, and answering the inquiries.
Example of Cashier Resume
The next below is the sample of cashier resume that you can easily imitate from:
Contact
Name    : Chloe Jones
Phone   : 121 7464 5535
Email    : Chloe.Jones@hotmail.com
Address: 14436 Melrose Avenue, Los Angeles, CA 15353
LinkedIn: Linkedin.com/in/chloejones
Profile
A multi-talented head cashier with more than 3 years of experience in serving excellent customer service, handling inventory, and daily accounts.
Purposing to use my expertise and knowledge to effectively fill the head cashier role in your company.
Holding a Bachelor's degree in Business Management.
Educational Background
Bachelor of Arts (2013 – 2017)
Business Management Major
Melrose College, Los Angeles, CA
High School Diploma (2010 – 2013)
Sunset Boulevard High School, Los Angeles, CA
Key Skills
Team Leadership
Prioritization and Organizational Skills
Data Entry / SAP
Microsoft Office Suite
Excellent Communication Skills
Oracle / Internet
Awards
The Employee of the Month (June 2018)
Best Bought Company, Los Angeles, CA
Certifications
Certified Professional Cashier Service (2017)
CPCS Global
Melrose Driver's License (2019)
Professional Experience
Cashier (2017 – Present)
Best Bought Company, Los Angeles, CA
Developing the excellent reputation of the company by giving the efficient and excellent service with the great accuracy and receiving best ratings during 3 years of working period in the store
Closing and opening the registers, ensuring the customer service's quality all day, training the new staff and cashiers, and monitoring the cash limits
Maintaining the service by learning more about the store merchandise knowledge and responsible for accepting the payments of the customers by credit cards
Counting money in the drawers to make sure that the amount that was recorded is matched with the amount of the money, handling 98 transactions on average per day, and operating POS cash list
Cashier (2016 – 2017)
Helen & Joel Company, Los Angeles, CA
Calculating the total payments received and reconciliation with the total sales
Implementing the new cashier service tactics successfully and increased customer satisfaction by 26% in 3 months
Maintaining and compiling the non-monetary records and reports
Providing the related information regarding the products that asked by the customers and responsible for conducting the customer's complaints
Tips to Make Cashier Resume
If you are still confused about how to make cashier resume, here are the things you can easily do to create a resume:
List your best cashier skills
Add an interesting cashier cover letter as the first page of your resume
Make your professional experience in some relevant keywords, bulleted points, pointed achievements, and strong words
Add more value to your resume by adding extra spaces, such as language skills, volunteering history, or certifications
Format your resume with the right margin, readable fonts, and proper spaces
Give your education information in details
Complete your resume heading with a profile summary or career statement
People Also Ask
How do I describe the cashier on my resume?
Describing cashier in your cashier resume is by simply mentioning the responsibilities and duties, such as counting the cash in money drawer, using the barcode devices, greeting the customers, accepting the return of customer, collecting the payments (cash, credit cards, or checks), registering the purchases, and answering to the inquiries.
What skills should you put on your cashier resume?
The best cashier skills that should be mentioned in cashier resume are:
Professional phone call etiquette
Excellent relationship building skills
Understanding the market of the company
Basic mathematic knowledge
Great product knowledge
Great ability in prioritization and time management
Integrity
Computer skills
Cash management
Attention to detail
What is a good objective for a cashier job position?
To make an impressive career statement at the top of resume, start by mentioning the job position or role that you are targeting for. Add your best cashier skills to add more value to your statement. You can also list the working experiences and relevant educational qualifications. The recruiters will select you mainly based on your career statement because it tells the whole value of yourself. They can also see how passionate and talented you are, how big your integrity is, or how trusted you are only by reading profile statement.
The Variety of Cashier Resume
The next and last thing you can do is by picking one of these subsequent choices of cashier resume.
Cashier Resume for Bank
Take the bank cashier resume if you want to be paid a high amount of salary by working "just" as a cashier. Yes, being a bank cashier means you can be paid a great amount of salary because most of the banks around the world have a high standard of salary, even though you are a fresher.
Cashier Resume for Fast-Food Restaurant
The fast-food resume template is good for you who want to earn extra money in their free time. Usually, the fast-food restaurant is looking for someone aged at 18 – 23 to be their part-time staff, including a cashier.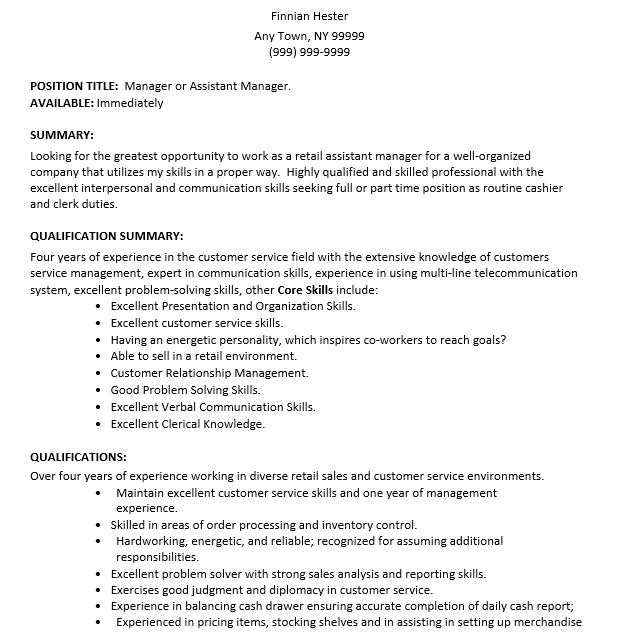 Cashier Resume for Head Cashier
If you want to know more about the responsibilities as a head cashier, you can download and learn from the head cashier resume. It contains detailed duties and job summary as head cashier, and it surely will give you more knowledge.
Creative and Complete Cashier Resume
Pick the creative and complete resume template if you want to get two important things at once. You will be provided with the best cashier cover letter template as well as cashier resume template which will assist you in making an impressive resume.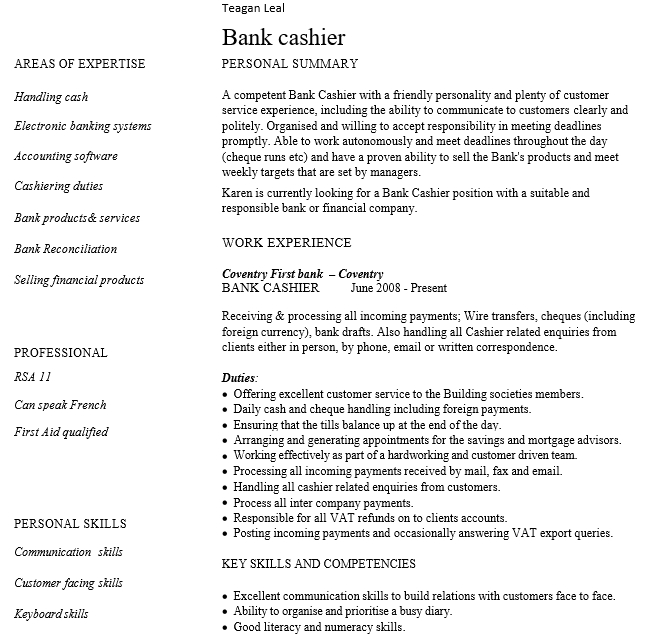 Cashier Resume for Grocery Store
Choose the grocery store cashier resume template if you want to conduct a basic and simple resume. This template is completed by the profile section, skills section, and working experience section. Do not lie in making a resume. Moreover, write an honest summary of your profile as a cashier.