Athletic Director Resume Sample and Pro Tips to Write One
Are you considering an athletic director your future career? Then you will need to ensure your resume is able to sell your expertise, qualifications, and experience to the recruiting crew. An athletic director resume sample is what you will need if you have no clue where to start.
Making a resume can also be much more manageable with the help of a resume template. The template allows you to customize the existing resume layout to the specific requirements of a particular institution, in addition to having the athletic director resume sample.
Sample of an Athletic Director Resume
Are you looking for inspiration to create a resume that gets you an interview? See the following athletic director resume sample.
Scott Gutierrez
Address: Brisbane, CA 94005
Phone   : 415-211-3112
Email    : sgutierrez@mail.com
Professional Summary
Accomplished school athletic director with more than 5 years of expertise in engaging and inspiring students.
Excellent working connections with other teachers and parents.
Through the implementation of training strategies successfully lead the school athletics to multiple victories.
Professional Experience
Athletic assistant director, September 2017 – Present
Hilton Hills High School, Brisbane, CA
Led school football team to win three consecutive season championships.
Gathered feedback from both students and coaches in order to improve the existing athletic guidebook.
Implemented a large-scale fundraising campaign and redirected funds to expand and build sporting programs.
Based on the performance as an assistant to a football coach, successfully promoted to handle the administrative functions for the sports program.
Assistant football coach, June 2015 – August 2017
St. Peter High School, Brisbane, CA
Taught PE lessons to students of all grades according to the provided curriculum.
Expanded the existing physical education program by introducing and implementing new ropes and self-defense courses.
Supervised conditioning program for the school football team on daily basis.
Monitored the conduct and eligibility of student-athletes while also developing specified programs for students with academic difficulties.
Education
The XYZ University, Brisbane, CA
Bachelor's Degree in Sports Sciences, March 2015
Skills
Strong communication and interpersonal skills
Proficient in managing relationships with school teachers and parents.
Proficient in providing direction and motivation to the students and coaches.
How to Write an Athletic Director Resume
Select the most appropriate resume format for athletic director jobs. The chronological format is the widely used one, much like the athletic director resume sample
Make your resume easy to understand with a meticulously written profile. If you've been on the same job for more than 2 years, write a summary. If you are a fresh graduate, make your profile a professional career objective.
Make your athletic director resume appropriate for the job by showing all the relevant things you have done in your previous jobs.
In addition to writing your institution name, the degree you achieved, and the exact dates you graduated, you may also list down sports achievements or other achievements under the education section.
Show your athletic director skills. You can also prove your skills by briefly describing what you did in your past employment and put them on the job experience.
People Also Ask
What to include in a resume for athletic director jobs?
An athletic director resume sample can make your resume crafting process much easier as it will guide you in what you must include in your resume.
Personal details, including first and last name, current residential address, valid phone number, and email.
Write your professional profile; it could be a summary or resume objective, depending on your experience.
Mention your work history, preferably in sports.
You should also mention your background study and include interpersonal skills in your skills section.
How to write a resume objective for athletic director jobs?
In the most basic athletic director resume sample, it's always an excellent idea to write a short paragraph about your career objectives. Below are the things to note when composing a resume objective.
Mention the position you desire as it shows that you are aware of the job you apply for.
Take some time to think about the relevant experience and skills you have to include in the objective section.
You will also have to mention what the institution will obtain from employing you.
What are tips for creating a resume for athletic director jobs?
Just like any athletic director resume sample, relevant experience and skills are always included in the resume. You should also only mention the same thing.
When providing the details of your prior experience in other institutions, be sure to write as details as possible.
Make sure your resume is carefully organized and presented. It indicates your commitment to the job.
Types of Athletic Director Resume Templates
Want to have a one-of-a-kind athletic director resume in no time? See the following resume templates. It's carefully crafted and easy to edit.
Resume Example for Athletic Director
Athletic directors are responsible for managing the sports departments and programs for schools, universities, or colleges. Suppose you met the requirements to be an athletic director. In that case, this well-designed athletic director resume sample could help you land your dream job.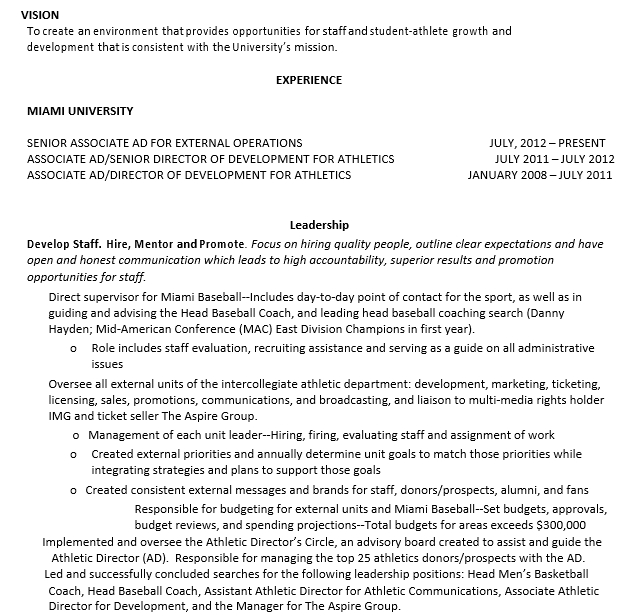 Resume Template for Development Athletic Director
Working as an athletic director also requires you to possess a specific ability to develop a new sports curriculum. If you have been in this job for a considerable amount of time and plan to move to another school, your resume should reflect those skills. Use this template to help you do the job.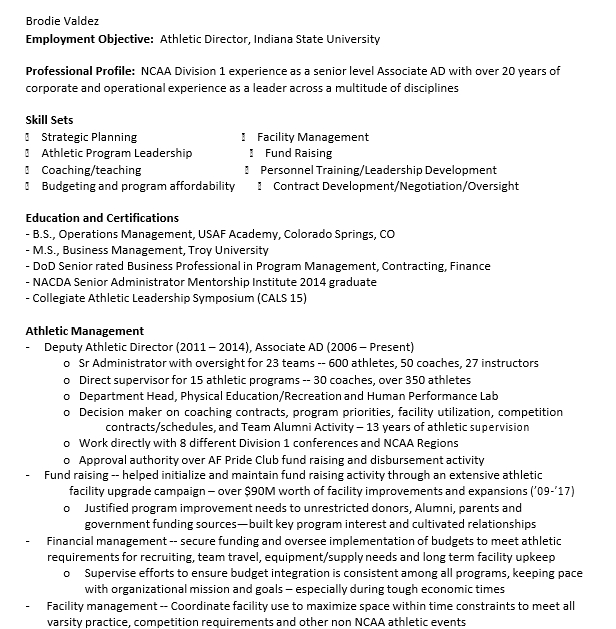 Resume Template for Assistant Athletic Director
Are you a recent graduate of sports sciences? If you now want to start your career, then being an assistant to athletic directors is the most recommended one. Prove the abilities and experience you obtained during your school years with this resume template.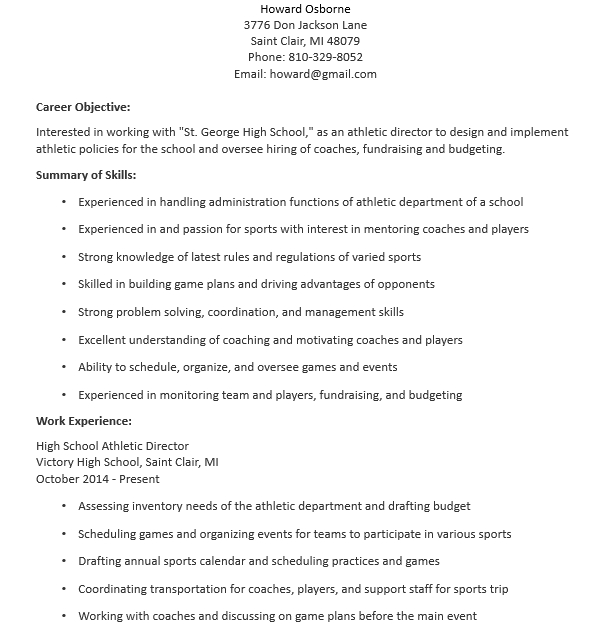 Resume Template for High School Athletic Director
Suppose you've been working in a high school as a physical education teacher and plan to elevate your career as an athletic director. In that case, your resume should properly reflect your relevant background and managerial skills. Have no ideas how to start? Download and use this athletic director resume sample.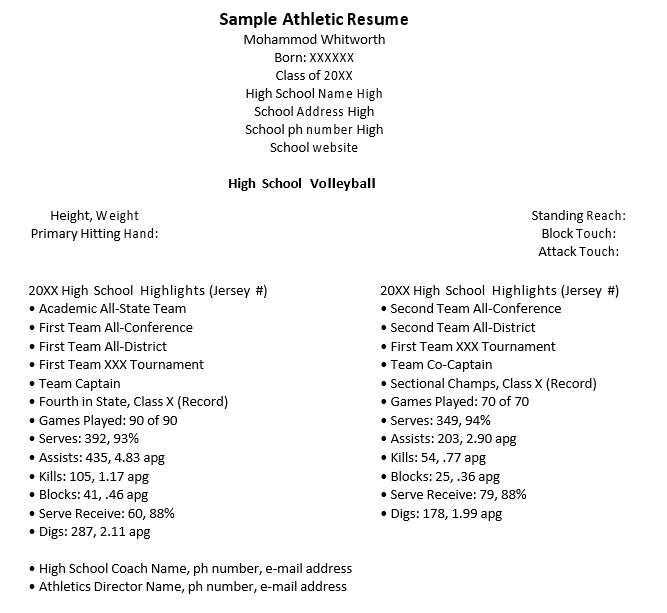 Free Resume Template for Athletic Director
You lead a varsity football team to multiple championships. However, the hiring crew in the institution where you want to work with won't know that. You have to prove it with the help of this carefully constructed resume template.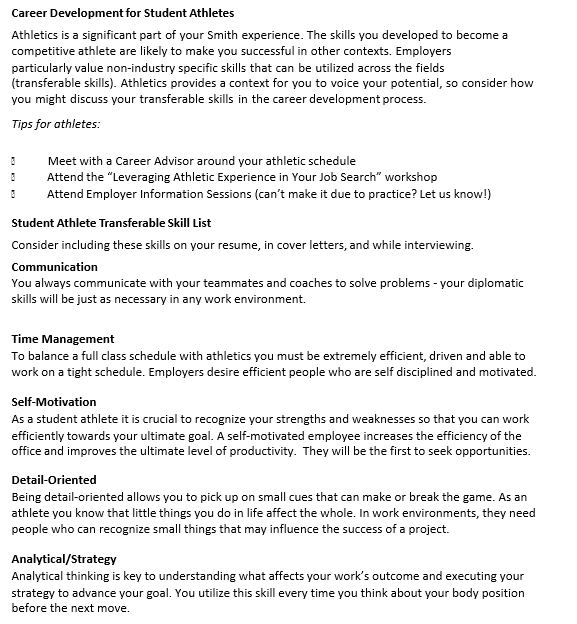 An athletic director resume sample proves to be helpful when it comes to crafting a resume. First, it provides an overview of an effective job resume, and second, it could be your ready-to-use layout. Once you finished making the resume, don't forget to also create a cover letter.