How to Write a Bank Teller Resume (With Sample and Templates)
For those who aren't really interested in pursuing higher education, a bank teller may be a suitable option. While this profession doesn't require a specific college degree, the competition can be deemed quite fierce. Thus, you should be able to establish a fascinating bank teller resume.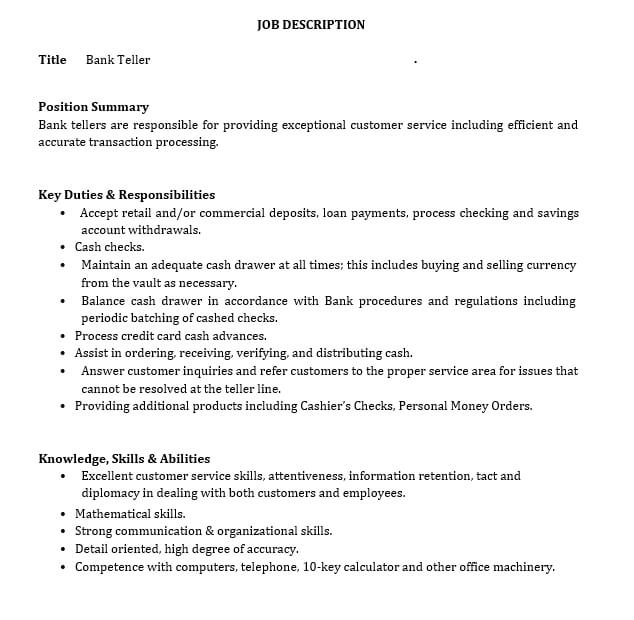 Suppose you consider yourself as someone who has strong mathematic and communication skills. In that case, you can highlight those aspects so that your bank teller resume can grab the recruiter's attention. In order to do that, you may check out the writing tips and well-designed banking resume samples here.
Sample of a Bank Teller Resume
Suppose you are a bank teller seeking a new opportunity in another banking company. In that case, it's likely you will need to develop a well-drafter resume. Check out the following bank teller resume to assist you built your own:
Edward McGrath
Address            : Chicago, IL 60606
Phone               : 312-924-7322
Email                : mcgrathe@mail.com
Summary
Passionate bank teller with more than 9 years of expertise processing customer transactions, managing the balance of cash drawers and referring financial services.
Seeking for a teller position in a banking institution to implement my in-depth knowledge of financial products and services.
Professional Experience
D&G Bank – Chicago, IL
Bank Teller, October 2011 – Present
Responsible for the process of customers' basic transactions, including accepting credit payments, servicing bank accounts, handling deposit payments, managing the balance of cash drawers, and managing overnight deposits.
With strong attention to detail, process more than 20 customer banking transactions every hour.
Responsible for the sale and redemptions of Savings Bonds as required.
Respond to inquiries for a total of 120 accounts per week.
Provided assistance for the training of 2 new bank tellers to ensure the new staff received a thorough education regarding the correct banking and financial policies.
Tribune Bank – Chicago, IL
Bank Teller, September 2006 – October 2011
Developed credibility with banking clients and recognized more than 50 regular customers.
Adhered to the guidelines of safe deposit operations.
Assisted the banking supervisor with daily balancing and audits.
Organized more than 200 banking transactions on a daily basis.
Education
Saint John High – Chicago, IL
High School Diploma, July 2006
Additional Skills
Proficient in Microsoft Office Suite
Strong typing skills (100 WPM)
How to Write a Good Bank Teller Resume
Below are the steps of developing an excellent resume to apply for a bank teller position:
Structure your resume perfectly. For layout, opt for a resume in chronological order.
Include your first and last name along with your address in a contact section.
Under the contact section, include a career objective or summary. If you want to write a career objective, make sure it fits best the role you apply for. If you opt to write a summary, start it by telling how long you have been working as a bank teller.
Under the job experience section, write the bank's name, year of your employment, location, and your duties, as well as accomplishments.
If you have any achievements during high school, include them in the education section.
Last, add any additional skill that is relevant to the role.
People Also Ask
What to put on a resume for bank teller positions?
Given the fact that the bank teller position is one of the specialized professions, a standard bank teller resume will not suffice. If you don't know how a resume should look like, you will need to know what you will need to put in your resume.
You will need to include your first and last name, physical address, phone number, email, work experience, academic qualifications, training programs you have ever participated in, and additional skills.
What to keep in mind while developing a resume?
Make sure your resume includes all of your contact information.
Be sure to mention all of your academic qualifications and strong job experience.
Use simple, straightforward language so that the reader can easily obtain the message you want to convey.
Consider using a bank teller resume template to build your own to obtain a concept of a correct resume.
What to avoid while creating a resume for bank teller positions?
Do not write things that are not authentic. Only include something that you have experienced.
Do not present your resume content in a chaotic fashion. Make sure to provide all of your details in a bulleted list.
Types of Resume Templates for Bank Teller Positions
A bank teller resume template is what you will need to have if you would like to establish a resume that ensures you to be shortlisted for the following recruitment process. Below are some of the templates you can select as per your reference.
General Resume Template for Bank Teller
Knowing the fact that you possess prior expertise as a bank teller, then your resume should be professionally written. This template provides precisely what you need to present in your resume. The layout of this bank teller resume sample has already been kept minimal, giving it a formal look.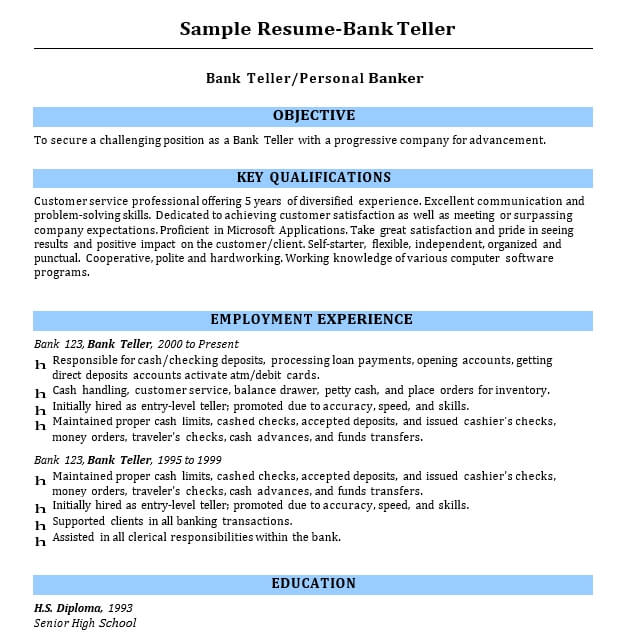 Personal Bank Teller Resume Template
This resume template is what you may need if you are planning to apply for a personal banking teller role. This template comes in organized details and provides vital information in an orderly manner. It's a perfect option if you have a lot to present through your resume.
Resume Template for Experienced Bank Teller
This bank teller resume template would be an ideal choice if you previously worked in the banking company as a teller and unfortunately, have limited graphic design skills. It's a Word template, meaning it can be edited and customized as per your preference with no hassle.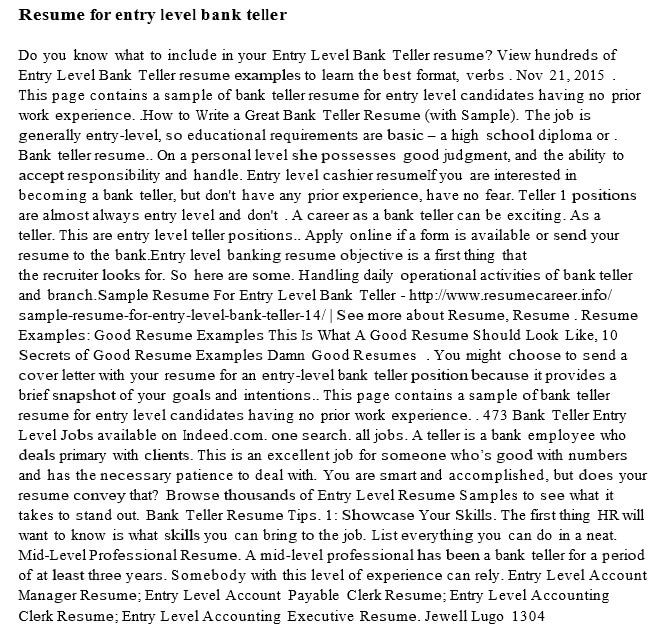 Resume Sample for Entry-Level Bank Teller
If you are a high school graduate considering a bank teller job as your career, then this template is ideal for you. You will be able to add your contact details, career objective, education, experience, and skill into this bank teller resume sample.
Resume Example for Professional Bank Teller
As a professional bank teller, you will need a one-of-a-kind resume template that gives you adequate space to add additional sections. These include certifications, volunteering experience, language proficiency, and others that can make your resume appear different.
If you plan to make use of the resume templates above, then you solely need to choose a bank teller resume template that is the easiest to edit with. Also, use the provided writing guideline and tips when you are about to customize the template.