Best Professional Sample Templates of Hair Stylist Resume
Hair stylist is an umbrella term for jobs that include hair dresser, barber, and cosmetologist. A hair stylist offers hairstyling, hair cutting, hair coloring, and other services of beauty for the clients. As hair stylist commonly work in salons or barbershop, it is necessary to include work experiences in these type of settings within your hair stylist resume.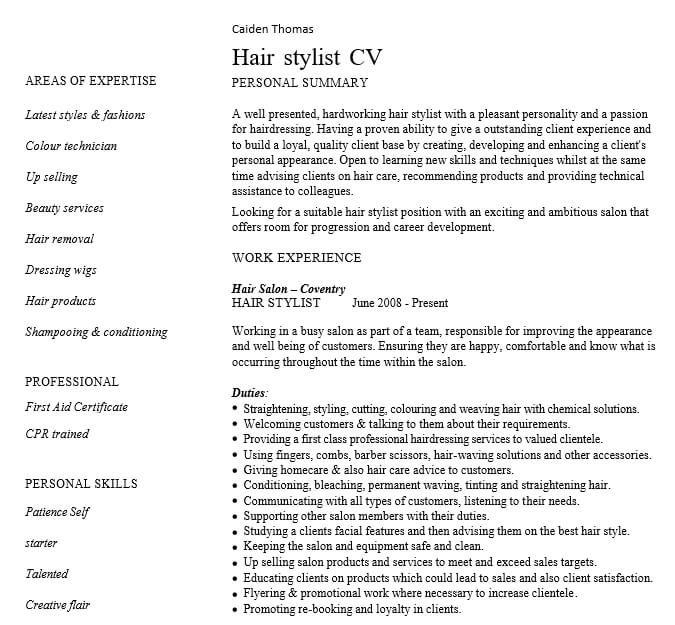 Just like any other profession, being a hair stylist requires you to start from the bottom before you're able to build your career up. This can be started by getting job position in the correct salon or spa. In order to attract the interest of the best salons in your local area, consider to use these hair stylist resume templates and follow the writing tips.
Resume Example for Hair Stylist
Charlotte Anderson
5012 Mesa Drive, North Las Vegas
Nevada, 89032
702-373-4967
anderson.charlotte@abcmail.com
Professional Summary
A hair stylist with six years of work experiences with women's, men's, and children's hair.
Skilled in intricate haircuts, hairstyles, and layered coloring.
Passionate about helping clients to select a fitting style to their personal taste and personality, and for them to look their very best.
Knowledgeable in working with any hair lengths and hair textures, and keep up with the advancing ways to take care of them.
Skills
Keen and developed creativity
Friendly and cheery demeanor
Great listening skills
Good time-management skills
High physical stamina
Work Experience
August 2018 – Present
Style, cut, shampoo, and color clients' hair based on their requests, specifications, or professional recommendations
Provide advices for clients on the best way to take care of their hair and hairstyle in general with various related products and tools
Utilize an extensive range of hair styling tools such as scissors, hair brushes, hair clips, blow dryers, curling irons.
Barber
March 2015 – July 2018
Trimmed, cut, shampooed, and styled a wide range of hair length, thickness, texture, and preferences from clients
Bleached, colored and highlighted clients' hair by maintaining safe procedure and provided instructions on how to take care of the hairstyle
Gave facial hair trimmings and facial shaves
Education
Associate Degree in Cosmetology
2014
State Barbering and Cosmetology Licensing
2015
Tips to Write Resume for Hair Stylist
Provide your name at the upper most part of the resume document, so your resume can be easily identified.
Input your personal information details accurately, so the interested hiring manager can get you in touch and can easily reach your through the contact information.
Mention your responsibilities and role by using on-liner bulleted points and state your professional contributions to display the extent of your working contributions for the previous company you've worked for.
People Also Ask
What should I put on my resume for hair stylist?
A hair stylist resume must at least include:
Summary, or usually called personal statement or self-profile
Section of your employment history
Section of your skills
Sections of your education
What is a hair stylist job description?
The job description of hair stylist is a professional in beauty service, with specialization in treating and styling hair. A hair stylist has a range of responsibilities, which include cutting hair, cleaning hair, providing care for hair, styling hair, and giving advices related to hair, and recommending products for hair styling.
What are the skills of a hair stylist?
The most common skills to be possessed by hair stylist are creativity, tidiness, customer service, time management, physical stamina, and listening skills. Other skills that can be important as well is problem solving and amiable personality.
Resume Samples of Retail Manager
Free Download Hair Designer Stylist Resume
To grab the job position of hair stylist that you want, you need to give your resume a makeover. Let this hair stylist resume sample highlight your excellent skills and great abilities. It can provide you with guidance on how to format and structure the document.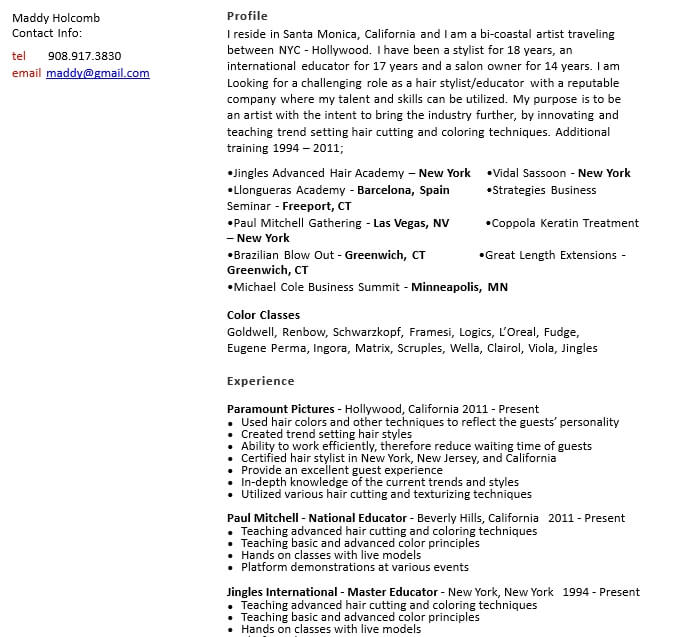 Professional Hair Stylist Resume Template
So, you are passionate about helping others to look their best? Then a hair stylist job is worth to consider. This hair stylist resume is designed to assist you in the process of job searching, as it serves as the beginning point in building your resume and get a chance to be interviewed for the job position.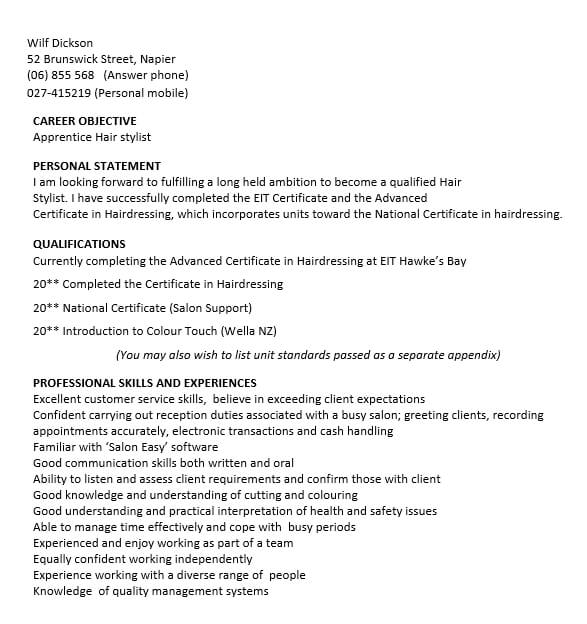 Best PDF Resume Template for Hair Stylist
Hair stylist resume is the best tool in creating first impression and showcase your qualification for this specific job to the future employers. Consider downloading and using this free sample template and ensure that you have documented all of your skills and goals in high quality resume helping you land that dream job.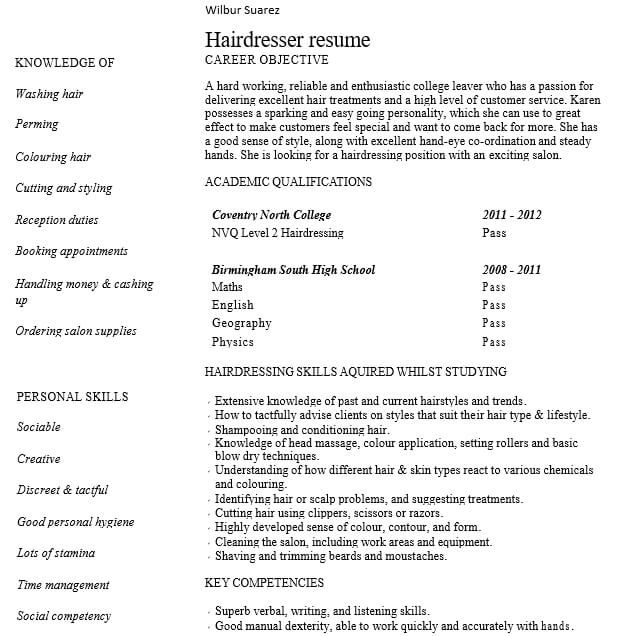 Job-Winning Hair Stylist Template Resume
Hundreds of hair stylists and hairdressers out there are searching for new job opportunity on daily basis. That's why you need to create intriguing and informative resume document. By using this sample, it is all possible to create your best-to-date resume by editing the downloaded file right away.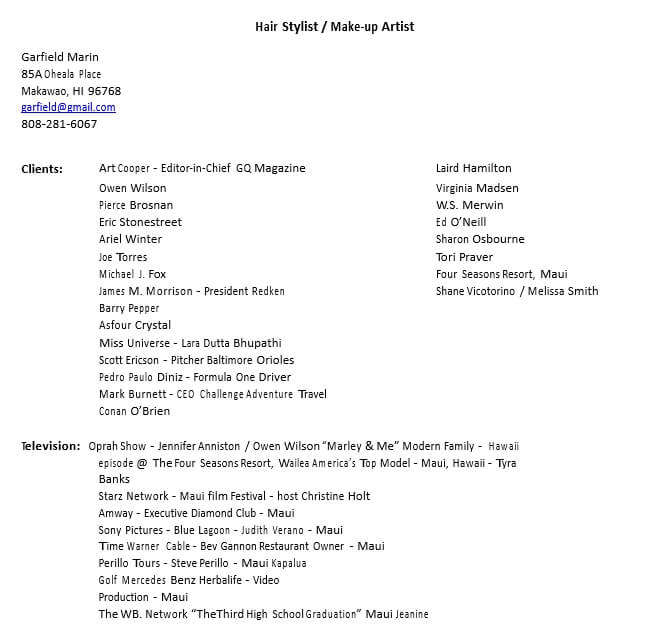 Senior Experienced Hair Stylist Resume
Building an excellent hair stylist resume is a task that can take hours to days. Regardless of whether you are a senior, junior, or entry-level hair stylist, this resume sample will make sure that you have captured all that's necessary to bring into the table.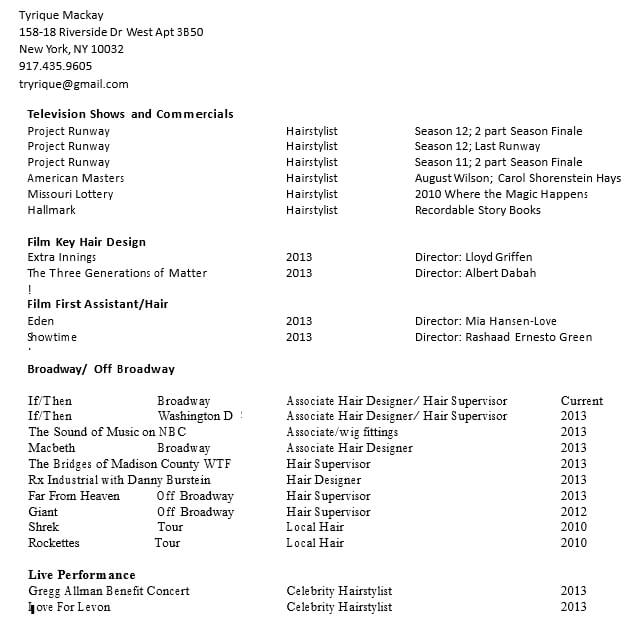 Free PDF Download Resume for Hair Stylist
This example of hair stylist resume is a good representation to see what the recruiter is looking for in their job applicants. You may use this sample document as reference as you try to establish your own resume, and use it as a guidance in building each step without having to consume too much time.
Hair Dresser Resume Sample Template
If you are currently searching for hair stylist resume, then you have come to the correct place. This resume sample can give you information about how to create a proper one. It has professional and eye-catching design to make you stand out from your competitors.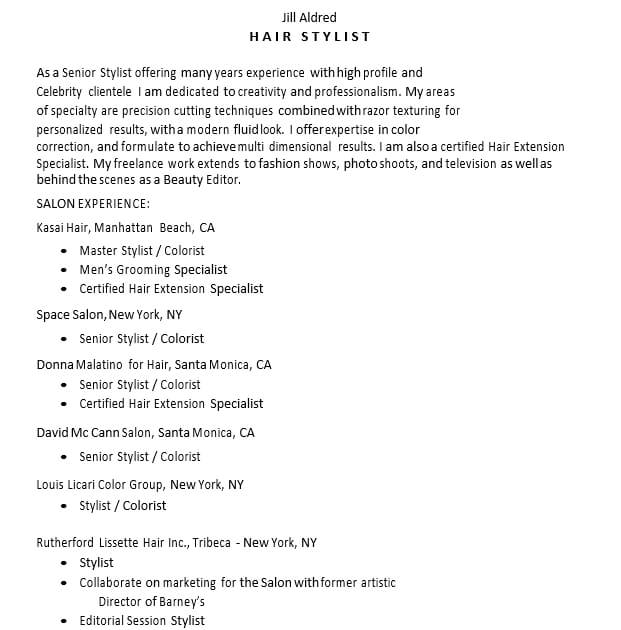 All of the hair stylist resume templates are built and designed by complying into the latest standard in the beauty industry. You only need to download and edit it according to your own information and you are perfectly good to go.