The Samples of Pharmacist Resume Template
If you have a big passion for the pharmacy job and want to grow your career in this field, but don't know how to start, well you have found the answer in this article. You can start by knowing the samples of pharmacist resume.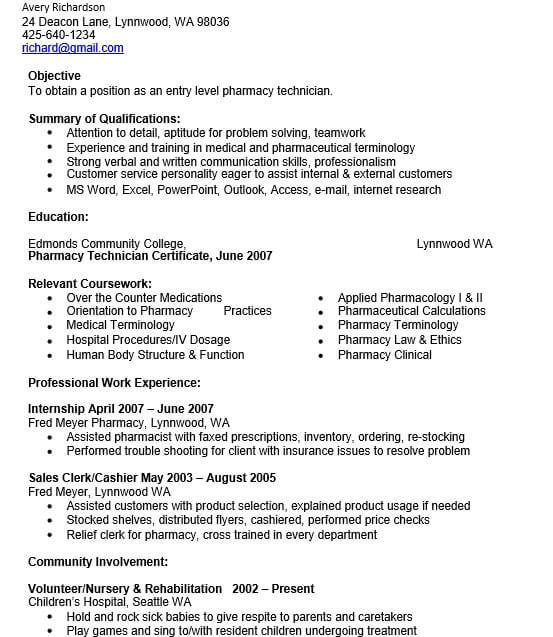 Being a pharmacist is totally not an easy job because you need to have great attention to any details. Later, you can also find the tips you can apply to the pharmacist resume.
An Example of Pharmacist Resume
The following example of pharmacist resume template that you can take as guideline in writing your own resume:
Fatimah Jones
Pharmacist
Personal Contact Details
Address            : 63 Elm Street, Florida, FL 29282
Phone               : 0283 0737 3782
Email                : fatimah.jones@live.com
Facebook         : facebook.com/fatimah.jones
Instagram          : instagram.com/f.jones
Twitter               : twitter.com/f.jones
Resume Objective
I have been working in the pharmacy industry for 5 years with the most recent working qualification being a pharmacist at National Health Medical Clinic in Florida. I possess remarkable skills such as empathy, well-organized, and high confidence that I believe will make me the best suited among other candidates for the pharmacist position in your company.
Professional Experience
Pharmacist (June 2015 – Present)
National Health Medical Clinic, Florida, FL
Responsible for organizing and managing the pharmacy department at National Health Medical Clinic.
Coordinated to lead the pharmacy department job whenever the Head Pharmacist can't do the job or not being around.
Interpersonal Skills
Computer skills
Administrative skills
Microsoft Office skills
Great attention to details
In-depth knowledge in Science
In-depth knowledge in Math
Ability to managing and operating the pharmacy machines
Certification
Pharmacotherapy (2018)
BCPS Program
Validated as a legal pharmacist with the advanced experience and knowledge to improve the patient's health.
Educational Background
Doctor of Pharmacy (2013 – 2015)
The Florida University, Florida, FL
Bachelor of Pharmacy (2009 – 2013)
The Florida University, Florida, FL
High School (2006 – 2009)
Saint Anne High School, Minnesota
Junior High School (2003 – 2006)
Saint Patrick Junior High School, Minnesota
Elementary School (1997 – 2003)
Minnesota Elementary School, Minnesota
Reference
Name                : Mr. Jack Lee
Occupation       : Head Pharmacist
Institution          : National Health Medical Clinic, Florida, FL
Phone               : 0282 7262 6667
Email                : jack.lee@outlook.com
Name                : Mrs. Patty Grin
Occupation       : HR Manager
Institution          : National Health Medical Clinic, Florida, FL
Phone               : 0282 8737 7777
Email                : pattygrin@live.com
Tips on Writing Pharmacist Resume
To make your pharmacist resume more standing out, you should do the following tips:
Add the relevant pharmacy skills
Define and focus to highlight your biggest asset
If you are a highly skilled pharmacist, highlight your exceptional skills. However, if you are a highly experienced pharmacist, highlight your professional experience.
Quantify your experience and results
Make it relevant
Since now you make pharmacist resume, you have to be focused on the field you are targeting. Do not mention the unimportant and irrelevant information in the resume.
Include any references if you have any
Good references can make the recruiters know more about you.
People Also Ask
Should a pharmacist use a CV or a resume?
Well, you actually need to have both of CV and resume. CV is usually longer than any usual resume, while resume only contains the needed information in the new position or job you are currently seeking. If CV is filled with the complete information since you were born, a resume is filled with the relevant working experience or educational qualification only. The resume will be updated every once in a while. In this case, you need to know first about the company you are targeting. Does it need a CV or a resume?
What are pharmacist skills?
The essential skills that are needed to be pharmacist are:
Advocacy skills
Integrity
Math skills
Management skills
Accuracy skills
Scientific skills
Communication skills
Interpersonal skills
Multitasking
Diplomacy skills
Analytical skills
Computer skills
Great attention to details
Patience
Empathy
What should you say in a pharmacy interview?
After preparing a good resume, you should prepare for the next step: the interview session. Here are the questions that may be asked by your recruiters:
Tell about the achievement or accomplishment that you are proud of.
What are your strengths?
Tell about yourself.
What are the things you can offer that nobody can?
Why are you interested in working with us?
What are your weaknesses?
Pharmacist Resume for Pharmacy Technician
The first type of pharmacist resume template is the pharmacy technician template as this position is currently in high demand, and apparently there is not much of pharmacy technician. Therefore, this is your chance if you are seeking this position.
Pharmacist Resume for Hospital Pharmacist
The most common job position for pharmacist is a hospital pharmacist. However, you will need to have an outstanding and remarkable resume. Include your exceptional skills in the pharmacist resume. You can also mention the previous job experience, especially if you work as a hospital pharmacist before.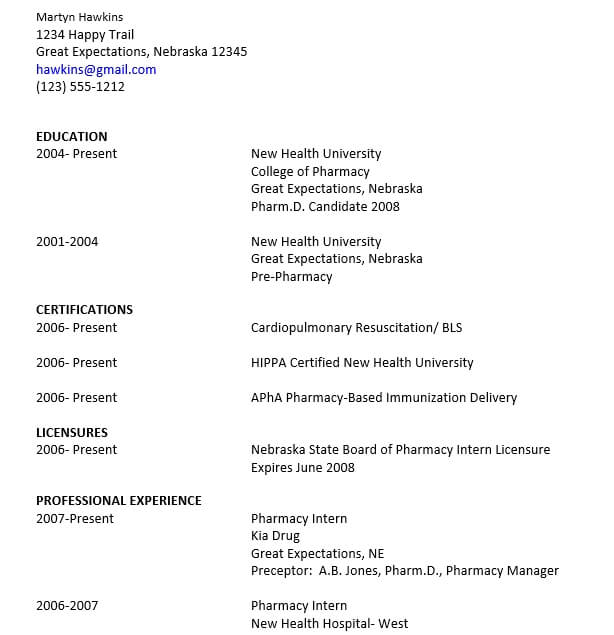 Pharmacist Resume for Retail Pharmacist
If you also look to learn in business management of pharmacy field, try to apply for the retail pharmacist and download the retail pharmacist resume template. If you are accepted, you will be working in any medical retail stores. Moreover, you can learn about the pharmacy, as well as the business management while managing the stores.
Pharmacist Resume for Clinical Pharmacist
The clinical pharmacist job is the best position for you who just start your career in pharmacy job. This clinical pharmacist resume template allows you to list educational background, working experiences, skills, achievements, and personal summary of yourself as a professional pharmacist.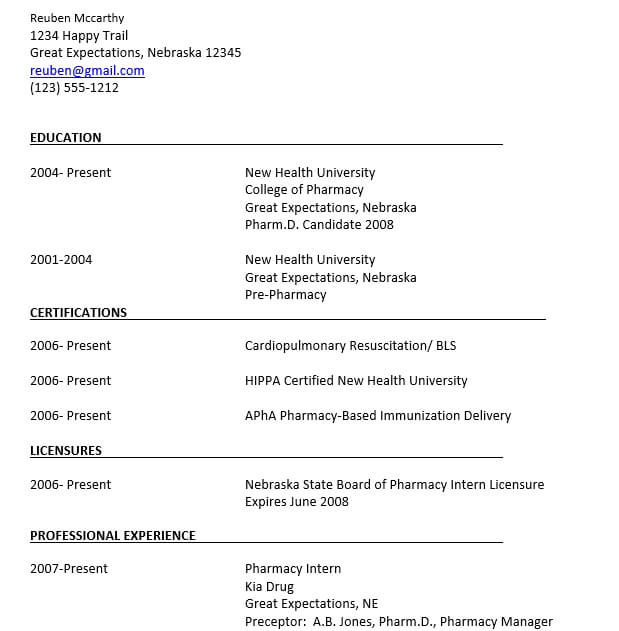 Pharmacist Resume in Microsoft Office Word Format
If you are just graduating from medical school and want to grow the career soon in pharmacy field, use the Word pharmacist resume template as this basic template allow you to highlight the educational qualification and key qualifications.