How to Write the Best Nanny Resume
If you are a passionate nurturing person, try to apply for a job as nanny. You will need to have outstanding personal qualities, such as responsible and love to be around children. In fact, not everyone loves to be around toddlers or children, so it is not that east to be a nanny. Well, you can find the sample of nanny resume below.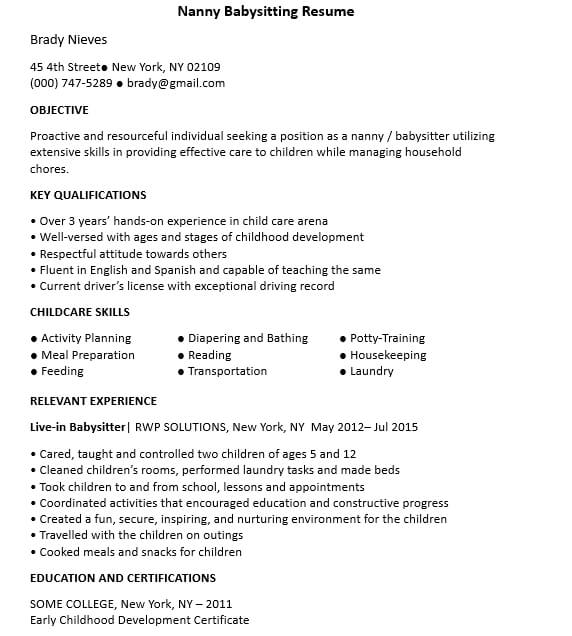 The Example of Nanny Resume
You may feel confused about writing your nanny resume. Here it is, the simple sample of this resume to enlighten your mind:
Annie Wolf
Personal Details
Address            : 87 3rd Street, New York, NY 28732
Phone               : 9282 7363 6262
Email                : annie.wolf@outlook.com
Resume Objective
Loving individual seeking a job position as a babysitter/nanny, which can manage the household while taking care of the children.
Having over 3 years' experience of being a babysitter, and loved by many clients; either the children or the parents.
The Key Qualifications
Fluent in Spanish, English, and Chinese, and able to teach the children about these 3 languages
Relationship building skills
In-depth knowledge in the children development
Effective and great communication skills
Having a driver's license with a remarkable driving record
Hard worker, highly enthusiast working 24/7
More than 3 years of experience in taking care the children and toddlers
Have big responsibility and a loving heart
Capable of handling the young teens
Highly adaptive to the children's needs
The Children Care Skills
Laundry
Potty-training
Feeding
Activity building and planning
Bathing and diapering
Transportation
Housekeeping
Reading
Meal preparation
The Professional Experience
Babysitter (May 2018 – Present)
Childcare Solutions, New York, NY
Outings traveling with the children
Cleaning the children's bedrooms
Performing the laundry tasks
Making the children's beds
Cooking snacks and meals for the children
Creating an inspiring, fun, and secure environment for the toddlers and the children
Teaching and caring for 3 children of ages 2, 3, and 5
Coordinating and managing the educative and constructive activities for the children
Taking children from and to school, appointments, and lessons
The Educational Background
College (2014 – 2018)
The New York College, New York, NY
High School Diploma (2010 – 2014)
St. Daniel High School, New York, NY
The Certificates
CPR Certification (2018)
Several Tips to Make a Nanny Resume
Knowing how to make a nanny resume will not be enough for you to make your profile astounding. You need to apply these things:
I.S.S (Keep It Simple and Short): Making an effective resume does not mean you have to write a long resume with boring and irrelevant details about yourself. Just mention the important information and leave the unimportant ones behind.
Use the relevant keywords in your nanny resume.
Double-check the grammar and the spelling. You have to make sure your nanny resume is well-written.
People Also Ask
What should you put on your nanny resume?
One of the main things to put in your nanny resume is the working experience since the parents usually choose nanny by looking at her previous experiences. The following are the tips on putting working experiences in your resume:
Use the proper format for resume
Proofread your nanny resume
Describe the ages of toddlers or children you cared before
Add the relevant babysitting experience
Use action verbs only
Add special circumstances condition
What skills do I get from nannying?
There are so many skills you will earn once you start your career as a nanny, such as:
Household works and duties
Problem solving
Quick thinking
Creative thinking
First aid skills
Organization skills
Patience
Cooking skills
Communication skills
Relationship building skills
What is a nanny job description?
Nowadays, many parents can't take care of their children 24/7 because they have to work outside their houses. That's why many families hire a nanny to help them take care of the children. A nanny is responsible for providing the needs of young teens or children. She should be patient and highly creative since children are usually getting bored easily.
The Nanny Resume for Childcare Nanny
Do you love to be a nanny or babysitter but not sure where do you will get the job from? Apply for a nanny position in a childcare service in your area then fill in this resume template. The institution will help you to get the job that you want.
The Nanny Resume Template for Housekeeper Nanny
Why do you hire a housekeeper if hiring a housekeeper nanny can do all household works? Yes, a housekeeper nanny is a high-demand job position as many people need her to take care of the household works which they cannot do because of particular circumstances.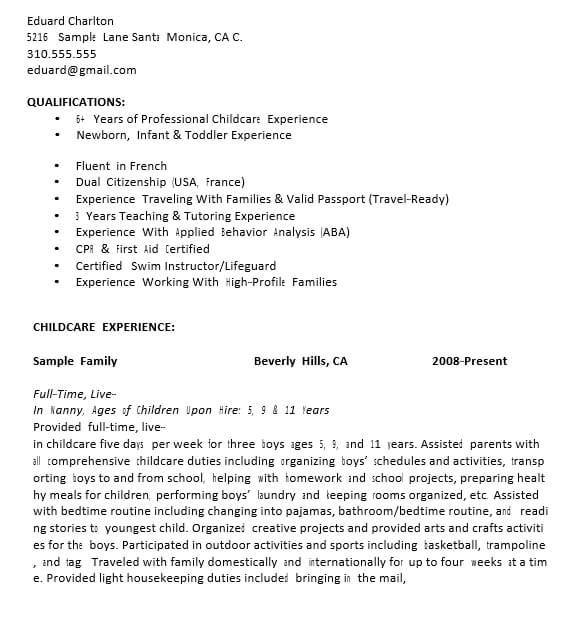 The Nanny Resume for Experienced Nanny
There is nothing better than a well-experienced nanny who has the complete qualities. You can download and treat this sample as your guide to make a perfect nanny resume. It will enhance your career in the babysitting field.
Nanny Resume Template for the Babysitting Nanny
As we know, babysitting is definitely a hard job to do since taking care of the babies is harder than taking care of toddlers or children. You have to be fully aware 24/7 since the baby can't say even a word. You have to make sure the baby's condition is well while the parents are not at home. Use the babysitting nanny resume to enlighten your mind about the resume you need.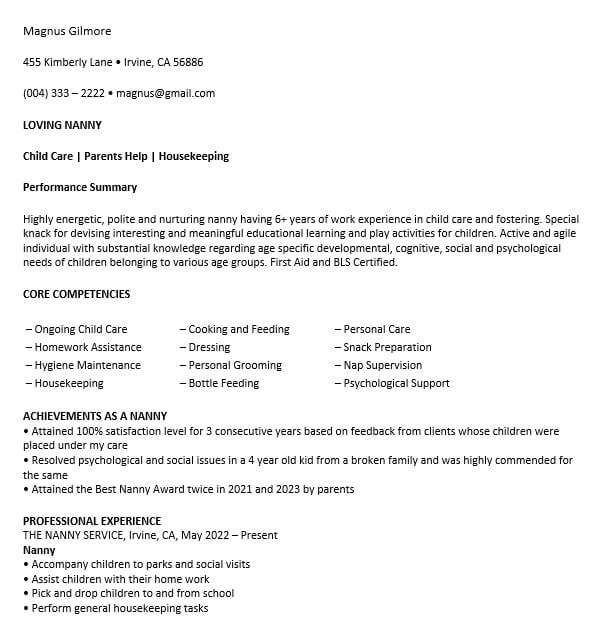 Nanny Resume Template for Professional Nanny
This resume template is for the professional nannies in this field job. If you have the impressive working experience as a nanny, either working in a childcare service, working as a housekeeper nanny, or working as a babysitting nanny, make sure to mention all the experiences that you have along with the duties' details in your nanny resume.